2014 Subaru XV Crosstrek Hybrid: Real-World Fuel Economy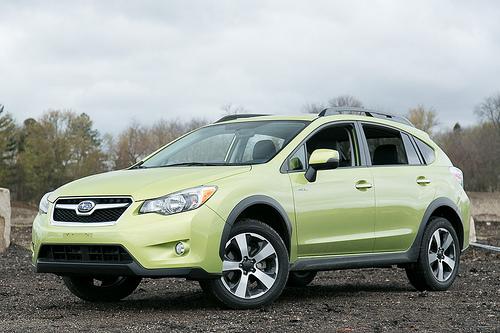 The concept of a hybrid Subaru is a great one. Many Subaru owners love the outdoors and owning a greener car might appeal to these car shoppers. But the reality of Subaru's first hybrid is a tale of pretty unimpressive mileage.
Related: 2015 Subaru Outback Up Close
The 2014 Subaru XV Crosstrek Hybrid spent some time and hundreds of miles in the Cars.com test fleet recently and delivered less than stunning results.
The EPA ratings on the XV Crosstrek Hybrid are 29/33/31 mpg city/highway/combined. That's an improvement of 3 mpg combined over the non-hybrid XV Crosstrek but just a 1 mpg improvement over a Subaru Impreza hatchback — which the XV Crosstrek is based on — when both are equipped an automatic continuously variable transmission.
The ratings also suggest that the XV Hybrid shows most of its improvements in city driving versus highway, with the highway rating actually identical to the non-hybrid XV and worse than the Impreza.
During our travels we found that the mild-hybrid system in the XV actually performed quite poorly around town and in bumper-to-bumper traffic, which in some ways is similar to the conditions of a city rating.
After nearly 200 miles in this type of congested driving — with a bit of higher-speed highway driving mixed in — the XV showed a rating of 25.6 mpg on the trip computer. We did fill it up to see what the trip computer and gas pump would tell us, but we encountered a possibly "tilted" pump. At fill-up with a trip computer at 188 miles we somehow filled up 8.1 gallons with a reading of the tank half full. The tank holds only 13.7 gallons. And the distance to empty range was 160 miles. This calculates to 23.2 mpg, meaning the gas tank could fit a total of 15 gallons.
We've seen discrepancies this big on a few occasions, but we're going to side with the computer versus the questionable downtown Chicago gas station.
Neither number, however, should sit well with consumers looking for an efficient vehicle.
We put on a few hundred more miles of mixed driving among various editors. Two saw nearly 30 mpg during highway trips, while two others barely broke the 20 mpg barrier in heavy highway traffic and driving through Chicago neighborhoods. We also checked out fueleconomy.gov where two XV Hybrid owners reported averaging 28.8 mpg combined. The general rule of thumb for driving in Chicago and on congested highways for me is that a test car should get near the city rating if the weather is decent, and temperatures during our test were favorable.
To see results nearly 12 percent off the EPA rating is rather significant.
But it wasn't this single test — which couldn't be exhaustive based on our limited time in the car — that bothered editors most.
The XV Crosstrek Hybrid wasn't a pleasant driving experience; one editor remarked that it wasn't ready for prime time. Braking wasn't a major issue, but the transmission offered a fair amount of undesired shudders under various acceleration calls.
Then there's the whole concept of why the car even exists. If the XV Hybrid achieved its EPA ratings it would save owners $750 a year in gas over a non-hybrid XV, but it starts $4,000 higher taking more than five years to recoup the initial higher outlay. Also, because of the smaller gas tank, total range on the hybrid is 425 miles versus the non-hybrid's 445 miles.
That means the XV Crosstrek Hybrid really is just an option for those who are strictly concerned for the environment. The XV Hybrid releases less greenhouse gas emissions than either the non-hybrid or the Impreza.
Check out the gallery below; Cars.com photos by Evan Sears.