2015 Volkswagen Golf, Golf TDI: First Drive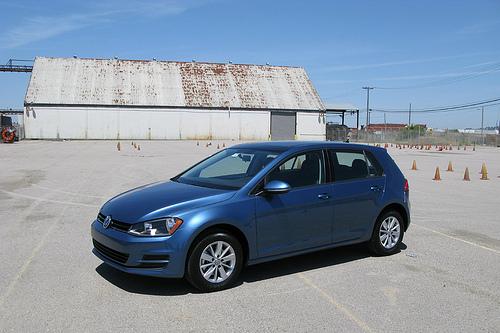 Volkswagen has a problem. The idea of a premium compact hatchback isn't top of mind with consumers, and its venerable Golf needs to attract a new audience to help sales in the U.S.
2015 Volkswagen Golf Starts at $18,815
Thanks to a lower price and more of the standard equipment shoppers expect these days, the 2015 Golf has a chance to rebound in a big way. After driving manual and automatic versions of both the basic Golf, called the TSI, and the diesel-powered TDI, it seems driving fun is also in the mix.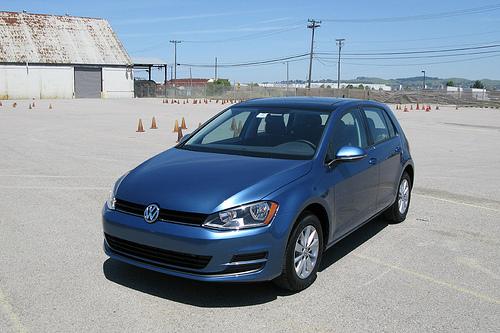 Click any image for larger version
TSI
The entry-level Golf is powered by a turbocharged 1.8-liter four-cylinder good for 170 horsepower and 200 pounds-feet of torque; it zips around city streets like a good little runabout. Merging onto highways is effortless, and once up to highway speeds you're able to pass just as easily.
In terms of acceleration, it's a level of performance that few other base compacts can match, at least in the seat-of-the-pants factor. The six-speed automatic doesn't match the thrill factor of the five-speed manual transmission, but it is an option that doesn't dilute much of the fun factor.
That's also aided by whip-snap handling and communicative steering married to good brakes.
Where the Golf falters is in comfort and a lack of grip.
The suspension isn't too firm but there isn't much travel, so when you hit large dips at high speeds there is a sense that you might be catching air "Dukes of Hazzard" style, and I mean this in a completely unwanted way.
And even though there is the ability to take tight curves at speed even in the least powerful of the Golf dynamos, it doesn't mean the rubber can handle the requests. On a number of instances in my day with the Golf, the rear outside wheels would slip significantly enough to make me let up off the accelerator. There wasn't any sliding going on, but it was still not a pleasant experience.
TDI
Moving into the TDI is really just a step up in power. Otherwise the TSI and TDI respond almost identically on the road. Both are quiet - although you can hear the diesel approaching you in a parking lot - handle relatively the same and their feature set is almost identical.
However, the diesel provides much more torque-infused oomph. Rated at 150 hp and 236 pounds-feet of torque, the TDI flies around town and up highway ramps significantly quicker than its gas counterpart.
It also features a six-speed DSG dual-clutch transmission (replacing the automatic) and a six-speed manual. As in the TSI, whichever transmission you choose will provide plenty of driving excitement and quick shifts. Both manuals have a light clutch and feathery shifter, although some other journalists called it "floppy." If you're a performance junkie it might not be what you're looking for. If you're a commuter it's probably preferred.
My only other issue with the Golf was seat comfort. S and SE models had seats with manual adjustments for height and fore and aft movement with a power recline. I didn't get an optimum position to drive with these seats, and they were otherwise uncomfortable with my back hurting after only a few short drives. The fully powered seats in the SELs I tested were both comfortable and allowed me to find a position that wasn't so awkward.
There was ample room in the backseat for passengers, and I had plenty of knee room behind the driver's seat positioned for my 5-foot 10-inch frame.
The TSI is offered in two- and four-door versions while the TDI is only offered as a four-door. All the vehicles I tested were four-door models.
The Golf Package
Volkswagen has finally fixed one of the issues that kept the old Golf from widespread appeal. The price is lower and it comes with more stuff standard. Now at $19,815 for the manual two-door TSI and $20,915 (prices include destination) for the automatic, you get standard alloy wheels, Bluetooth and iPod integration even equipped with Lightning port adapters. That is for the S model. A special Launch Edition starts at $1,000 less but will be limited in availability.
Like the current Jetta, the new Golf will be made in Mexico, and that had some editors at Cars.com worried about quality. However, even the base TSI model called S seems upscale with soft padding on upper panels around the doors and dash; controls and buttons had a solid feel to them.
VW has also upgraded its infotainment system, which will make its way to the other VWs in coming years. It's intuitive and easy to use although the clarity of the screen, especially on navigation-equipped models, could be better.
A robust Fender stereo is standard on SE trims and above while the base model is ... less robust. It could be the one feature that gets you to move up in class.
Cargo
It's sometimes easy to forget that the Golf is one of the longest-running hatchbacks in the industry, and it remains extremely practical. The cargo area is 22.8 cubic feet with the seats in place to the top of the seats and has 52.7 cubic feet of maximum cargo space. The seats fold down with a pull of a lever near the headrest in a 60/40-split configuration and lie flat without any other adjustments.
Final Score
The Golf will still cost more than similarly equipped hatches from Japanese, U.S. and Korean automakers, but it does offer a driving experience that sets it apart and an interior that is a step above.
We'll have more on the 2015 Golf in an upcoming review on Cars.com.
Editor's Note: The cargo numbers in this post were updated on Dec. 1.
Cars.com photos by David Thomas.