First Family Road Trip? Set the Bar Low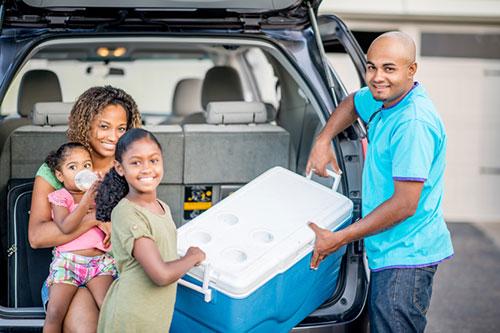 The family road trip always sounds like a good idea — until you're two hours into it and every passenger is crying for a snack and needing a bathroom break. Including you.
Read More #FamilyCarAdvice
Over the past few years of road-tripping with my small brood, I've come up with a few ways to cope and travel stress-free. OK, that last part is a lie; let's just say I've mastered the art of arriving at my destination with all the occupants I started with. Learn my tips after the jump.
Plan ahead: This may seem like an obvious one, but I've made too many trips to the grocery store, gas station or pharmacy 30 minutes after we were scheduled to start our road trip because I'd forgotten much-needed snacks, gas or toiletries. The week before your trip, start your packing list (I keep a digital copy on my smartphone) and add to it as you go about your weekly routine. Review your list a day or two before the trip and get whatever is missing. Charge up those iPads and DVD players, wash those clothes and, last but not least, make sure to fuel up your car the night before. Nobody wants to start a long road trip at the gas station while trying to charge an iPad with an impossibly slow car-charger.
In addition, AAA recommends you check your tires for wear issues and make sure they're properly inflated, inspect your car's wiper blades, check the oil and make sure the battery terminals are corrosion-free.
Set the bar low: Growing up, I went on the 5 1/2-hour road trip to see my family in Arizona too many times to count, so I was shocked the first time I took my newborn daughter on this trip and it took us a whopping eight hours. I had grossly underestimated how many times I would need to stop and tend to the baby, and it stressed me out. The fact of the matter is that babies need to eat and be changed. Kids need to use the restroom and stretch their legs. These stops are non-negotiable, so cut yourself some slack and build a couple of hours into your travel time.
Now lower that bar: Pinterest is my new best frenemy. While I love perusing the newest ideas on how to organize and style my life, home and kids, it's also helped me reach levels of mom guilt I never knew existed. Go ahead and search the term "road trip kids." What you'll find is a ridiculous number of crafts and projects to help entertain the younger set on the road. While some of these ideas are genius, they can easily end up being nothing more than extra projects on an already overwhelming to-do list. I've yet to do anything beyond buying my kids a new movie and a couple of fresh coloring books for a road trip. Those things end up being more than enough for the kids, and they can easily be bought at the same store as my forgotten toothpaste and snacks.
Celebrate: Once you roll into that long-awaited destination, celebrate your success. Taking just a five-minute trip to the grocery store is a challenge with little ones, let alone a six-hour journey across a state or two. Even if the car's a mess, you've lost your temper a few times and the kids are covered in chocolate because the only thing that would stop them from crying was M&Ms, take a moment. Celebrate.
CEFutcher/ThinkStock