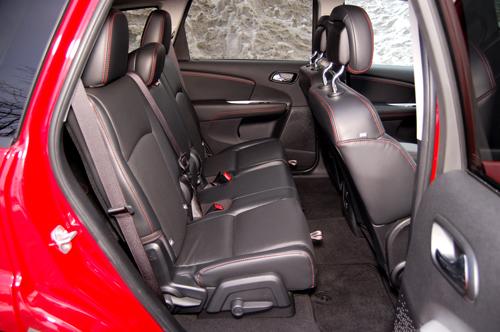 As many parents know, it's often the smallest things in life that give us the greatest joy: a silly expression from a toddler, a nervous squeeze from a little hand, a teenager who laughs unabashedly at a joke from a younger sibling. And in my case, watching in amusement as my children discovered a reclining backseat in our most recent test car, the 2014 Dodge Journey.
Research the 2014 Dodge Journey
While the Journey is definitely starting to show its age and is due for a complete Fiat-style overhaul (much as the larger Durango recently underwent), its rear seats that recline quite impressively were the biggest hit for my kids.
During an hourlong weekend drive, the kids were propped upright in the backseat taking in the scenery. On the return trip, they both started to slump over the sides of their seatbelts, tiring of the view and opting instead for a game on an iPhone. I turned around and said, "Hey, you know you can recline that seatback and get comfortable right?" Once they figured out where the lever was on the outboard side of each seat, they pushed the seats back, stretched out and relaxed with an audible exhale of relief.
Their attitude went from, "This drive sucks; why are we doing it again and how much longer?" to "Wow, this is the coolest and most comfortable car ever. Why doesn't every car have seats that lay back like this?"
I was working under the assumption that everybody (including my children who have been in the car reviewing business since they were babies) knew that rear seats in SUVs generally recline. I guess this would also be like my recent assumption that my children would know not to put a metal lunch thermos in a microwave.
Maybe what they say about assumptions is true in the end.
Cars.com photo by Evan Sears