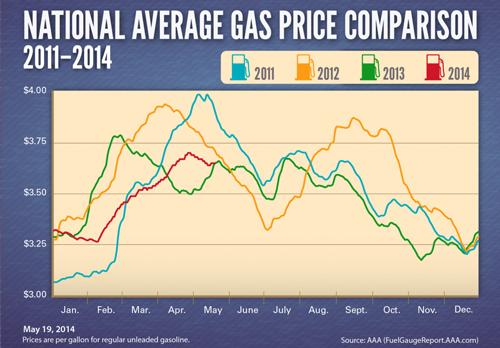 Gas prices edged slightly upward in most areas ahead of the Memorial Day weekend, but motorists in several states are paying significantly less at the pump today than they were a year ago, the AAA Daily Fuel Gauge Report said Thursday.
The national average of $3.65 for regular unleaded on Thursday was only a penny lower than on May 22, 2013, AAA said, but some states have experienced much larger year-over-year declines. In Nebraska, the $3.50 average for regular unleaded was 55 cents lower than a year ago, and at $3.56 in North Dakota it was 64 cents lower. Minnesota had the biggest price drop compared to a year ago, 78 cents, for a statewide average of $3.48.
AAA: Car Ownership Costs Dip Slightly
The national average for regular unleaded was 1 cent more than a week ago but 2 cents lower than a month ago. Diesel fuel dropped 1 cent to $3.93, a decline of 3 cents in the last month but 4 cents higher than a year ago.
Though price increases in most states the past week were 3 cents or less, they jumped 7 cents in Michigan and Ohio, to $3.79 and $3.77, respectively, and 10 cents in Indiana to $3.80.
"Reported increases in retail demand due to warmer temperatures are adding some upward pressure on wholesale prices, and the rise in demand is beginning to outpace the increases in supplies," AAA said in its weekly commentary on price trends.
As the Memorial Day weekend approaches, Arkansas and Missouri have the lowest statewide averages for regular unleaded, $3.39, followed by Oklahoma, $3.41, and Louisiana, Mississippi and Montana, $3.42. Hawaii has the most expensive gas at $4.37, followed by California at $4.14 and Alaska at $3.98. Pump prices fell an average of 3 cents in California the past week and have dropped 12 cents over the past three weeks, though gas is still 9 cents more per gallon than a year ago.
As an example of how widely prices can vary even within a state, regular unleaded in Los Angeles fell 4 cents the past week to $4.16, 14 cents less than a month ago. In San Francisco, the average fell a penny to $4.26 — the same as it was four weeks ago.
In Orlando, Fla., the average price of $3.51 for regular unleaded is 19 cents lower than a month ago. Less than 120 miles away in Gainesville, the average price is $3.78, just 5 cents lower than a month ago.
AAA graphic