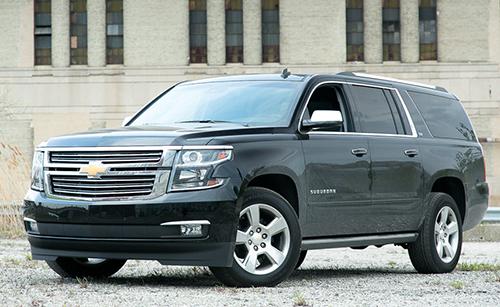 What do you call a $73,000 Suburban? An Escalade.
That joke would've killed around here just a couple of weeks ago, before we got the 2015 Chevrolet Suburban LTZ into our test fleet here at Cars.com's Chicago home base and noticed the full-size SUV's extravagant sticker price: $72,835, including a $995 destination charge. The discovery was met with unanimous disbelief and a chorus of incredulous voices demanding to know, "Whaaaat?" Yes, it would seem that this non-luxury nameplate can now be purchased at a decidedly luxury price.
2015 Chevrolet Tahoe and Suburban: First Look
We'll get to how you can run up such a high bill in a minute. But first let's consider what else you could buy for roughly that price (without regard for specific body style, features or options) using the Cars.com search feature:
A 2014 Cadillac ELR or Escalade ESV
A 2014 BMW 550i xDrive, 640i Gran Coupe, X5 xDrive35d, X6 xDrive35i or 740i
A 2014 Maserati Ghibli
A 2014 Jaguar F-Type or XF
A 2014 Porsche Cayenne S, Cayman S or Boxster S
A 2014 Mercedes-Benz C63 AMG, GL450 4Matic or E550
A 2014 Infiniti QX80
A 2014 Audi A7 3.0T Prestige Quattro
A 2014 Land Rover Range Rover Sport HSE
A 2014 Chevrolet Corvette Stingray Z51
Two Ford Explorers, Toyota Highlanders, Chevrolet Traverses, Nissan Muranos, GMC Terrains, Hyundai Santa Fes, Kia Sorentos, Buick Enclaves, Jeep Cherokees or Dodge Durangos
Unimpressed by those alternatives for the 73 crisp Grover Clevelands burning a hole in your pocket? Well, we aim to please, so here's how the 2015 got so spendy. Using the Build & Price feature on the manufacturer's website, the highest price we were able to get on an optioned-up 2014 Suburban was $66,420 before cash-back offers or other discounts. That's about $7,000 less than our 2015 test vehicle, and roughly $10,000 less than the bill we were able to run up on the website.
First off, the base price of the extended LTZ model has increased for the new model year by $3,300, rising to $66,690 from $63,390 (prices include destination). The rest of the difference comprises options both newly available and newly more expensive. Adaptive cruise control ($1,695), for example, was previously unavailable. That's in addition to the retractable power running boards, which cost $1,745 compared with the $1,095 power-retractable assist steps available on the 2014 model. Options groups also increased in price: The Sun, Entertainment, Destination Package increased nearly $800 to $3,305, while the Max Trailering Package at $500 more than doubles 2014's Heavy-Duty Trailering Package. All told, the options on our test car came to $7,640.
So now we know how the price got so high, but the question remains: Who buys an SUV from a mainstream brand with a luxury window sticker? Hmm. Well, a certain media mogul recently told Cars.com Executive Editor Joe Wiesenfelder in an interview that she likes big, boxy SUVs and knows how to operate a forklift. What do you say, Martha Stewart? Would you fork over $73,000 for a Suburban?
Cars.com photos by Evan Sears