Volvo Tackles Inflatable Child-Safety Seat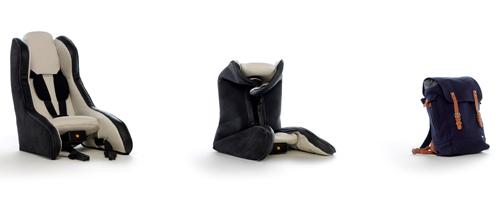 Raise your hand if you're a parent who has struggled with schlepping a child-safety seat through an airport, into a taxicab or even just from your car into grandma's car. This is a frustration with every single parent I know, and Volvo is attempting to make this piece of life just a little bit easier (not to mention more stylish) with the introduction of an inflatable child-safety-seat concept.
The idea behind Volvo's seat is to combine an inflatable design with rigid backing. The inspiration for the technology came to Volvo via one of its engineers in Seattle who had an "aha" moment in an inflatable yet rigid kayak. The seat inflates or deflates with a press of a button in less than a minute and then folds up into a small backpack.
According to Lawrence "Larry" Abele, design manager at the Volvo Monitoring and Concept Center,"We wanted to design a product that made people think that Volvo really thought of them when designing this seat. While most [child-safety] seats in the market today have a very family appeal, we wanted to make this seat more upscale aesthetically as our vehicles today are more upscale as well."
Abele isn't just a designer at the Volvo Monitoring and Concept Center. While his children are both teenagers now, he spent his share of time living abroad and struggling regularly with the ordeal of getting car seats through customs while trying to keep an eye on two wandering toddlers. "We wanted to make life easier for people with this seat," he said.
Volvo describes this seat as rear facing only, and suggests it can be used until age 3 or 4. This long-term rear-facing position is a very Swedish ideal, which is difficult to get across to most American families. The fact is, however, that it's much safer for children to ride rear facing for as long as possible. This seat was designed with a gap at the front edge, so there's space for a child's legs, instead of them getting smashed into the seatback it's installed against. The seat installs with the vehicle's Latch system.
The inflatable child-safety seat idea isn't unique to Volvo. As a child passenger safety technician, the inflatable Bubble Bum booster seat is one of my all-time favorite solutions for families with one or more kids in booster seats needing a slim and uber-portable solution to squeeze between other bulkier seats in a car. It's also a perfect solution to deflate flat and pack in a tote for a family trip.
Volvo continues to innovate in that space between vehicle safety and family convenience; the automaker was the first to introduce the three-point safety belt that we all know in our cars today, and it also offers two of my favorite in-car features: the dual-stage pop-up booster seat and seat-belt notification alerts for every seat in the car.
Now if only we could get the designers and engineers to tackle the difficult-to-access Latch anchors that tend to plague otherwise family-friendly Volvo models, we'd be golden.
Manufacturer image