2015 Chevrolet Impala: What's Changed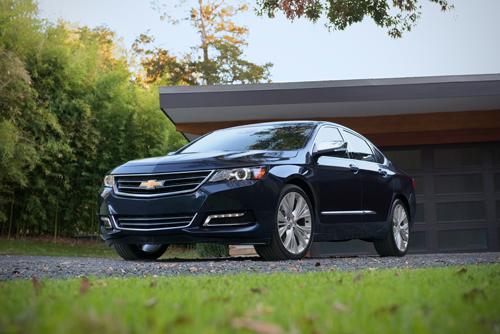 Most significant changes: Stop-start technology standard on 2.5-liter engine models, all Impalas get 4G LTE connectivity, eAssist model discontinued
Price change: $65 higher
On sale: Summer
Which you should buy, 2014 or 2015? 2015
Chevrolet's redesigned Impala won the Cars.com staff over so much we gave it our Best of 2014 award in January. That was for the 2014 model year, which is winding down with the 2015 version just announced. Changes to features and prices are small but worth noting.
Base prices are $65 higher on the 2015 models, including the $825 destination charge (up from $810 on the 2014s). The four-cylinder LS model starts at $27,735, including destination, and models with the 3.6-liter V-6 start at $30,960 for the 2LT version. For 2015, models with the base 2.5-liter four-cylinder engine gain stop-start technology that shuts the engine off at a stop. This is the same feature that Chevrolet made standard on the 2014 Malibu. On the 2015 Impala, it increases fuel economy by 1 mpg to an EPA-estimated 22 mpg city; the highway estimate is unchanged at 31 mpg.
With that move, Chevy has dropped the slow-selling Eco models, which included the stop-start feature, a 2.4-liter four-cylinder and an eAssist mild hybrid system that boosted the EPA ratings to 25/35 mpg city/highway.
Although the four-cylinder is smooth and fairly quiet, it lacks vigor in the Impala, so you should sample a V-6 Impala to see if you're willing to pay more and sacrifice some gas mileage for more spirited performance. You should also pay attention to which tires are on the cars you test drive. In our experience, the 18-inch tires provided a smoother, quieter ride than the available 19- and 20-inchers.
The price increases are minimal over 2014, plus you get 4G LTE as part of the deal, and the four-cylinder versions should return better gas mileage in urban driving thanks to the stop-start feature. In addition, the 2014 Impala received good reviews for its styling, spaciousness and road manners, but most cars benefit from unannounced running quality improvements in their second year on the market.
Chevrolet says the 2015 Impala will be on sale in the "first half of summer."
Manufacturer image