2015 Hyundai Sonata: First Drive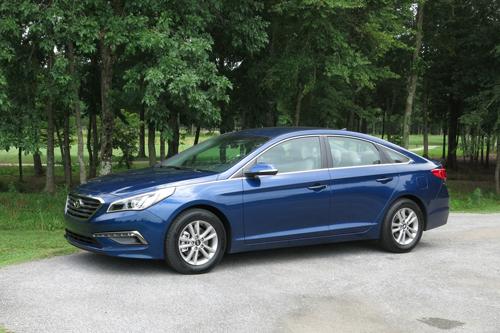 I recently drove the all-new seventh-generation 2015 Hyundai Sonata in Montgomery, Ala., departing from the Hyundai Motor Manufacturing Alabama plant. I quite liked the sloping lines both inside and out of the last-generation Sonata, so this new Sonata's appearance takes a moment to get used to. It has evolved drastically into what Hyundai calls its fluidic design 2.0, which is really no longer fluidic but much more linear, tailored and buttoned up (think back to the move from the iPhone 3G's curved corners and rocker plate back to iPhone 4's crisp, clean corners).
Hyundai's focus with the new Sonata is less on distinguishing itself from the pack with bold design statements and more on a sophisticated design, detailed engineering and thoughtful features.
The base engine is a 185-horsepower, 2.4-liter four-cylinder paired to a six-speed automatic transmission, and it gets an EPA-estimated 25/37/29 mpg city/highway/combined. I drove the Sport trim for the first half of the day. With the standard selectable drive modes, I was able to toggle between Sport, Normal and Eco, making minor modifications to the transmission, steering and engine performance. I felt quite comfortable in the 2.4, taking it easy as if I were out for a Sunday drive. It felt smooth when accelerating, cornering and braking, but it certainly wasn't mind-blowing in any one area, and maybe could even be described as slightly sleepy. This would be a good fit for the consumer just looking to get from point A to B. I was a little baffled as to why a couple of other Sonatas on the drive route were tailing me and using any opportunity to blow past me. In hindsight, I now know they were driving the zippy Sport 2.0T with a turbo four-cylinder.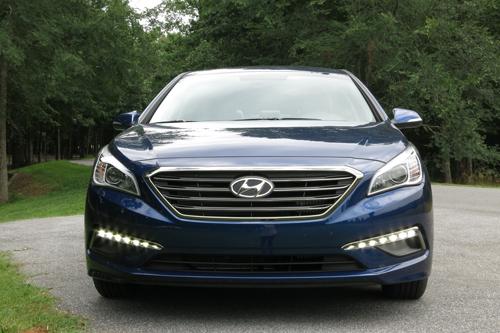 During Cars.com's $26,000 midsize sedan challenge in 2012, which included the 2013 Sonata SE, our editors commented on the powertrain's poor refinement. It had a busy feel that didn't filter out ruts and bumps as others in the challenge did. The powertrains have been re-engineered in the 2015 Sonata in the hopes of improving driver confidence.
Over lunch I took the Sonata Eco with its 1.6-liter four-cylinder engine and seven-speed automatic transmission out for a quick spin. While I didn't get enough drive time in it to form a solid opinion, my first observation was that accelerating in this vehicle felt more mild — similar to the feel of a hybrid from a full stop. Fuel economy in this model is anticipated to be 28/38/32 mpg or about 10 percent higher than the 2.4-liter.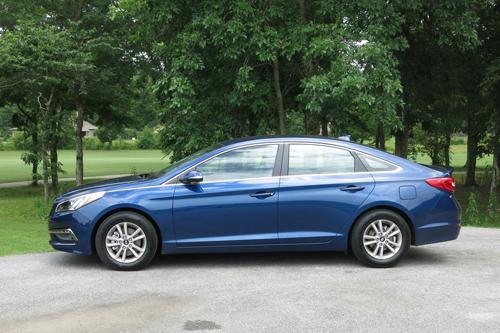 Afterward I jumped in the Sport 2.0T trim with a 245-hp, turbocharged 2.0-liter four-cylinder and a six-speed automatic, and just in time, I might add. I was starting to drag a little after lunch, but a noticeably more fun and sporty drive in the turbo was a welcome remedy for my afternoon brain fog. I instantly perked up and understood why others driving the turbo in the morning were antsy to pass for some wide-open roads. Rather than feeling like a car to simply get you from A to B, the Sport 2.0T feels like a car you'd opt into by choice, for fun and maybe even for a night out without the kids. It invites you to play more rather than sit and drive passively. It felt more like a Volvo S60 than a Honda Accord, for example, and elevated itself to a different level in my head.
I also noticed a marked improvement in noise infiltration inside each of the three Sonatas I drove over the previous-generation Sonata. I'm told that there's an improvement of about two decibels over the outgoing model due in part to increased body rigidity and decreased apertures for wiring.
The Sonata's interior used to be centered on the swooping waterfall design of the center control panel. You won't even recognize the new longitudinal and flat center panel and dash, which is slightly angled toward the driver. Ergonomically, the controls are logically clustered together with the climate controls placed at the bottom of the stack and separated visually from the clock cluster above that. The music and navigation area are stacked at the top. Everything is easy to find even while going 70 mph on the highway.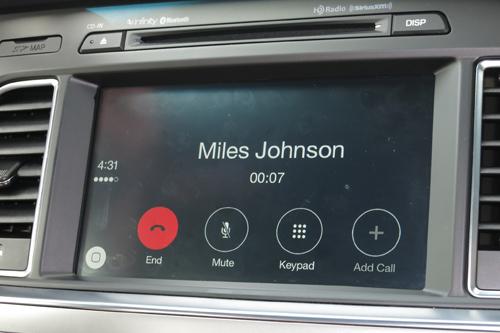 There are three options for audio systems in the new Sonata: a base system, which includes standard Bluetooth with audio streaming, a 5-inch color touch-screen audio system or an 8-inch touch-screen navigation system. Later in the year, Apple CarPlay will be available, and after having the opportunity to test it, I'm more excited than ever about this move toward the tech experts fitting user-friendly technology into cars while letting the automakers focus on their expertise, the car itself.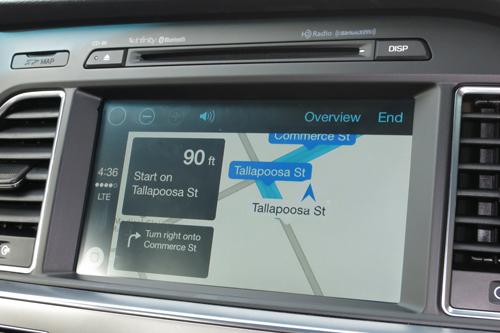 The rest of the Sonata's interior is straightforward. The center control panel has a covered storage bin at the bottom of the stack, a compartment to the right of gearshift can hold small items and two cupholders up front are accessible for the driver and front passenger. Narrow in-door storage pockets in all four doors have bottleholders and two seatback pockets help rear passengers stay organized. A center armrest in the backseat can be folded down and has two additional cupholders in it.
The trunk can be opened via a button on the dash to the left of the steering wheel. Pushing it pops the trunk release, but doesn't raise it. The cargo area has 16.3 cubic feet of space and expands by folding the 60/40-split rear seats with a tug of the release levers in the trunk.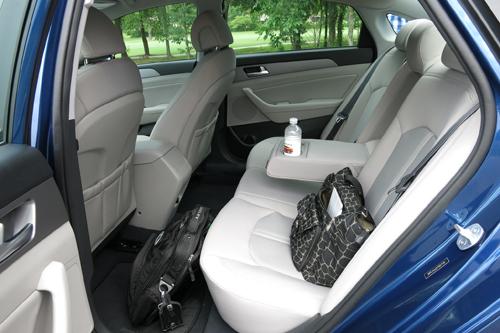 For 2015, a driver's side knee airbag has been added as standard equipment. A backup camera is available on the SE model and standard on higher trims. Blind spot warning with rear cross-traffic alert and lane change assist are available on certain models, as are forward collision warning and rear parking sensors.
The Latch system in the new Sonata seems well-designed, though I haven't had the opportunity to install child-safety seats with it yet. The lower Latch anchors sit under hinged covers that swing open. Booster seats might be trickier to install in the Sonata, as the two outboard seat belt buckles are flush with the bottom seat cushion. We've found that this can sometimes allow a booster seat to wiggle over the top of the buckle, blocking it. The center seat belt buckle is on a flexible nylon base, which might be difficult for younger children with limited dexterity to use independently.
While the crisp, new design of the Sonata takes some getting used to, I imagine that after a short time we'll all look back on the previous-generation Sonata and go, "Aww, wasn't that just so cute," like an adorable baby who you have to refrain from pinching so as not to alarm Mom and Dad. Speaking of families, I look forward to test-driving the Sonata at home in the near future (hopefully a Sport 2.0T) to see how functional it is once loaded up with my 6-foot, 2-inch husband, three daughters and their multiplying accouterments. Stay tuned ...
Cars.com photos by Kristin Varela