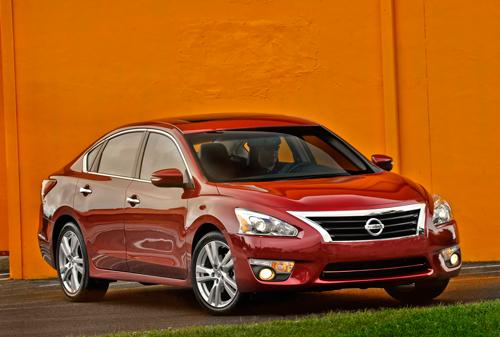 Most significant changes: The 3.5 SV and 3.5 SL V-6 models add navigation, blind spot and lane departure warnings, and moving object detection as standard
Price change: Base price $130 lower on the 2.5 S; others get increases
On sale: Early June
Which you should buy, 2014 or 2015? 2014
The Altima is one of the top-selling sedans that appeals because of its comfort, fuel economy and Nissan's aggressive incentives. Altima competes in the hotly contested midsize sedan segment against the Ford Fusion, Honda Accord, Toyota Camry, Hyundai Sonata and others, and its sales have increased this year while some rivals have faltered.
What's the Most Affordable Midsize Sedan for 2014?
Four-cylinder models come with EPA ratings of 27/38 mpg city/highway, putting them among the higher echelon in the midsize class, and Altima is competitive in interior room. Fashion-conscious buyers should note that Nissan hasn't tampered with the styling since the Altima was redesigned for 2013, so midcycle appearance changes are probably in store for the 2016 models.
Most of the significant changes come to V-6-equipped models. The 3.5 SV and 3.5 SL V-6 models have the NissanConnect infotainment system with navigation, blind spot and lane departure warnings, and moving object detection as standard equipment. V-6 Altimas also get 1 mpg increases for highway fuel economy (to 32) and combined fuel economy (to 26). Four-cylinder and V-6 SV and SL models also get standard automatic climate control. The base price is $130 lower on the popular 2.5 S, which starts at $23,370 (including destination); others increase. Prices are up by as little as $130 on the base Altima 2.5 and the 3.5 S, but they are $1,130 higher on the 3.5 SL and $1,310 on the 3.5 SV because of the additional standard equipment. The 2.5 SV sees a $380 increase, and the 2.5 SL is $230 higher.
The price increases are modest on most models with the 2.5-liter four-cylinder (and slightly lower on the 2.5 S), but better deals should be available on remaining 2014 models, which have been receiving generous incentives. One thing to consider, though, is that a 2015 model will have higher resale value by virtue of being one year younger. If you want a V-6, the steep price hikes on the 3.5 SL and 3.5 SV make a 2014 model more attractive, especially if you don't covet the latest technology in your new car.
Manufacturer image