Cars.com Hits the Racetrack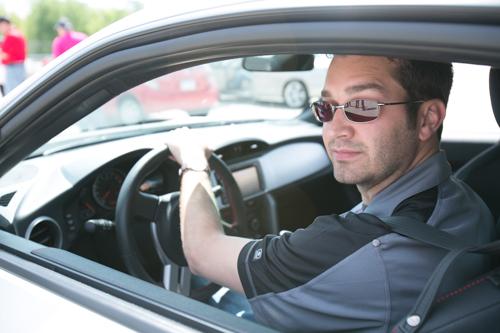 Forget kid in a candy store; these "kids" got to spend the day someplace much sweeter: the racetrack. The Cars.com Editorial team took its annual pilgrimage to Road America in Elkhart Lake, Wis., for the Midwest Automotive Media Association's spring rally.
With two days of track, street and off-road driving and nearly 100 cars available for testing, there were plenty of favorites from the event. Continue below for a gallery of the highlights.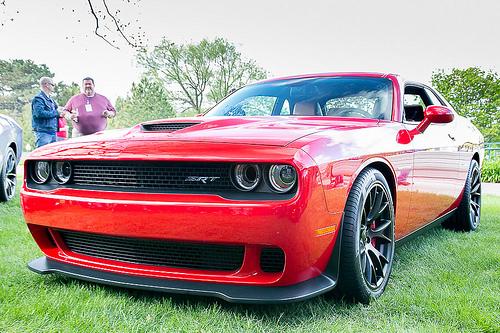 2015 Dodge Challenger SRT Hellcat
"Hearing this rumble was way cool." — Matt Avery, multimedia editor
"It's hard to pick just one, but the only one that stunned me speechless was the Jaguar F-Type. When placed in Dynamic mode, with the exhaust's "louder" button pushed and the feral snarl of its glorious V-8 echoing off the track walls and the world rushing by with increasing alacrity… it is nothing short of breathtaking." — Aaron Bragman, Detroit bureau chief
"No other car made me feel as instantly confident in its capabilities on our one-lap joyrides than the BMW M235i coupe. Sure, we drove much faster cars around Road America, but the M235i exhibited unreal precision and agility around the extremely fast track for its as-tested $46,575, with destination. The M235i is without a doubt a legitimate M performance package — even though it's not a true M car like the M3, M4, M5 — and for a bargain." — Joe Bruzek, road test editor
"Road America is a technical racetrack where many production-based performance cars don't feel at home. The Ford Fiesta ST isn't one of those cars. This small hatchback isn't particularly fast, but great steering and balance make it an extremely entertaining car to fling around the track." — Mike Hanley, senior editor
"Mercedes furnished a 2014 S550 4Matic and S63 AMG, and it's hard not to love 'em. Yes, there's still prodigious accelerator lag, but the car's mission remains to isolate you from the outside world in every way possible. The drivetrain's idle-stop is virtually imperceptible, the steering is buttery-smooth and the adaptive suspension reduces railroad crossings to distant, muffled clumps. Both cars whisk you to less-than-legal speeds with plenty in reserve, but even the S63 does it without breaking a sweat — and, oh, you're pushing triple-digit speeds now." — Kelsey Mays, consumer affairs editor
"The head restraint in the Mercedes-Benz S-Class was like the most comfortable, soft, downy pillow from the finest hotel in Paris. Where typically head restraints are like the business end of a boxing glove, this was instead comforting, soft and luscious. My only fear is that it might lull some drivers to sleep." — Patrick Olsen, editor-in-chief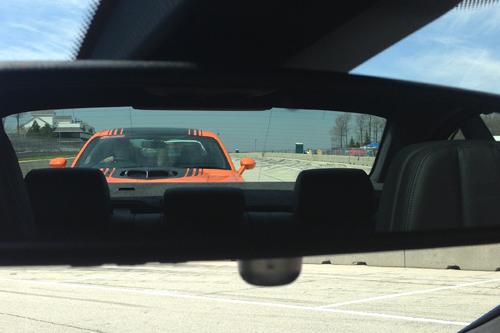 2014 Dodge Challenger R/T Shaker
"So glad I had the opportunity to drive the manual transmission version of this car on a proper race track; although I think I was afraid of it. This beast needs to be respected." — Evan Sears, photographer
"I was lucky enough to take a new Dodge Viper TA around Road America, but it was apparent I was tapping just a small sliver of that car's true potential due to my track skills. The new BMW M235i, however, was a different and much smaller beast. The well-balanced coupe had plenty of power, and I was able to tap all of it — push the handling close to its limits — and was rewarded with one of my best runs of the day." — David Thomas, managing editor
Cars.com photos by Evan Sears and David Thomas; S-Class manufacturer images