Cars.com's Top 10 Fun-to-Drive Fuel Sippers
CARS.COM — When I was 10, my dad set me and a go-kart loose in an abandoned parking lot, free to zip around the blacktop. At that age, you don't give a thought to how much gas costs; it's all about the fun. At this age, however, fuel economy is a big consideration when it comes to buying a car, but it doesn't have to trump the fun-to-drive factor.
Related: More Top 10s
There are plenty of cars that offer both fun and fuel savings, from affordable subcompacts and gas-electric hybrids to pricier luxury cars and diesel-powered vehicles. To qualify for this list, a car has to have an EPA combined rating of 30 mpg, while bringing out the inner go-kart-loving kid in all of us: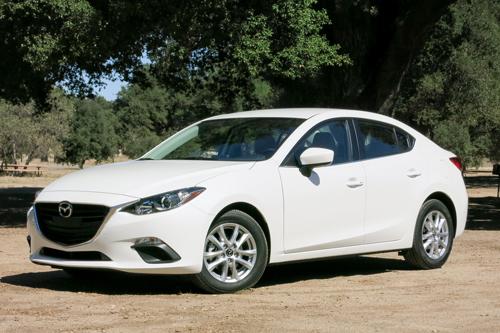 This little car channels the brand's zoom-zoom attitude in a big way. Redesigned for 2014, Mazda's compact sedan and hatchback offer an appealing blend of zippy power, agile road manners and wallet-friendly fuel economy.
Available in 2.0-liter and 2.5-liter four-cylinder trims and with six-speed manual and automatic transmissions, all versions of the Mazda3 get more than 30 mpg combined. The champ is the 2.0-liter sedan with the automatic transmission; it's EPA rated at 30/41/34 mpg, but the hatchback model comes in close at 30/40/33 mpg.
"The redesigned 2014 Mazda3 is far from perfect, but it gives compact-car shoppers an alluring choice outside and in, with a satisfying mix of efficiency and performance," Consumer Affairs Editor Kelsey Mays said.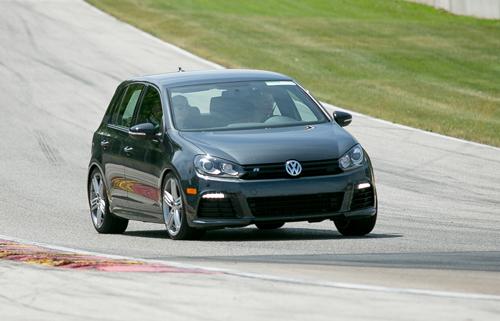 Volkswagen's compact hatchback and its spunky 2.0-liter diesel produce 140 horsepower and 236 pounds-feet of torque, topping our list in the fun and fuel-frugal departments. With either the six-speed manual or six-speed dual clutch automated manual transmission, the Golf TDI is EPA rated at 30/42/34 mpg city/highway/combined.
Also available in a gas version, the 170-hp, 2.5-liter inline-five-cylinder pairs with a six-speed automatic transmission and is EPA rated at 23/30/26 mpg.
"The Golf is nimble for city use, but it's poised at high speeds, making it good for interstate treks too. Its small exterior size is an advantage on congested urban roads, but it offers a surprising amount of interior room. To top it off, it's efficient — especially the TDI diesel version I tested — but not at the expense of driving fun," said Senior Editor Mike Hanley.
The redesigned-for-2015 model is on its way; click here for our First Drive.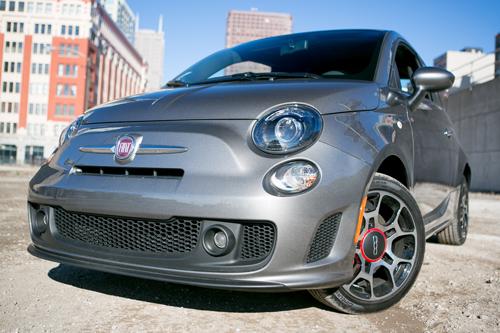 Fiat's tiny 500 comes in many flavors, from the milder base coupe to the rowdy, sport-oriented Abarth model. We chose the middle ground with the Turbo version, which combines the cute looks and maneuverability of the regular 500 with a spirited turbocharged engine.
The Turbo model pairs a 135-hp, 1.4-liter four-cylinder with a five-speed manual transmission for an EPA rating of 28/34/30 mpg; premium gas is recommended.
"Once its turbocharged 1.4-liter four-cylinder overcomes some initial turbo lag," Mays said, "acceleration feels lively and the car scoots along. The drivetrain's peak torque, 150 pounds-feet, comes from 2,500 to 4,000 rpm, and it suits the Fiat better than the regular 500's."
The first luxury vehicle to make the list is actually its automaker's most affordable. Mercedes-Benz made news when it announced that its new-for-2014 compact sedan would start below $30,000 (excluding destination). After driving the CLA, the bigger story is what you actually get for that price.
"It packs decent performance, surprisingly good gas mileage and even more astonishing rear legroom," said Managing Editor David Thomas.
The front-wheel-drive CLA250 is the mileage champ with an EPA rating of 26/38/30 mpg; premium fuel is recommended. Power comes from a turbocharged 2.0-liter four-cylinder producing 208 hp and 258 pounds-feet of torque; it's paired with a seven-speed dual-clutch automatic transmission. All-wheel-drive versions of the CLA250 and the higher-output CLA45 AMG are much thirstier, however.
Although Mini's Hardtop was redesigned for 2014, the new model retains the brand's fun-to-drive spirit with roller-skatelike agility, spirited power and retro-cute looks. "The 2014 Mini Cooper Hardtop not only retains the fun-to-drive allure of previous generations, but it also outdoes them in terms of roominess, ride comfort, steering feel and acceleration," Thomas said.
Although the car grew in size for 2014, fuel economy is actually up this year. The base 1.5-liter turbocharged three-cylinder engine makes 134 hp and is EPA rated at 30/42/34 mpg with the six-speed manual and 29/41/34 with the six-speed automatic; premium fuel is recommended. Even the performance-oriented S model and its 189-hp, turbocharged 2.0-liter four-cylinder makes the 30 mpg cut; it's rated at 27/38/31 mpg with the automatic; the manual version doesn't qualify, however.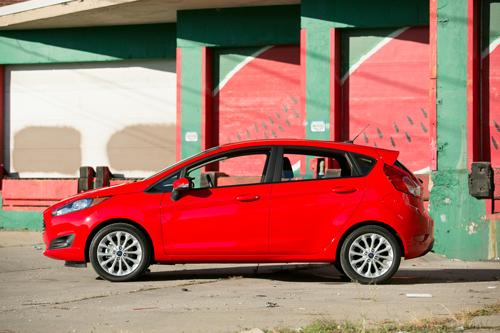 Ford's subcompact car has its faults (namely a lack of cargo space and an unrefined transmission), but it does a couple of things pretty well, especially when it comes to handling and fuel efficiency. The Fiesta is available in hatchback and sedan body styles, and comes with a couple of engine options; both the 1.6-liter four-cylinder and turbocharged 1.0-liter three-cylinder meet our fuel-sipper qualifications.
In SFE trim (Super Fuel Economy), the three-cylinder with a five-speed manual transmission is rated at 32/45/37 mpg; the 1.6-liter model is rated at 30/41/34 with the six-speed automated manual. The non-SFE 1.6-liter is no slouch either; manual models get 27/38/31 and automated manuals 29/39/32 mpg. The higher-performance ST model and its 197-hp, turbocharged 1.6-liter four-cylinder doesn't qualify, however.
"The 2014 Ford Fiesta delivers wallet-friendly prices, excellent fuel economy and nimble road manners. It's agile, fun to sling through corners and has reactive, natural-feeling steering," said Assistant Managing Editor Jennifer Geiger.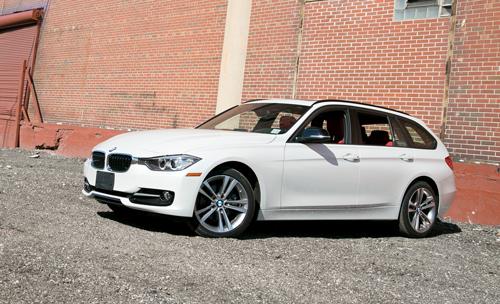 The 3-Series comes in just about any flavor you could want: sedan, wagon, hatchback, gas, hybrid or diesel. Something they all have in common is the lineup's emphasis on sporty and refined driving dynamics. We chose the diesel-powered Sports Wagon for this list. The 2.0-liter four-cylinder diesel makes 180 hp and 280 pounds-feet of torque, providing plenty of low-end pep and enough higher-speed brawn, as well as impressive economy: 31/43/35 mpg with an eight-speed automatic transmission.
"The 2014 BMW 328d clean diesel does a great job of delivering both excellent fuel economy and the BMW driving experience, but it sacrifices some in-cabin tranquility," said Executive Editor Joe Wiesenfelder.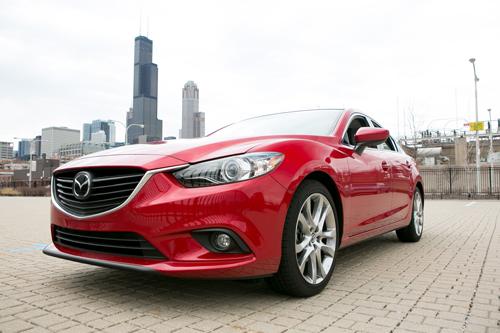 The second Mazda to make the list is another redesigned-for-2014 model. With sleek styling, agile road manners and excellent-for-the-class fuel economy, the mid-size Mazda6 checks both the fun and efficiency boxes.
The sedan's 2.5-liter four-cylinder is good for 184 hp, and the mileage champ is the automatic transmission model equipped with Mazda's regenerative braking system, part of the optional i-Eloop Package. It's EPA rated at 28/40/32 mpg; without the system, mileage drops to 26/38/30. Six-speed manual models clock in a bit lower at 25/37/29.
"The Mazda6 feels like a smaller car than it truly is — in a good way — and this goes a long way toward establishing its nimbleness," Hanley said.
One of two hybrids on the list, Lexus' hatchback is one that Thomas calls "charming" for its appealing blend of sporty handling and decent fuel economy. The CT 200h pairs a 1.8-liter four-cylinder engine and an electric motor/generator for a combined 134 hp; it's rated at 43/40/42 mpg.
"A luxury hybrid isn't an easy sell. A luxury hybrid with sporty intentions is an even harder one. Yet ever since Lexus' compact CT 200h hatchback debuted a few years ago, it has impressed by exuding cool and still delivering results at the pump," Thomas said.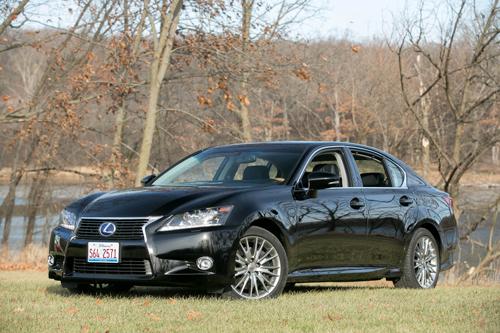 Lexus' mid-size hybrid sedan rounds out the bottom of our list and offers a taste of both worlds: strong V-6 power paired with an electric motor for better-than-expected economy.
The rear-wheel-drive sedan has anti-hybrid styling inside and out, with Lexus' in-your-face spindle grille and striking LED headlights outside and a luxury-oriented cabin. Its V-6 hybrid system puts out a healthy combined 338 hp and is rated at 29/34/31 mpg; premium fuel is recommended.
"The GS 450h feels fast. The hybrid system puts out more total power than the gas version and even with less torque, power comes on quickly. At high speeds, it aids in passing power and pushes you back in your seat harder than the standard drivetrain," Thomas said.
Cars.com photos by Kelsey Mays, Evan Sears and David Thomas
Cars.com's Editorial department is your source for automotive news and reviews. In line with Cars.com's long-standing ethics policy, editors and reviewers don't accept gifts or free trips from automakers. The Editorial department is independent of Cars.com's advertising, sales and sponsored content departments.