Gas Prices Up Pennies as Iraq Turmoil Threatens Big Spike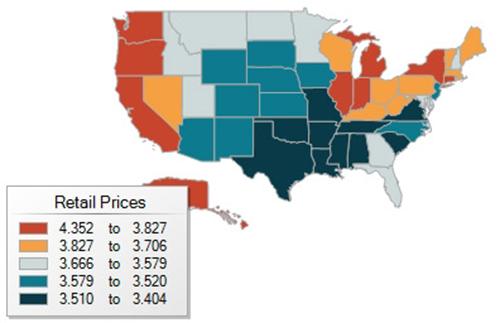 Gas prices climbed in most parts of the country the past week as fighting among ethnic groups continued in Iraq, increasing worries that a prolonged conflict could spread to other countries and disrupt oil production. The national average for regular unleaded gas rose 2 cents a gallon the past week to $3.67, the AAA Daily Fuel Gauge Report stated Thursday.
Survey: We Want Transportation Improvements and We're Willing to Pay
Pump prices usually decline in June, AAA noted in its weekly update of price trends, and dropped an average of about 20 cents the past three years, but "the recent turmoil in Iraq is likely to prevent that trend from repeating this year." AAA has predicted that gas prices will remain relatively high this summer, ranging from $3.55 to $3.70, though it warned this week that "this range may be higher if unrest in Iraq escalates or disrupts oil production in the region." The conflict in Iraq has yet to cause panic in oil markets; crude oil reached a 52-week high of nearly $108 per barrel late last week but was trading below $106 early Thursday.
The current national average of $3.67 for a gallon of regular unleaded gas is 7 cents higher than a year ago and 3 cents shy of this year's peak, set on April 28. Diesel fuel prices dipped by a penny the past week to $3.90, and is 4 cents higher than on June 19, 2013.
Gas prices in some states rose by several cents more than the national average over the past week. The average increased 6 cents in Minnesota to $3.60 and by the same amount in Oklahoma and Texas to $3.50. In Missouri, the statewide average jumped 8 cents to $3.51, and in Arkansas it went up 9 cents to $3.48.
Most states experienced smaller increases, and prices were slightly lower or unchanged in a handful of states. Prices declined by a penny in North Carolina to $3.58 and in South Carolina to $3.40, for example. Hawaii's average also fell by a penny to $4.35 and California's was unchanged at $4.10, but that gave motorists in those states little solace as they remained the two most expensive states for gas. Alaska's average increased 4 cents to $4.09.
Prices continued to edge upward in the Pacific Northwest, rising 3 cents in Oregon to $3.94, and 4 cents in Washington state to $3.96. The cheapest gas was in the South. South Carolina's statewide average of $3.40 was the lowest, followed by Alabama and Mississippi at $3.42.
AAA image