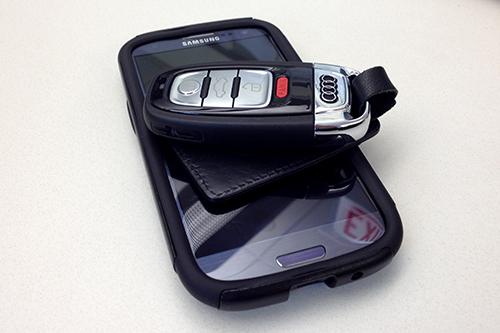 Well, that didn't take long. Less than four months after Apple unveiled its CarPlay operating system that brings apps and maps galore to a car's multimedia system, Google is reportedly launching an in-car operating system of its own.
Apple Unveils CarPlay for Volvo, Mercedes, Ferrari at 2014 Geneva Motor Show
Automotive News reports (subscription required) that Google's internal designation for the system is Google Auto Link. It's the product of Google's Open Automotive Alliance, a group that includes Google, Audi, GM, Honda, Hyundai and tech company Nvidia. The consortium, formed in January 2014, promised to bring Google's Android platform to the car by year's end.
The schedule appears on track.
The New GAL in Town
Sources told Automotive News that Google will unveil the system at its annual developer conference on June 25-26 in San Francisco. And it appears GAL, like CarPlay, will project apps from an Android smartphone onto a car's center display and use the car's controls — touch-screen, knob-based or otherwise — to govern the action, according to Automotive News.
"I haven't seen it to know what it looks like, but it's going to be something very similar to CarPlay," IHS senior analyst Mark Boyadjis told us, adding that it's likely to be an application you launch — not an overall operating system for the car — that brings "as much of the function of the phone into the car" as possible.
"One of the main issues is [that] they're trying to put a consistent Android integration compatibility into the cars," Boyadjis said — a contrast to the different versions of Android that come on myriad smartphones.
Still, the car itself will affect how GAL works.
"They're not going to be able to create a touch-screen environment if you don't have a touch-screen, because that's the hardware in the car," Boyadjis noted. But GAL will be "bringing those apps like Gmail, bringing in the apps like Calendar, Google Maps and navigation, stuff like that" to the center display.

Latest From Google
If it all pans out, GAL will become the latest automotive initiative from the Google, whose automotive forays date back to 2005, according to Automotive News. Today the company is among the pioneers in self-driving cars, including production of a prototype fleet announced in May. Various automakers have also integrated Google Maps interfaces or Google search functionality into their multimedia systems.
Full smartphone integration is the next frontier, but it's a tough nut to crack. Automakers have seen increasing safety oversight over the potential for driver distraction, so minimizing any eyes-off-the-road distractions is a must. Still, shoppers want a connected car.
"More consumers are looking to applications and infotainment platforms as a buying component of their buying process," Boyadjis said, pointing to an IHS survey that found 30 percent of buyers would consider not buying a car if its multimedia system lacked the right apps.
Both Systems Available
More smartphone users have Android phones than Apple's iPhones, though the lead has narrowed of late. But Apple, which introduced CarPlay under a different name in mid-2013 — "iOS in the Car" — beat Google to the punch for automotive integration. At the time, Apple said it had a handful of automakers signed up.
Fast-forward to now and CarPlay's list has ballooned: BMW, Ferrari, Ford, GM, Honda, Hyundai-Kia, Jaguar-Land Rover, Mercedes-Benz, Mitsubishi, Nissan, Subaru, Toyota and Volvo all will eventually adopt some form of the system, Apple said. Google Open Alliance has fewer partners, but Boyadjis said to expect many cars — and possibly most — to eventually adopt both systems.
"They will be very inter-compatible," he said, adding that it's "a bad strategy" if an automaker chooses one system exclusively. "If an automaker does not work with Google for integrating Auto Link, depending on your buyer segment, you could be alienating 60 or 70 percent of your buyers."
We reached out to Google's press offices but received no comment. We'll have another updatewhen the company unveils GAL — and calls it that — next week.
Cars.com photo by Kelsey Mays