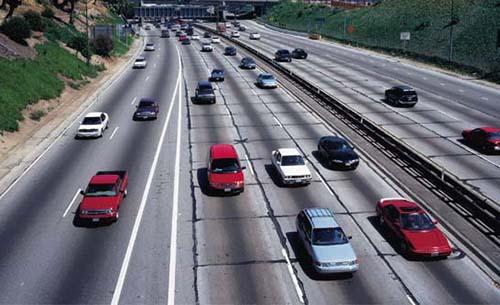 Would you be willing to pay more at the gas pump if it would improve safety and congestion on your daily commute? More than two-thirds of Americans say they would, according to a new AAA survey of more than 2,000 adults. Only 5 percent of respondents said the federal government should spend less on transportation. AAA is using the research to bolster its argument to Congress that the national fuel tax should be increased to address issues on the nation's roads, bridges and transit systems.
Low Gas Tax Could Cost Drivers More
The federal Highway Trust Fund is funded by the national gas tax, which costs motorists 18.4 cents a gallon for gasoline and 24.4 cents a gallon for diesel. The tax has not been raised in more than two decades, and AAA says that due to inflation and improved fuel economy, "the purchasing power of the current tax has been cut nearly in half." AAA called the gas tax "the most efficient and fair method available to pay for transportation maintenance and improvements in the near term," and estimates that hiking the tax could save the average driver $324 in annual repairs and operating costs due to poor road conditions.
"The Department of Transportation expects the federal Highway Trust Fund will run out of money this summer without congressional action, which would delay transportation maintenance and improvement projects nationwide," AAA said in a statement.
Here are some other highlights from the AAA survey:
More than half of respondents are willing to pay higher fuel taxes each month for improved transportation infrastructure.
Nearly three times as many people are more likely to vote for a member of Congress who supports increased federal spending on transportation than would be less likely.
Sixty-seven percent of Americans agree that taxes on fuel consumption are appropriate for transportation funding.
Forty-three percent of respondents said they believe roads, bridges and transit systems have declined in quality in the past three years compared with 32 percent who believe quality has improved.
AAA image