If you've ever ridden in the backseat of a friend's car, you may have been annoyed to find you couldn't control the power window back there. Your friend wasn't trying tick you off; she was just protecting her children, in and around the car.
Read More #FamilyCarAdvice
While many of us are thrilled that the days of crank windows are mostly gone, power windows can pose a danger to children if not monitored properly. Since 1990, more than 50 children have been killed in incidents involving power windows, according to KidsandCars.org, a nonprofit child safety organization. While some cars may have automatic window-reversing systems, also known as "pinch protection," on their windows to help prevent strangulations, this isn't mandated by the federal government. Since the 2010 model year, vehicles have been required to have "pull up/push down" window switches, which help avoid situations in which a child could lean on a switch and roll up a window, causing entrapment. This is a step in the right direction, but only automatic reversing systems will keep lives from being lost in power-window strangulations.
One thing cars do have in common is the ability to disengage window controls for rear passengers using the power-window lock. This usually involves pressing a button on the driver's side armrest, near the window controls. While easily used, this button can often go unnoticed and inactivated.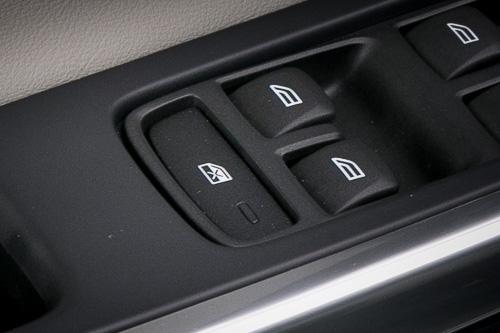 Read on for more statistics from KidsandCars.org that may convince you to immediately head out to your car, check the owner's manual for instructions and make sure you've engaged your power-window locks.
A 2007 study by the National Center for Statistics and Analysis at the National Highway Traffic Safety Administration estimated that each year 2,000 people are treated in hospital emergency rooms for injuries related to power windows; half of those are children.
Power windows can exert an upward force of 30 to 80 pounds. It takes just 22 pounds of force to suffocate or injure an infant and 2 pounds of force to activate the window switch.
More than 18 million U.S. adults have injured someone they know by closing a car's power window.
More than 30 million U.S. adults have been personally injured or know someone who has been injured by someone else closing a car window.
What can you do to ensure your loved ones don't become a statistic? The National Highway Traffic Safety Administration recommends the following:
Teach your kids not to play with power-window switches and not to stand on passenger-door armrests.
Before closing a power window, look to make sure all body parts are clear of it.
Don't leave the key in the ignition when children are in the car, especially if they're momentarily unsupervised.
And, of course, activate your power-window lock button.
Cars.com photos by Evan Sears