2015 Ford Mustang Power Ratings Released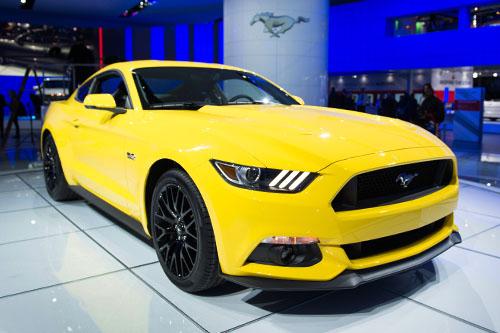 Ford has now released horsepower figures for the 2015 Mustang, which will start at $24,425 including destination when it hits dealerships this fall. Ford's redesigned pony car will come standard with a 3.7-liter V-6 that makes 300 horsepower at that price — similar to the outgoing Mustang — while an optional turbocharged 2.3-liter EcoBoost four-cylinder makes 310 hp.
Related: 2015 Ford Mustang Starts at $24,425
Why would the Mustang get the EcoBoost? In a word, torque. Though it makes just 10 hp more than the V-6, Ford says torque is rated 320 pounds-feet. Ford says the V-6 makes 280 pounds-feet — which means the EcoBoost four-cylinder and its twin-scroll turbo pack a healthy 40 extra pounds-feet of get-up-and-go versus the V-6. The V-6 actually loses 5 hp this year. We guess Ford thinks a 5-hp gap between the base engine and the more expensive EcoBoost will keep shoppers from moving up. Ten hp doesn't really seem like it would sway many who focus on that spec, however.
No pony car would be complete without a V-8, and the 5.0-liter Mustang returns with 435 hp and 400 pounds-feet of torque, up 15 hp and 10 pounds-feet versus last year's Mustang Five-Oh. Coupled to the trio of engines is a manual transmission with smoother shifting than in the prior car, Ford says. The optional six-speed automatic has steering-wheel paddle shifters and downshift rev-matching.
Ford says the EcoBoost Mustang will saddle its drivetrain with 11.4 pounds' curb weight per hp — it tips the scales at 3,524 pounds — while the V-8 Mustang will have 8.52 pounds per hp. That's better than the current V-8 Mustang (8.61 pounds per hp at its lightest).
It also beats the Detroit competition. The 2015 Dodge Challenger V-8 (non-Hellcat) makes a minimum 8.74 pounds per hp (SRT) or 10.97 pounds per hp (R/T), while the 2015 Chevrolet Camaro SS makes 9.17 pounds per hp. (The Camaro Z/28 and ZL1 both undercut 8 pounds per hp, but they're priced in line with the outgoing Mustang GT500, not the mainstream models.)
Cars.com photo by Steven Pham