2015 Lexus NX First Drive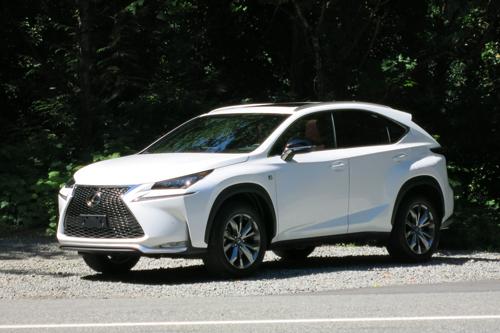 As badge engineering goes, Toyota's luxury division has more hits than misses. The ES midsize sedan feels considerably nicer than a Toyota Camry; the GX bears little resemblance inside or out to its Toyota 4Runner sibling. And so it goes for the NX, a car Toyota Corporate Marketing Manager Brian Bolain says is "very loosely related to the RAV4," Toyota's popular small SUV. Bolain insists it has 90 percent different parts and a structure that's 20 percent more rigid.
Indeed, the two seem like distant cousins at most. The NX hits U.S. showrooms in December, one of 80 global markets in which Lexus plans to sell the SUV. Pricing is still to come. But at a media preview in Seattle, I drove preproduction versions of the gasoline-powered NX 200t and gas-electric NX 300h hybrid, and my early take is the NX holds promise.
As compact luxury SUVs go, the 2015 Lexus NX combines sufficient driving fun and occupant comfort to deserve a look, though anyone with serious cargo needs should look elsewhere in this crowded field, or stick to the brand's popular RX.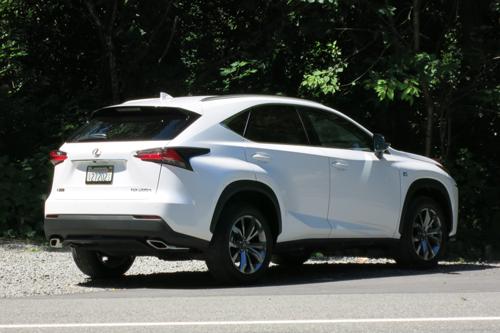 When the production NX bowed last April, we thought it would compete with the latest crowd of subcompact luxury SUVs — namely the BMW X1, Audi Q3 and Mercedes-Benz GLA-Class. Lexus insists the NX stacks up against those competitors' larger X3/Q5/GLK siblings, a group that's still a few inches shorter than the RX.
Drivability
Roughly the size of a Q5 or X3, the pinched-nose NX is still longer and wider than the original 1999 RX 300. In two intervening RX generations, Lexus' mainstay has grown; today's RX 350 is 5.5 inches longer than the NX. It's also more than 230 pounds heavier than the new smallest SUV, whose lighter weight benefits drivability and efficiency. The NX 200t's 235-horsepower turbo four-cylinder scurries ahead with sufficient punch, and its six-speed automatic performs better than the RX's clumsy transmission, holding lower gears and kicking down adeptly. Using Lexus' familiar Drive Mode Select, the Eco and Normal modes introduce occasional gear hunting in passing maneuvers, but Sport mode imbues the transmission with satisfying decisiveness.
All told, Lexus says the NX 200t hits 60 mph in the low 7-second range. That's a hair slower than the competition's mainstream engines, but the expected fuel efficiency justifies it. Lexus pegs gas mileage at 22/28/24 mpg (city/highway/combined) in the front-drive NX 200t and 21/28/24 mpg with all-wheel drive. Final EPA figures are still pending, but if those figures pan out, the NX will impress in this class. One pesky detail: The NX 200t requires premium gas, something many competitors merely recommend.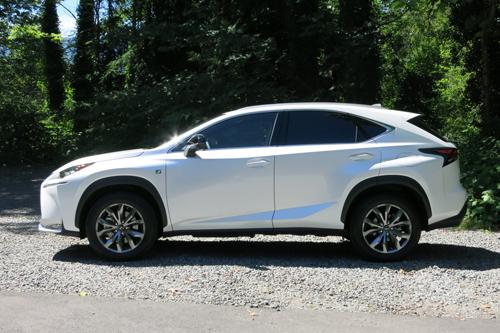 Ride quality is busy at times, but it still feels more composed than the sometimes-choppy RX. I couldn't detect a huge difference between the normal and F Sport suspensions, which have performance shocks and retuned springs, but most of our brief seat time in an NX 200t F Sport was over smooth pavement in moderate traffic. We'll have to put an F Sport through our handling loop around Cars.com's Chicago headquarters to get a better sense of the ride/handling differences.
Across the board, the steering feels a bit numb at low speeds; feedback improves as you speed up. Still, a non-F Sport 200t pitched hard into corners — a quick reminder that this is no sport sedan.
The 194-hp NX 300h (which doesn't come in an F Sport version) cedes more of the fun factor, with plenty of rubber-band continuously-variable-transmission responsiveness, drone and a slow climb up the revs when you floor it. The regenerative brakes have a degree of pedal vagueness that evokes earlier hybrids, and at full bore, power feels adequate but never energetic. Indeed, Lexus says zero to 60 mph takes a modest 9.1 seconds. It feels like that, but the payoff comes in impressive efficiency. Lexus estimates the NX 300h will get 32 to 33 mpg in EPA combined ratings, depending on driveline — figures that trounce any immediate competitors, hybrid or diesel. What's more, premium gas is only recommended, not required.

Cabin & Tech
The NX's interior packs lots of eye candy, mostly thanks to stitched, leatherlike synthetic materials that cover portions of the dashboard, center console and doors. Less convincing is the molded stitching that adorns upper sections — similar to the dash materials in the Camry and ES — as well as the big chunks of faux-metal plastic trim that flank the center controls. The layered approach looks sharp overall, however.
Lexus' standard NuLuxe upholstery makes for some damn convincing faux leather. Real cowhide is optional, but you'd be hard-pressed to tell the difference. I'm less enthralled about the brand's next-gen Remote Touch Interface, which comes on navigation-equipped NX models. The latest RTI abandons a free-form knob for a square surface that's similar to a laptop touchpad. It's straightforward and retains haptic feedback, but suffers clunky map interactions and menu items that are too easy to miss. Sans navigation, the NX gets a simpler directional knob.

Seating & Space
Seat packaging is good. The reclining rear seats offer good legroom and a higher seating position than the backseat in the RX, which squats too low to the floor. Still, taller adults may want more headroom; sitting upright, my 6-foot-tall frame brushed the ceiling. The optional power-folding rear seats work with one touch, and if something is in the way — say, a mischievous child trying to pancake his sibling — they stop and retract. You can work them from the backseat or cargo area, too; in the backseat, the hip-level buttons double as power recliners.
Lexus claims four golf bags fit behind the rear seats. If that's the case, competitors must be able to fit the bags plus a caddy. The Acura RDX, GLK, Q5 and X3 all have 23 cubic feet or more behind their rear seats, but the NX 200t has just 17.7 — small for the class and less than half the cargo space of the RX. Fold the seats down, and the NX's 54.6 cubic feet makes up some of the lost ground, falling within 9 cubic feet of all four competitors. (The NX 300h's battery pack sits beneath the rear seat, cutting about 1 cubic foot in either regard.)

The NX Frontier?
Lexus expects to sell about 36,000 NX SUVs in the U.S. per year — about a third of RX sales, but right in the thick of Q5/GLK/X3 popularity. And very few of those should come from RX shoppers; Bolain said he predicts just 5 or 10 percent of sales would come at the expense of the brand's mainstay SUV.
Officials said to expect pricing this fall. The NX comes fairly well equipped; 10-way power driver's seat and eight-way power passenger seat with driver's power lumbar, keyless access and push-button start, Bluetooth phone/audio with Siri Eyes Free integration and a backup camera are all standard. The German competition starts just less than $40,000 with destination, but Acura's $35,790 RDX (2015, including destination) is the value pick of the litter. So we'll see which direction Lexus goes. But the NX can't start too close to the RX, which starts at less than $42,000 for 2015. Provided the right pricing, the brand's latest SUV deserves attention.
Cars.com photos by Kelsey Mays