Gas Prices Approach Month of Daily Decreases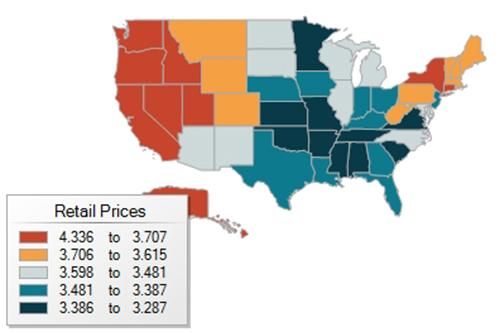 The cost of gasoline continues to slide even as the price of crude oil shows increased volatility, and Thursday marked the 26th consecutive day of lower prices at the pump, according to the AAA Daily Fuel Gauge Report. Some daily declines during that stretch have been only fractions of a penny, but the steady slide over nearly a month has lowered the national average for a gallon of regular unleaded to $3.55, 4 cents less than a week ago and 13 cents less than a month ago. Diesel fuel declined by a cent the past week to $3.86, a 4-cent drop compared to a month ago.
Gas Prices See Sustained Slide
Oil, meanwhile, was trading at around $103 a barrel Thursday after it shot up to nearly $107 on June 25 because of worries over conflicts in Ukraine and the Middle East, and then briefly fell below $100 in mid-July. AAA noted that those conflicts have had little impact on U.S. gas prices. "Despite these issues, oil markets remain relatively unaffected because there has not been an impact to supply or distribution. Meanwhile, domestic refinery utilization reached its highest level of the year last week, which has helped to push gas prices lower," AAA said in its weekly analysis of fuel costs.
Though the price of oil directly affects pump prices, AAA spokesman Avery Ash said the impact isn't immediate and not as dramatic as some may think.
"Retail gasoline prices tend to lag crude oil prices by about a week or two," Ash said in an interview. "The rule of thumb is that for every dollar that the price of crude oil goes up or down per barrel, the retail price of gas goes up or down about 2.5 cents per gallon.
"With a $10 swing in the price of crude oil, you would expect to see about a 25-cent movement in the price of retail gasoline."
Even then, Ash added, local and regional refinery and supply issues may have more impact than oil prices. "There are a lot of other factors that go into the price of gasoline: refineries being offline, summer-blend versus winter-blend gasoline, what supply and demand are looking like, hurricanes," he said.
With U.S. gas prices falling for nearly a month, the national average for regular unleaded has been lower than at the same time last year for more than week, AAA reported. The average national price Thursday was 9 cents lower than on July 24, 2013. In states such as Indiana, Kansas, Michigan and Missouri, the average price was more than 20 cents lower than a year ago, and for Illinois motorists it was 31 cents lower.
The cheapest gas could be found in the southern half of the country. South Carolina had the lowest statewide average, $3.29, followed by Alabama, $3.30; Missouri, $3.31; Tennessee, $3.33; and Mississippi and Oklahoma, $3.34. Hawaii had the highest price, a statewide average of $4.33, followed by Alaska, $4.14; California, $4.02; and Oregon and Washington, $3.94.
AAA graphic