Gas Prices See Sustained Slide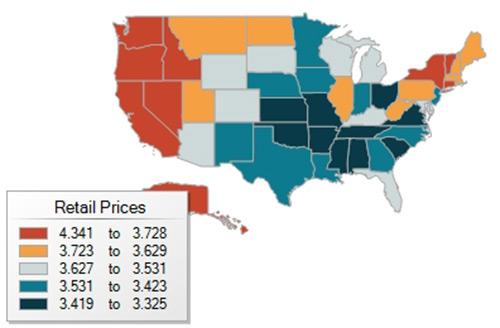 If it seems like you're shelling out less for gasoline than in the recent past, it probably isn't just wishful thinking. Steady, widespread declines in pump prices during July have lowered the national average for a gallon of regular unleaded gas to $3.59, according to the AAA Daily Fuel Gauge Report on Thursday. That's 5 cents less than a week ago and 7 cents less than a month ago. Moreover, the national average is 7 cents lower than a year ago, and motorists in many parts of the country are now paying less or about the same as they did on July 17, 2013.
Consumer, Environmental Groups Call for MPG Regulation in Car Ads
In the Los Angeles area, for example, the $4.10 average price is the same as a year ago. The same goes for the $3.57 average in the Atlanta area. Steep declines in the Great Lakes area in recent weeks might have some motorists doing a double take when they check pump prices. In Illinois, the average price has fallen 27 cents during the past month to $3.67, 29 cents lower than at this time last year. The price drop is more dramatic in the Chicago area, falling 33 cents in the past month to $3.79, 38 cents less than a year ago. Statewide averages dropped 12 cents in the past week alone in Indiana and Michigan to $3.45 and $3.60, respectively. Indiana's average is 42 cents lower than a month ago and 37 cents less than a year ago, and Michigan prices have dipped 34 cents in the past month and 32 cents year-over-year. In Ohio, prices have fallen 42 cents in a month, and the current $3.42 average is 21 cents less than a year ago.
The national average for diesel fuel fell 2 cents the past week to $3.87, just a penny more than a year ago.
AAA said reduced chances that the conflict in Iraq would disrupt the supply of oil have helped lower both crude oil and gas prices. Oil had been trading at nearly $107 a barrel early in July before briefly falling under $100. In early Thursday trading, crude oil was trending upward as prices rose above $102.
"The national average (for gas) may continue to slide or remain flat, barring any geopolitical concerns, major hurricanes or refinery disruptions," AAA said.
Not all motorists are enjoying a price break at the pump. The $4.19 average in the San Francisco area is 9 cents higher than a year ago. Washington state's $3.97 average is 7 cents higher than at this time last year, and in Oregon the $3.96 average for regular unleaded is 8 cents higher. Washington and Oregon are among the five most expensive states for gas. Hawaii has the highest price, $4.34, followed by Alaska, $4.16, and California. $4.08.
The cheapest gas can be found in the southern half of the country. South Carolina had the lowest average price Thursday, $3.32, followed by Alabama, $3.34; Missouri, $3.36; and Mississippi and Tennessee, $3.38.
AAA graphic