Recall Alert: 1.9 Million Graco Infant-Safety Seats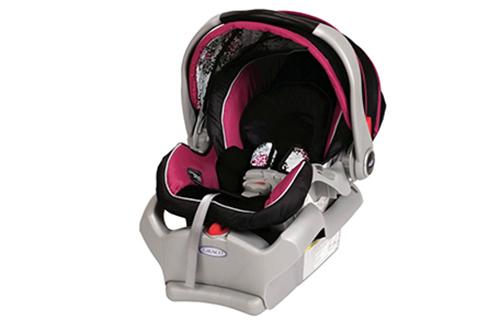 Child-Safety Seats Affected: Graco has issued a recall affecting about 1.9 million infant-safety seats manufactured between July 2010 and May 2013. The affected car seats are SnugRide and SnugRide Classic Connect manufactured March 1, 2011, through May 31, 2013; SnugRide 30 and SnugRide Classic Connect 30 manufactured July 1, 2010, through Jan. 31, 2013; SnugRide 35 and SnugRide Classic Connect 35 manufactured May 1, 2011, through Jan. 31, 2013; SnugRide Click Connect 40 manufactured June 1, 2012, through Dec. 31, 2012; and Aprica A30 manufactured July 1, 2011, through April 30, 2012.
The Problem: The harness buckle can become difficult to unlatch or can be stuck in the latched position, according to Graco. The car-seat manufacturer has already recalled about 4.2 million convertible child-safety seats for the same problem.
The Fix: Graco will provide a free replacement buckle to car-seat owners.
What Owners Should Do: Graco car-seat owners should look under or behind the car seat to find a white label with the car seat's name and date of manufacture, and if their seat is affected, they can call Graco at 800-345-4109 or visit's Graco's recall website at GracoBuckleRecall.com.
Manufacturer image