2015 Chrysler 200 Earns IIHS' Top Safety Pick Plus Award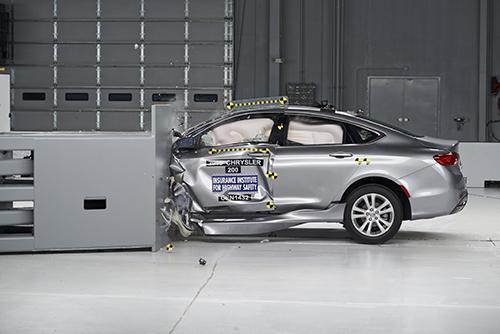 The Insurance Institute for Highway Safety has named the redesigned-for-2015 Chrysler 200 sedan a Top Safety Pick Plus award winner. The institute's top honor requires that a vehicle earn a good or acceptable rating for small overlap protection; good ratings in moderate overlap front, side, roof strength and head restraint tests; and a basic, advanced or superior rating for front crash prevention. The previous Chrysler 200 scored only acceptable in the small overlap test, which approximates what happens when a vehicle strikes a tree or telephone pole. This time out, the "midsize moderately priced car," as IIHS classifies it, earned the small overlap evaluation's top rating of good, bumping it up from Top Safety Pick to Top Safety Pick Plus.
Related: 2015 Chrysler 200 Review
"In the small overlap test, the driver's space was maintained well, and injury measures recorded on the dummy indicated a low risk of any significant injuries in a real-world crash of this severity," IIHS stated in a news release. "The dummy's head was well controlled by the frontal airbag, which stayed in position during the crash. The side curtain airbag deployed and had sufficient forward coverage to protect the head from contact with side structures."
In addition, the sedan earned a superior rating for front crash prevention when equipped with an optional forward collision system with autobrake, included in the $1,295 SafetyTec package. IIHS said the system completely stopped the vehicle at 12 mph and "significantly reduced the vehicle's speed" at 25 mph.
IIHS photo