2015 Land Rover Range Rover Sport SVR Signals Rip-Roaring Rovers to Come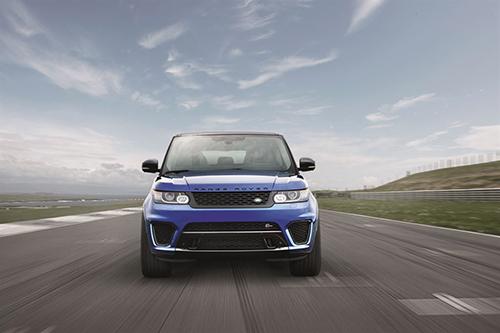 In a bid to satisfy anyone who thought the brand's supercharged V-6 and V-8 engines needed even more kick, Land Rover announced plans this week to debut even quicker SVR editions. It all starts with what the British automaker calls the "fastest Land Rover ever" in its inaugural version: the 2015 Range Rover Sport SVR, whose supercharged V-8 cranks out 550 horsepower. That's enough to scoot the 5,148-pound SUV from zero to 60 mph in 4.5 seconds, which is a half-second quicker than the existing Range Rover Sport's 510-hp, supercharged V-8.
Related: 2014 Land Rover Range Rover Sport Real-World Cargo Space
Higher boost from the supercharger bring torque up 41 pounds-feet to 502 pounds-feet. All that power hits the ground through full-time four-wheel drive and an eight-speed automatic, but Land Rover says both systems have been retuned for SVR duty.
A larger, two-stage exhaust system sings through quad tailpipes, but you can select a "Quiet mode" if the neighbors complain. Exterior changes include a darker grille finish and unique lower bumpers with taller openings and additional cooling. Behind the SVR's 21-inch wheels, the 15-inch front brakes get more cooling, the adaptive and active (anti-roll) suspension has upgraded rear bushings. The SVR's steering also has less power assist as well as new front underbody panels and a rear spoiler reduce lift. All of this adds just 55 pounds versus the supercharged V-8 Range Rover Sport.
Should you want to take the SVR over the river and through the woods, Land Rover insists the SVR can ford up to 33.5 inches of water, and the lower front bumper is removable to aid off-road approach angles. (But, really, Grandmother's house is easier to reach on the interstate.)
Inside, the SVR's outboard seats have higher bolsters and quilted, SVR-embossed leather. The cabin seats five — Land Rover didn't abscond with the middle seat — and it's doubtful the SVR will offer the Range Rover Sport's optional third row.
SVR is the concoction of Land Rover's Special Vehicle Operations team, a group shared with sister automaker, Jaguar. (Both are owned by India's Tata group.) Expect future high-performance Jaguars to carry the SVR badge, too. When the Range Rover Sport SVR hits dealers at an undisclosed point in 2015, it will start at $111,400, including a $925 destination charge. That's a cool $18,075 more than the upper-crust Range Rover Sport Autobiography Edition, and it's well into the territory of Land Rover's flagship Range Rover.
Land Rover will debut the Range Rover Sport SVR on Thursday at (where else?) California's granddaddy of all classic-car shows, the Pebble Beach Concours d'Elegance. Speaking of go-fast luxury cars, the Concours will also see BMW debut a 600-hp, 30th Anniversary M5 sedan; that's up 25 hp versus today's M5. Alas, BMW says just 30 of them will make it to U.S. showrooms.
Manufacturer images