August Gas Prices Hit Four-Year Low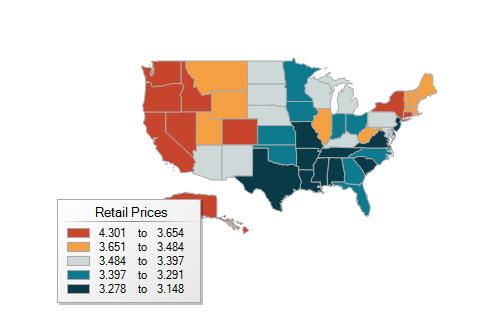 By Rick Popely
Gas prices have dropped to their lowest level in six months, falling 3 cents the past week to a national average of $3.44 for a gallon of regular unleaded, the lowest price for the month of August since 2010, the AAA Daily Fuel Gauge Report said Thursday. The national average for regular unleaded gas is 9 cents lower than a year ago, AAA said, and the $3.81 average for diesel fuel is 7 cents lower than a year ago. Motorists in all but a handful of states are paying less at the pump today than in August 2013. Among states where prices are substantially higher are Colorado, where the statewide average of $3.67 is 13 cents higher, and Nevada and Oregon, where drivers are paying 14 cents more.
Gas Prices Level Out, but Continued Drop Expected
The price breaks at the pump could continue beyond the summer driving season. AAA noted that refineries switch to less-expensive winter gasoline blends in mid- to late-September. In addition, demand for gas falls after the Labor Day weekend, and pump prices historically decline during the fall, barring natural disasters or geopolitical events that disrupt the supply.
South Carolina retained its claim to the lowest statewide average for regular unleaded, $3.15. It was followed by Mississippi at $3.19 and Alabama, Tennessee and Virginia at $3.21. The most expensive gas was in remote Hawaii and Alaska, where statewide averages were $4.30 and $4.08, respectively. Oregon was next-highest at $3.90, followed by Washington, $3.89, and California, $3.88. Prices in California have declined for six straight weeks, falling 25 cents during that stretch.
Several states along the East Coast have seen big monthly declines. Prices fell by 18 cents the past four weeks in Virginia, 19 cents in Maryland, 21 cents in Pennsylvania and 22 cents in New Jersey. The $3.27 average in New Jersey was 2 cents lower than in Oklahoma, a major oil-producing state.
Refinery issues in the Midwest that slowed gasoline production caused price spikes in several states the previous week, but pump prices dropped significantly after those production issues were resolved. Prices fell the past week by 11 cents in Michigan, 12 cents in Indiana and 14 cents in Ohio. The statewide average of $3.43 in Michigan was down 19 cents from a month ago.
AAA graphic