Five Cars for Urban Families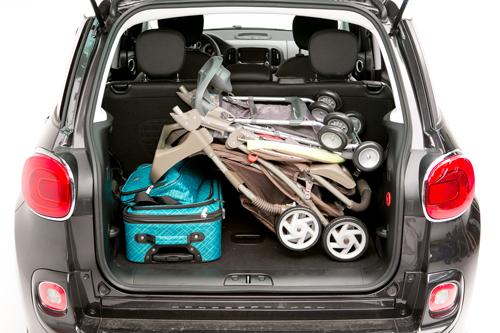 Urban families know a thing or two about squeezing the most out of small spaces — and those who own cars usually have the dings and dents to prove it. Being an urban mom, I'm intimately acquainted with three-quarter-car garages, compact parking spaces, skinny alleys and narrow side streets. Heck, even our grocery store parking lots are spatially challenged, making what you drive in the city a crucial decision. For city-dwellers who aren't concerned about backseat space for child-safety seats, check out our Top 10 Urban Cars.
Read More #FamilyCarAdvice
Families in cities want something that's both compact and maneuverable, so that navigating city streets and parking lots isn't a chore, but also a vehicle large enough to comfortably accommodate family members and all their stuff. Sounds like a tall order, right? It is, but not an impossible one. Despite what you might think, small cars can work for a family, especially if you do your research.
Here are five good vehicles for urban families: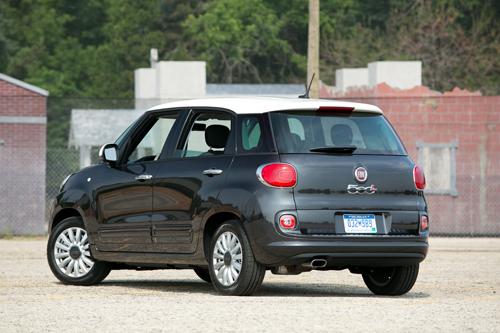 L stands for large-ish, signifying the stretched version of Fiat's tiny 500. The 2014 500L is surprisingly roomy in terms of passenger and cargo space, with 35.2 inches of rear legroom and 23.1 cubic feet of cargo space behind the backseat. Rear passengers will like the hatchback's sliding bench seat for added flexibility, and drivers will like its tall ride height and excellent forward and rear visibility. Installing child-safety seats is also a breeze thanks to a wide, flat seat-bottom cushion and exposed Latch anchors.
Bonus: This car just may be the most stylish, both on this list and on your block!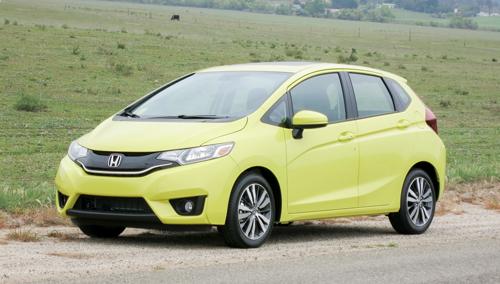 The Fit is a subcompact, but don't tell it that. Its very un-subcompact, flexible backseat earns it a place on this list. For 2015, legroom jumps by almost 5 inches, to 39.3 inches. Although cargo room shrinks a bit to 16.6 cubic feet, the standard Magic Seat helps make the most out of every inch of available storage space. The 60/40-split seat's bottom cushions fold up and lock in place to expose more than 4 feet of vertical storage space in the second row. The seats also fold flat into the floor to create 52.7 cubic feet of cargo room.
Honda's hatchback is also fun to drive and great on gas. All models are equipped with a standard backup camera.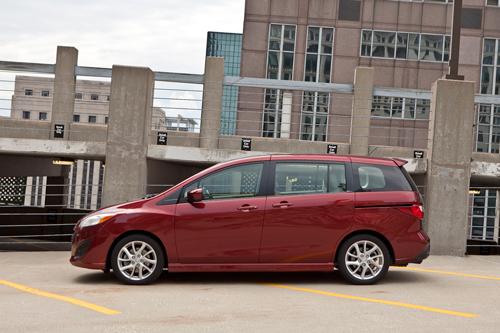 Don't let its awkward style fool you. The Mazda5 may look like an odd little van, but it's just the ticket for families looking to pack a lot into a small space and have some fun along the way. The Mazda5's sliding doors technically qualify it for minivan status, but it's about the length of a compact sedan. That means it's much smaller than a traditional van but also much more maneuverable and fun to drive than its larger, family-hauling cousins.
Urban families with kids in car seats take note: The Mazda5 offers seating for six passengers, and there are two top-tether anchors in both the second and third rows; these are necessary for installing forward-facing convertible car seats. The side curtain airbags also extend to the third row, covering precious cargo back there. Although cargo room behind the third row is a measly 5.6 cubic feet, both rows fold easily for more space, and there are convenient cubbies for stashing small items under the second-row seat cushions.
Full disclosure, with twins turning my family of three into one of five this summer, my husband and I recently bought a Mazda5. Since we live in downtown Chicago and need a vehicle that holds three car seats, the Mazda5's compact footprint, flexible interior seating setup and overall maneuverability make it a great fit for us.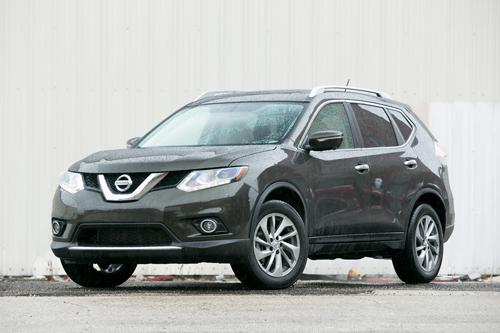 Nissan's compact crossover was redesigned for 2014 with sleeker styling, additional passenger and cargo room, and a more inviting cabin. The Rogue impresses us with its in-a-pinch third-row option and clever cargo management system. The 2014 Rogue has 39.3 cubic feet of storage space behind the second row, which is more than 10 cubic feet more than the 2013 model. The Divide-N-Hide cargo system in two-row models gives you a ton of cargo-carrying options, helping compartmentalize the space with easy-to-use, multilevel grooves built into the cargo-area walls.
Not only is the new Rogue a comfortable, flexible option for families, it also goes easy on the wallet as the most affordable vehicle in its class.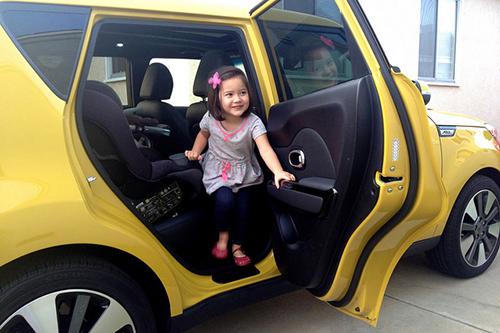 The last car on our list provides substance and style … and hamsters! Kia's quirky box-on-wheels was redesigned for 2014 with curvier styling, a new touch-screen multimedia system and slightly larger dimensions. It may not look like a family vehicle contender, but families will be surprised by the Soul's comfort and space.
With a high roofline and low, flat floor, the Soul is easy to get in and out of, and backseat passengers get a generous 39.1 inches of legroom. Two child-safety seats have plenty of space, and accessible Latch anchors make for easy car-seat installs. In back, the Soul's wide cargo opening, low load floor and competitive 24.2 cubic feet of cargo space help take the pain out of schlepping strollers and sports gear in and out of the car.
Cars.com photos by Evan Sears, Kelsey Mays, Carrie Kim and Ian Merritt