Gas Prices Level Out, but Continued Drop Expected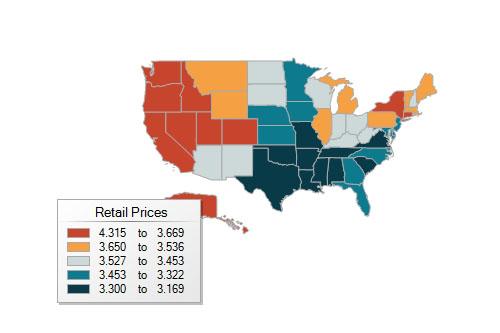 The national average price for regular unleaded gas inched downward a fraction of a penny the past week as refinery issues in the Midwest offset widespread price declines in most areas. The AAA Daily Fuel Gauge Report said the national average for a gallon of regular unleaded gas was $3.471 a gallon Thursday, down slightly from last week's $3.475 average.
Consumer, Environmental Groups Call for MPG Regulation in Car Ads
Most states saw pump prices dip by at least a few cents, but lower production at refineries in the Midwest caused price increases in the Great lakes area, Missouri, Oklahoma and other states. "These increases can be traced back to refinery problems and maintenance at several facilities supplying the region: two in Kansas; BP's refinery in Whiting, Ind.; and ExxonMobil's refinery in Joliet, Ill., which is running at reduced rates while conducting work," AAA said in its weekly analysis of pump prices.
In Indiana and Michigan, the statewide averages jumped 9 cents to $3.48 and $3.54, respectively. Prices increased 4 cents a gallon in Missouri and Oklahoma, 5 cents in Illinois and 6 cents in Ohio.
While prices rose in the heartland the past week, they continued to decrease on the coasts. The statewide average in California fell 3 cents to $3.90 and has fallen 20 cents in the past month. On the East Coast, motorists in New Jersey and Washington, D.C., on average are paying 23 cents a gallon less than a month ago. In the past four weeks, prices have dropped 14 cents in New York and North Carolina, 15 cents in Connecticut and 17 cents in South Carolina.
AAA noted that oil prices have continued to decline despite ongoing tensions in Ukraine and U.S. air strikes against the Islamic State in Iraq. Oil was trading at less than $97 a barrel on Thursday, nearly $10 below the 52-week high of $106.64 set June 25. The Wall Street Journal said in a story Thursday that oil traders and investors seem less concerned about geopolitical issues than soft demand globally that is putting downward pressure on oil prices.
South Carolina had the cheapest gas in the nation Thursday, a statewide average of $3.17, followed by Alabama, $3.22; Mississippi and Tennessee, $3.23; and Virginia, $3.24 (19 cents lower than a month ago). Hawaii had the highest price, $4.31, for regular unleaded, followed by Alaska, $4.09, and California, Oregon and Washington, $3.90.
Diesel fuel fell by a penny the past week to a national average of $3.82, 6 cents lower than a month ago and 5 cents lower than on Aug. 14, 2013.
The national average of $3.47 for regular unleaded is 14 cents lower than a month ago and 7 cents lower than a year ago. If history is a guide, gas prices should start to decline after the Labor Day weekend as the peak summer driving season ends. The lowest prices of the year historically are during the winter months, when demand for gas is at its lowest.
AAA graphic