Mercedes Prices All-New 2015 C-Class at $39,325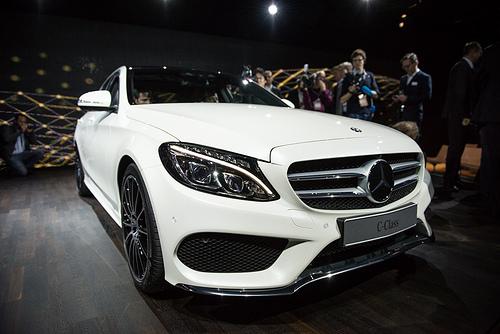 Mercedes-Benz announced pricing for its all-new, larger 2015 C-Class, with a rear-wheel drive C300 costing $39,325, including a $925 destination fee. The 2015 C-Class hits the road on Aug. 25, though you won't be seeing any on dealerships lots with the entry-level price until the first quarter of 2015.
Related: 2015 Mercedes-Benz C-Class: First Look
Going on sale first are all-wheel-drive versions (4Matic) of the 241-horsepower, turbocharged four-cylinder C300 and 329-hp, twin-turbocharged V-6 C400, priced at $41,325 and $49,515, respectively. The 2015 C-Class brings big changes to the sedan with new powertrains, a new interior that wooed our editors on the auto-show floor and a longer wheelbase for additional backseat passenger room. Mercedes' transformation of the C-Class is much needed against competitors like the BMW 3 Series and Audi A4.
The C-Class standard equipment list is a long one. A base C300 comes with dual-zone auto climate control, memory driver's seat, USB port with iPod interface and Bluetooth phone and streaming audio, power tilt/ telescoping steering wheel, multimedia system touchpad and a lot more. Still, like some luxury automakers, it's odd that satellite radio isn't included in the base price.
Optional equipment is sorted into numerous packages like the C300's $650 Luxury Package with unique wheels and interior trim, $2,700 Premium Package with heated front seats, $800 Lighting Package with LED headlamps, $2,690 Multimedia Package with navigation and, yes, much more. The C300 and C300 4Matic have identical standard features other than one having all-wheel drive.
Step up to the more powerful and more expensive C400 4Matic for standard heated front seats, satellite radio, LED headlights and Burmester sound system. A 2015 C300 compares favorably with a 2014 BMW 328i starting at $38,250 — a closer match than the entry-level 320i — with features like a power tilt/telescoping steering wheel.
The outgoing C-Class' baby C250 and its enticing $36,725 starting price are no longer part of the lineup as the C300 and C400 make up the 2015 launch lineup. Compared to the outgoing C300, however, the 2015 C300 with rear-wheel drive is $1,000 less than the 2014, which was only all-wheel drive. A similar 2015 C300 4Matic is $1,000 more than the 2014 ($40,325).
2015 Mercedes-Benz C-Class Photo Gallery (33 Photos)