What a Difference a Trim Makes: 2015 Nissan Versa Note SR
The 2015 Nissan Versa Note is a functional car, but it's not often thought of as fun. I knew its hatchback body style would come in handy during my test drive, but I wasn't anticipating anything more than reliable transportation for my family and me.
Related: 2015 Nissan Versa Note Starts at $14,990
I tested a Versa Note SR, the "sporty" model. The higher-level trim doesn't actually boost any performance numbers, but it still made all the difference — it turned a simple means of transportation into something that can be enjoyed from the driver's seat. While the Versa Note starts at $14,990, including a destination fee, my higher-end test car rolled in at a bit more than that. For $19,180, the Versa Note SR had unexpected details like a standard leather-wrapped steering wheel and smoked headlights and fog lights, and with the optional SR Convenience Package ($660), my test car had the NissanConnect multimedia system with in-car apps and a 5-inch color screen.
The SR's styling was more exciting than the lower trim levels. It had 16-inch alloy wheels, a mesh grille and a body kit that made the hatchback youthful and fun.
With the Versa Note's standard 109-horsepower, 1.6-liter four-cylinder engine, the SR felt spritely on the road and more agile than most economy compact vehicles I've driven. With an EPA-estimated 31/40/35 mpg city/highway/combined, the Versa Note goes easy on the family budget. Even with my majority of stop-and-go city driving in Los Angeles, I was able to average 28.7 mpg for my weeklong test drive.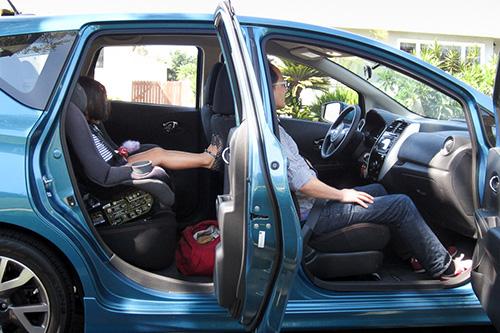 This seemingly tiny car has a spacious backseat that handled my daughter's bulky convertible car seat like a pro without cramping my husband in the front passenger seat when we rolled as a family of three. As a matter of fact, the Versa Note offered 38.3 inches of rear legroom, which is actually larger than my daily driver, a 2012 Jetta sedan that I got mostly for its spacious backseat with 38.1 inches of rear legroom. The Note fares well against its competitors in the rear legroom category, too. It beats the 2015 Chevrolet Sonic hatchback's 34.6 inches of space and is just an inch shy of the 2015 Honda Fit's 39.3 inches.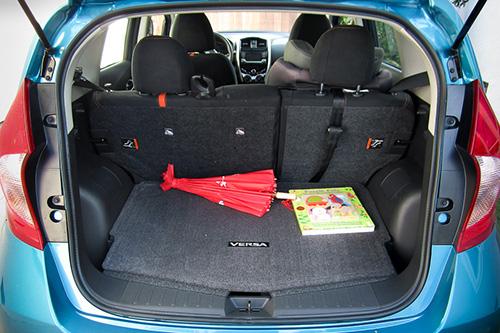 Behind the backseat, the Versa Note has 18.8 cubic feet of cargo space and 38.3 cubic feet with the backseat folded. That's not quite as impressive as the Fit's 16.6/52.7 and the Sonic's 19.0/47.7 cubic feet. My test car had the Divide-N-Hide adjustable cargo floor, which is part of the SR Convenience Package, and can be configured for under-floor storage or a low floor height to maximize cargo area loading capacity.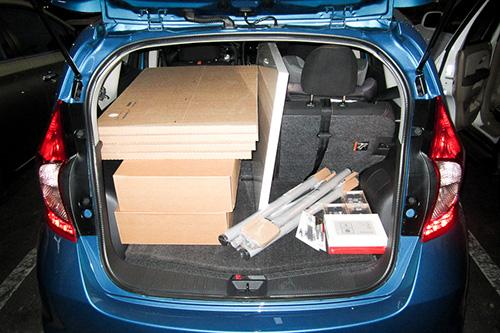 While test-driving this car, we made a trip to Ikea and purchased a set of home-office furniture. Despite its smaller cargo area, we got all of it packed into the Versa Note, even with my daughter's car seat in use. As we watched others in the loading area attempting to stuff bookcases into larger sedans, it was a proud moment for us — and the Versa Note, too.
More family-friendly features include rear doors that open up to nearly 90 degrees, which makes loading infant carriers into their bases easy with no awkward maneuvering required. Child-safety seats fit well in the Versa Note, too.
My perception of the Versa Note was changed after spending a week with the SR trim. Its sharper looks and flexible interior would make it a contender for my family.
Cars.com photos by Carrie Kim