Five Features to Look for in a Minivan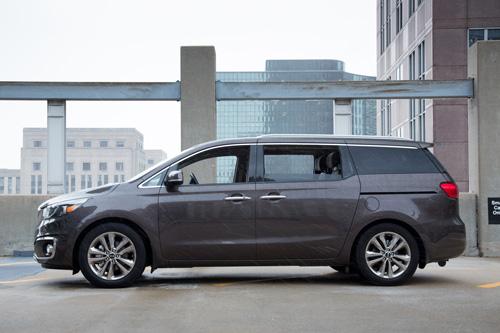 Chances are, if you're shopping for a minivan, you're in full-fledged family mode and need a comfortable, roomy vehicle to haul multiple kids and all their stuff. Sure, minivans have a lot of things in common — like those oh-so-practical sliding doors — but some are better than others at becoming your family's living room on wheels.
Read More #FamilyCarAdvice
Since your minivan will be carrying your most precious cargo, plenty of safety features and top safety scores are a must for parents. But the family truckster also has to make the kids happy, with enough creature comforts to ease the drive (read: keep them quiet).
Check out our top five features to look for in a minivan: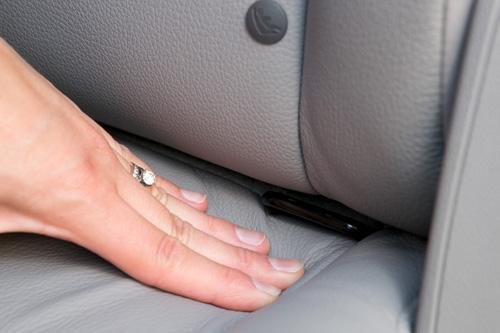 Additional Latch and Tether Anchors
By law, automakers have to put two sets of lower Latch anchors and three top tether anchors in a vehicle's second row, but no such rules apply to the third row. All minivans offer at least one third-row tether anchor, essential for reducing head and neck movement in a crash, and some include additional Latch anchors. Although not necessary when installing a child-safety seat, using the Latch system instead of the seat belt is the easiest way to make sure the seat is secure.
The 2014 Honda Odyssey gets a gold star in the Latch and tether anchor department; the van has three top tether anchors and two sets of lower Latch anchors for the third row. For 2015, Toyota added additional Latch anchors to the Sienna; the van's third row now has two sets and two top tether anchors. The 2014 Nissan Quest and 2015 Kia Sedona are no slouches, either, with one set of Latch anchors and two top tether anchors for the third row.
Click here for a list of 2014 three-row vehicles with extra Latch and top tether anchors.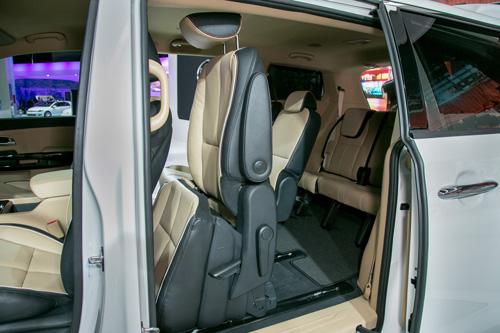 Easy Third-Row Access and Folding
The only thing worse than sitting in a tiny, cramped third row is figuring out how to squeeze yourself back there to buckle the kids. Luckily, the third row of a minivan is a more hospitable place than you'll find back there in many three-row SUVs, and lots of minivan makers take the pinch out of getting back there by having cleverly designed cabins.
With the 2015 Kia Sedona, the van's Slide-n-Stow second-row captain's chairs (photo above) stack vertically against the back of the front seats, quickly opening a path to the third row. The seats can also be moved side to side, opening a larger path between the seats to the third row. But what if the second row is a bench seat? Honda's Odyssey has a similar setup, with its standard Wide-Mode Adjustable 2nd-Row Seats with Walk-in Feature; the second row looks like a bench, but the outboard sections can slide 1.5 inches to each side, allowing more room for child-safety seats. The seats also slide forward to create a walkway to the third row.
In Chrysler's vans, the standard Stow n' Go captain's chairs in the second row provide easy passage to the third row and can fold into the floor for even more cargo capacity. With just one touch of a lever, the seats tumble into bins in the floor; if the bins aren't open, the seat flips forward to make it easier to access the third row.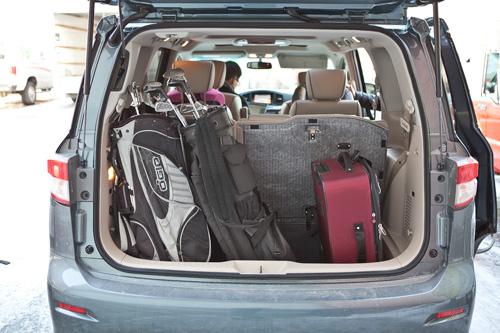 Plenty of Storage
Often, the third row plays double duty and needs to quickly transform from a row of seats to extra cargo space. One pull of the cord on the back of the Odyssey's standard third row and it folds quickly and easily into the floor. The Quest's third-row seats are spring-loaded and fold flat at the pull of a lever, rather than into an underfloor storage well.
In terms of space behind the third row, the Sienna is king, with 39.1 cubic feet, the most in the class. Honda's Odyssey comes in close with 38.4 cubic feet, and the Quest is just behind that with 37.1 cubic feet of cargo space. The Quest has a permanent under-floor storage well behind the third row (photo above), and because the seats fold forward and flat rather than tumbling into the floor — as they do in most minivans — the storage space is usable even when the third row is in its folded position.
Family-Friendly Niceties
Sometimes little things matter in a big way. As a mom, I always appreciate a conversation mirror in the cabin; the small pop-down convex mirror allows me to quickly check in with my backseat drivers. The Chrysler Town & Country and Honda Odyssey both offer a standard conversation mirror. The new Kia Sedona has one, too, but it's much smaller and not useful.
Some other features are far more exciting: the HondaVac system in the Odyssey is every neat-freak parent's dream. The in-van vacuum lives in the cargo area's wall and comes with a variety of handy tools for maximum sand-sucking and Cheerio-corralling. The vacuum was developed with ShopVac, so it's powerful, and it can run continuously so long as the minivan's engine is running, or for up to eight minutes after the car's been turned off. Bonus: The hose is long enough to reach the front seat, just in case Mom or Dad make some messes of their own.
Keep backseat boredom at bay with a rear entertainment system. The Odyssey's Touring Elite trim features a large, 16.2-inch screen that can split between two sources with audio-video and HDMI inputs. The Chrysler minivans also have an available dual-screen Blu-ray entertainment system with an HDMI input. Toyota's Sienna offers an optional DVD entertainment system with a 16.4-inch screen that can display up to two images and has RCA jacks, an SD card and HDMI inputs. Kia has taken the opposite tack; instead of a big screen, there's no screen. Instead, parents can opt for a tablet holder that can be mounted on a head restraint.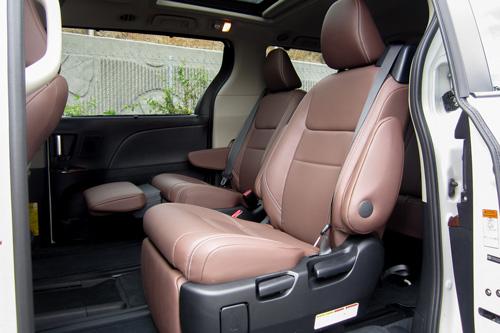 Some minivans really go the extra mile in terms of emulating living-room-like levels of comfort. Both the Sienna, which was freshened for 2015, and the redesigned-for-2015 Kia Sedona offer optional pop-out second-row leg rests, so your crew can kick back, relax and enjoy the ride (read: enjoy being chauffeured around).
Parents get a chance to kick back, too, with tailgate-style seating in the third row. Chrysler's Town & Country and Dodge's Grand Caravan offer a standard tailgate position for its 60/40-split third-row bench. The seat flips so it faces rearward; a power-folding function is optional.
Safety Ratings/Systems
The only minivans to earn the Insurance Institute for Highway Safety's Top Safety Pick Plus award are the 2014 Honda Odyssey and 2015 Toyota Sienna. The Odyssey received the top score of good in the difficult small-overlap test, and the Sienna earned an acceptable score in that test. The Nissan Quest, Chrysler Town & Country and its twin, the Dodge Grand Caravan, all received the lowest score of poor in the Insurance Institute for Highway Safety's small-overlap crash test. This test simulates what happens when a vehicle's front corner collides with another car or a utility pole, and it's been a tough one for automakers. As of this writing, the 2015 Kia Sedona hadn't been tested by IIHS because the automaker plans to make changes to the minivan to improve its small-overlap overall protection.
As far as safety systems go, something as basic as a backup camera can go a long way toward improving visibility, but Chrysler's rear cross-path alert takes things a bit further. When put into Reverse, the optional system uses two bumper-mounted radar sensors to detect oncoming traffic and prevent a potential collision. If a car approaches from either side, the driver hears a chime and sees an illuminated icon in the side mirror. A blind spot warning system and rear parking sensors are also available on the Town & Country. The Sienna offers an available 180-degree camera that shows a much larger rearward view than a traditional camera, and the new Sedona's available camera system displays a bird's-eye view of the entire exterior — incredibly handy for navigating tight spaces. The Odyssey also offers advanced safety systems like a forward collision warning system and lane departure warning system; they're standard on EX-L trims and above.
Since your family will be spending a lot of time in the minivan, it's important to pick one that checks all your boxes. Luckily, many in the class offer outstanding levels of comfort, space and affordability, as well as a laundry-list of features to keep the whole crew happy.
Cars.com photos by Evan Sears, Carrie Kim and Ian Merritt