Study: AAA Finds Safety Systems Still Have Kinks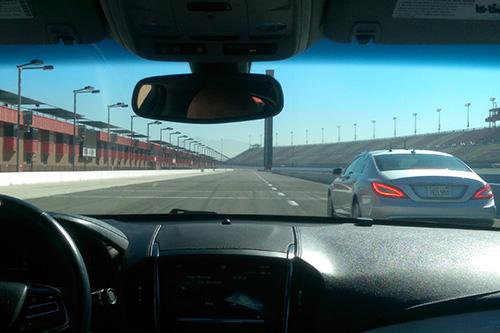 Blind spot monitors are one of those features that didn't exist when I started reviewing cars more than a decade ago, but now, according to AAA, nearly three-quarters of model-year 2014 vehicles offer blind spot detection and 50 percent offer a lane departure warning system as options. During the last several years of testing cars with these systems, I've found that I can't live without them. I was even thinking about asking for an aftermarket blind spot detection system for my own car as a Christmas present (it's between that and a spa day).
Related: Consumers Want Backup Cameras, Blind Spot Systems
However, as much as we like to think that the technology in our cars is unflappable, AAA reminds us that in-car safety features may not be perfect and are only as smart as the humans who operate them.
In partnership with the Automobile Club of Southern California's Automotive Research Center, AAA Automotive Engineering released the results of a blind spot monitoring and lane departure warning system usability study today, and their findings aren't what you'd expect:
Many blind spot monitoring systems had difficulty detecting fast-moving vehicles, like those merging onto a busy highway. Alerts were often provided too late for evasive action.
Motorcycles were detected by blind spot monitoring systems 26 percent later than the detection of passenger vehicles.
Road conditions were often a problem for lane departure warning systems. Worn pavement markers, construction zones and intersections can cause the lane departure warning system to lose track of lane location.
The litany of alerts and warnings could be confusing. Auditory, visual or haptic responses — or a combination — are often too similar to other advanced driver assistance features that delivered the same warnings.
The lane departure warning system on several vehicles experienced false positives and miss detections, which resulted in an inconsistent driver warning. This can be annoying and could result in the driver disabling the system due to the false alerts.
So what's a consumer to do? Avoid the safety features altogether? While that may not be necessary, AAA does recommend getting to know these features in your car (or even in your rental car this holiday season) and becoming familiar with exactly how they work. Does your blind spot monitor come on when a car is about to approach your blind spot, or only after a vehicle is firmly seated in your blind spot, for example?
"AAA's tests found that these systems are a great asset to drivers, but there is a learning curve," John Nielsen, AAA's managing director of Automotive Engineering, said in a statement.
Some people may think the addition of features such as blind spot monitors and lane departure warning systems may lead to lazy, unaware drivers who rely too much on technology. There are occasions, however, in which technology is simply less error prone than humans. While these systems are clearly not fail proof, two brains are still smarter than one; a human plus a blind spot monitor may still be safer than just a human as long as the human knows how to use the monitor.
What's your experience with these features? Do you think using them makes the roads safer? Let us know in the comment section below.
AAA image