2015 Chevrolet Equinox: Car Seat Check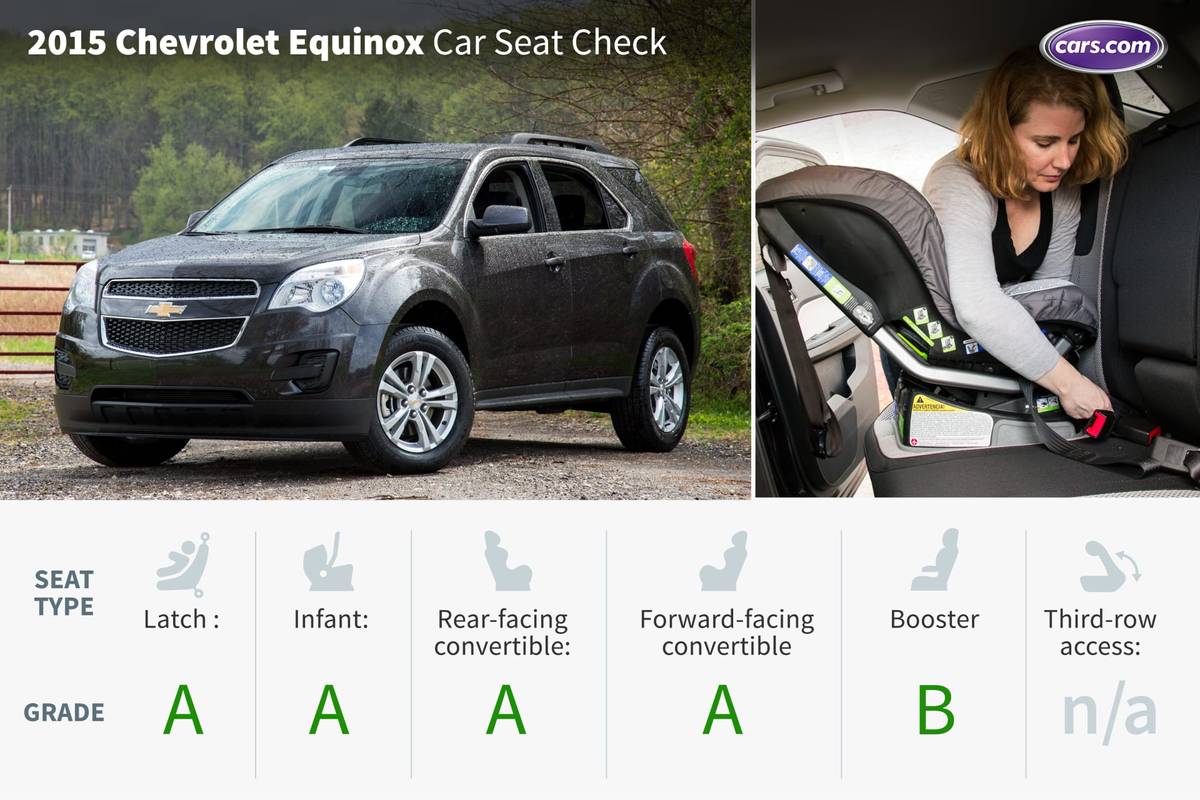 If rear-facing child-safety seats or long-legged teens are part of your life, you need a car with plenty of backseat legroom. The 2015 Chevrolet Equinox fits the bill with 39.9 inches of rear legroom for passengers — or car seats. Either way, no one will be complaining about being cramped in this crossover.
How many car seats fit in the second row? Two
What We Like
The Equinox's rear seats slide forward and back, which allows for a little more wiggle room with rear-facing car seats.
The rear seatback also recline, making it easier to get a good fit for all kinds of child-safety seats.
The Equinox has two sets of lower Latch anchors in the rear seats and they're exposed, making them easy to use. The tether anchors, which sit midway down the seatbacks, are also easy to connect to.
All of our child-safety seats — rear-facing infant and convertible seats, forward-facing convertible and high-back booster — installed easily into the Equinox. And there was no need to move the front passenger seat forward to accommodate the rear-facing seats.
What We Don't
The seat belt buckles in the Equinox are on floppy bases, making them difficult for young kids in booster seats to grasp.
Grading Scale
A: Plenty of room for the car seat and the child; doesn't impact driver or front-passenger legroom. Easy to find and connect to Latch and tether anchors. No fit issues involving head restraint or seat contouring. Easy access to the third row. 
B: Plenty of room. One fit or connection issue. Some problems accessing third row when available.
C: Marginal room. Two fit or connection issues. Difficult to access third row when available.
D: Insufficient room. Two or more fit or connection issues.
F: Does not fit or is unsafe.
About Cars.com's Car Seat Checks
Editors Jennifer Geiger and Jennifer Newman are certified child safety seat installation technicians.
For the Car Seat Check, we use a Graco SnugRide Classic Connect 30 infant-safety seat, a Britax Marathon convertible seat and Graco TurboBooster seat. The front seats are adjusted for a 6-foot driver and a 5-foot-8 passenger. The three child seats are installed in the second row. The booster seat sits behind the driver's seat, and the infant and convertible seats are installed behind the front passenger seat.
We also install the forward-facing convertible in the second row's middle seat with the booster and infant seat in the outboard seats to see if three car seats will fit; a child sitting in the booster seat must be able to reach the seat belt buckle. If there's a third row, we install the booster seat and a forward-facing convertible. To learn more about how we conduct our Car Seat Checks, go here.
Parents should also remember that they can use the Latch system or a seat belt to install a car seat, and that Latch anchors have a weight limit of 65 pounds, including the weight of the child and the weight of the seat itself.