2015 Chevrolet Tahoe and Suburban: First Look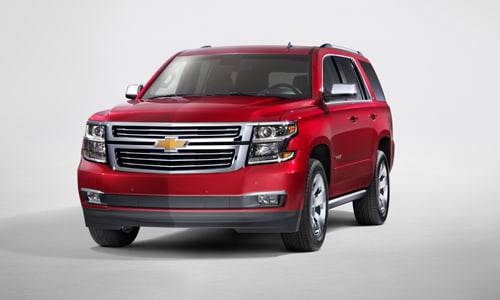 Competes with:
Ford Expedition, Toyota Sequoia, Nissan Armada
Looks like: A more aggressive, sporty, aerodynamic take on the current model
Drivetrain: 355-horsepower, Ecotec3 5.3-liter V-8; six-speed automatic transmission
Hits dealerships: Early 2014
The newly redesigned 2014 Chevrolet Silverado pickup truck is in dealerships, which means that GM can now turn its attention to introducing the related full-size sport-utility vehicles that are based on that truck, the new 2015 Chevrolet Tahoe (pictured above) and Suburban.
These have been a long time coming, with the last major refresh for the best-selling trucks occurring way back in 2007. This is now the 12th generation for the Suburban (fifth for the Tahoe), making the Suburban the longest-running nameplate in the auto industry at nearly 80 continuous years.
2015 GMC Yukon and Yukon XL: First Look
2015 Chevrolet Tahoe and Suburban: Photo Gallery
For 2015, both the Tahoe and Suburban (pictured below) get a thorough reworking inside and out. What applies to one also generally applies to the other — the only big difference between the two models is length, with the longer Suburban featuring more interior passenger and cargo space.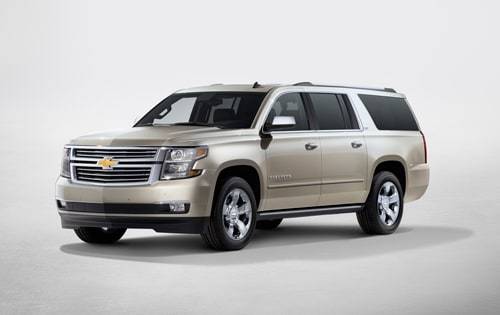 Outside, styling updates are subtle but significant — it takes a few moments and a close inspection to realize that every single body panel is different. The headlights and front ends are obviously different, but most interestingly they are altered from the Silverado as well; no longer do the full-size SUVs and full-size pickups share sheet metal.
Designed to appear more "sporty" than before, the overall look is attractive and modern. Doors and side glass are redesigned to fit into the bodyside instead of wrapping up into the roof — the latter may be more aerodynamic, but the former is superior for wind noise. Glass is more flush and smoother overall down the sides than before, culminating in a more squared-off look for the rear that also improves interior space.
Power comes from GM's revised Ecotec3 5.3-liter V-8 engine, which makes 355 horsepower and 383 pounds-feet of torque. The engine features cylinder deactivation for improved fuel economy, but GM has not yet released details of the Tahoe/Suburban's gas mileage. In terms of towing capacity, two-wheel-drive Tahoes are rated at 8,500 pounds and four-wheel-drive models at 8,300 pounds. Two-wheel-drive Suburbans are rated at 8,300 pounds and four-wheel-drive versions at 8,000 pounds.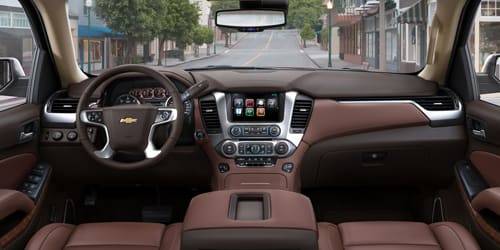 New on the inside is a completely revised console that is more carlike and made from significantly higher-quality materials. Like the exterior sheet metal, the dashboard is not shared with the pickups — it is unique to the full-size SUVs. A choice of multimedia systems is available, including an 8-inch touch-screen featuring Chevrolet's MyLink system that slides up to reveal a storage cubby behind the screen.
Interior passenger room is improved, with 2 inches more legroom for the second-row passengers and a new power fold-flat seat for the third row. No longer is the third row removable — like the Ford Expedition, it folds down into the floor at the touch of a switch in the cargo area. Another switch also drops the second row, so you can create a relatively flat load floor even when standing at the rear hatch. The downside is that a false floor now adorns that cargo area, resulting in a higher lift-over height and the loss of several inches of cargo height. That false floor is covered and made into storage however, and the trade-off for more useful three-row seating is worth it.
The Tahoe/Suburban can be had with some new high-tech equipment for 2015 as well, including forward collision alert, blind spot detection, lane departure warning, a safety alert seat, front and rear park assist, center side airbags for the front seats and even a Blu-ray player for the rear seat with a 9-inch screen. The SUVs can be optioned to have five auxiliary power sockets, a 110-volt power outlet and six USB slots for personal electronics. GM is also offering the latest version of its Magnetic Ride Control adjustable suspension as well.
GM believes that current full-size SUV owners have kept their rides for some time now, given that there haven't been any major updates to either the GM or Ford entries in years. The company is counting on that pent-up demand to drive some pretty strong sales when the trucks arrive in showrooms in the first few months of 2014.
Editor's note: This post was updated on Sept. 12 with towing information.
Related:
Cars.com Reviews the 2012 Chevrolet Tahoe
Extreme Commuting in the 2012 Chevrolet Suburban, 2012 Toyota Yaris and 2012 Fiat 500 Abarth
Research Full-Size SUVs on Cars.com