2015 Chrysler 200 at the 2014 Detroit Auto Show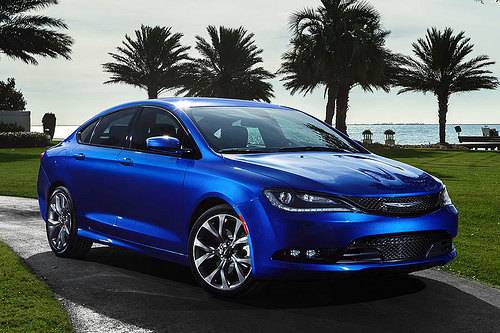 Competes with: Ford Fusion, Chevrolet Malibu, Toyota Camry, Honda Accord
Looks like: A combination of all of the above
Drivetrain: Standard 184-hp, 2.4-liter four-cylinder engine with MultiAir; optional 295-hp 3.6-liter V-6; standard nine-speed automatic transmission, optional all-wheel-drive (V-6 only)
Hits dealerships: Spring 2014
MSRP: $22,695 including destination
The Chrysler Sebring is dead, and has been dead at least in name since the arrival of the rebranded Chrysler 200 for the 2010 model year, but now Chrysler has not just killed off the last vestiges of that reviled sedan but buried it deep in a place the company never wants to visit again.
More 2014 Detroit Auto Show Coverage
Behold the new 2015 Chrysler 200, a completely new sedan from the wheels to the wipers, built on an Alfa Romeo chassis, sporting fully modern styling inside and out, equipped with state-of-the-art powertrains and arriving in showrooms later this year. This is the second major collaboration between Chrysler and Italian owners Fiat (the first was the 2013 Dodge Dart), and it looks pretty solid.
Exterior
Outside there is no trace of the old Sebring/200 left, and that's a very good thing. In its place is a clean, modern design that pulls cues from many different existing cars. That roofline is pure Audi A7; the rear quarter panels are very much Ford Taurus; the rear taillight shapes look like the latest Chevrolet Impala. It's attractive, but certainly not groundbreaking like the Chrysler 300 was when it was introduced. As a family sedan, however, wild and crazy isn't what sells — safe and conservative is, as evidenced by the half a million Toyota Camrys and Honda Accords sold every year in this country. The new 200 can take its place beside any of the newest family sedans proudly and without excuses.
If you're looking for more of a sport sedan, the new 200 will be available in an S trim that either blacks out or paints a lot of the chrome on the car, and brings smoked lenses and dark wheels to the party as well. It's a more sinister look, and on a black or silver 200, will look pretty fetching indeed.
Interior
The latest Chrysler interiors have been outstanding, and the new 200 continues that trend. Sweeping shapes and unique materials have been used inside, and the result is an interior that looks as if it has had considerable thought put into it. Present is Chrysler's ubiquitous (and excellent) Uconnect 8.4-inch touch-screen high in the dashboard, but just below it is something new for a mainstream midsize family sedan: a rotary knob instead of a gear shift lever. The electronic selector is housed in a floating console that features a large storage area underneath that's able to accommodate an iPad, with a pass-through hole that allows electronics stored there to be recharged via plugs in the center console. The storage area also features a rubber mat with the embossed skyline of the city of Detroit, an homage to the "Imported from Detroit" shtick that Chrysler is using for its advertising.
The interior uses considerably better materials than the previous 200, and is available in one of three color scheme themes named after locations in the U.S.: New York's Fifth Avenue, Sausalito (Calif.) and Detroit (Mich.). Opting for the S trim will bring special dash trim and embossed sport seats with more aggressive pattern stitching.
Under the Hood
The new 200 is based off of the same platform as the Dodge Dart and Jeep Cherokee, albeit stretched to fit midsize sedan proportions. As such, it shares some powertrain components with those vehicles as well. The standard engine is the 2.4-liter Tigershark four-cylinder engine making 184-horsepower, powering the front wheels through a standard nine-speed transmission. The optional motor is the 3.6-liter Pentastar V-6 that Chrysler puts in just about everything, making a significantly higher 295-hp. It too uses the new nine-speed automatic, but also offers optional all-wheel-drive. It's an advanced all-wheel-drive system too, with the ability to disconnect the rear wheels entirely when they're not needed for traction, eliminating parasitic loss and boosting fuel economy. The front-drive four-cylinder model reportedly achieves up to 35 mpg highway, thanks to that nine-speed transmission's many gears.
Safety
The new 200 has a number of improvements over the old model, including a significant upgrade in safety equipment and a few segment-exclusive features. The 200 features optional adaptive cruise control and forward collision warning, both of which can bring the car autonomously to a full stop under certain conditions if it detects that a collision is imminent. An advanced lane departure warning system uses steering wheel feedback to help with corrective action to keep the car in its lane, and a new standard electronic park brake engages automatically when the transmission is not in Park, the driver's seatbelt is unlatched and the driver's door opens.
Price
Pricing for the new 200 has been announced as well. Four trim levels will be offered, starting with the 200 LX at $22,695 (all prices include destination). That trim lands you standard features like keyless entry with push-button start, cloth seats, 60/40 split folding rear seats, steering wheel audio controls, LED taillights and 17-inch steel wheels. Moving up to the Limited trim will cost you $24,250 and adds projector beam headlamps, Bluetooth connectivity, six-speaker Uconnect 5.0 system and 17-inch aluminum wheels. Then comes the sporty 200S, starting at $25,490, which includes blue leather trim interior, power driver's seat, paddle shifters, black accent trim, heated mirrors, a sport suspension, more aggressive transmission gearing and 18-inch wheels. The top model is the 200C starting at $26,990, coming with a full complement of luxury items like Nappa leather interior, 7-inch gauge display, backup camera, remote start, dual zone climate control and more. Major options on the 200S and 200C trims include the 3.6-liter V-6, all-wheel drive, dual-pane panoramic sunroof, 19-inch wheels, high-intensity-discharge headlights and navigation system.
The new 200 looks to be a fully competitive entry into the difficult midsize segment, far more than the outgoing model is. Most interestingly, there has been zero mention of a Dodge Avenger counterpart, making it likely that the 200 is taking over the role of the company's sole midsize sedan. No convertible has been announced either, but given the popularity of the current convertible (especially with fleet business), it would be surprising if one doesn't eventually appear. The 2015 Chrysler 200 will appear in showrooms in the spring of 2014.