2015 Dodge Challenger First Drive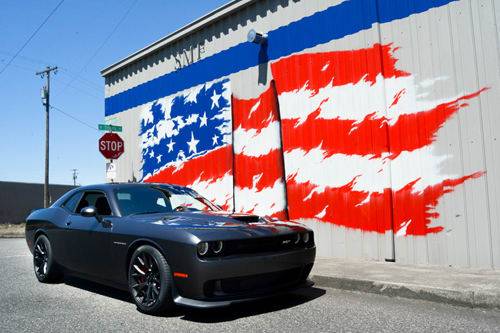 The latest Ford Mustang is powered by a turbocharged four-cylinder engine. The next Chevrolet Camaro is rumored to be smaller, lighter and likely powered by a four-cylinder engine. But when Dodge updated the Challenger coupe for 2015, its new addition wasn't a four-cylinder engine — it was the tire-smoking SRT Hellcat model, powered by a jaw-dropping 707-horsepower, supercharged V-8. That's what Dodge thinks of the smaller, lighter, more efficient trend, and kudos to the automaker. Who knows how much longer we'll have cars like these on the road, given increasingly stringent fuel-economy mandates?
Related: 2015 Dodge Challenger SRT Hellcat Photo Gallery
Dodge updated the Challenger inside and out, with a mild nose job and butt lift and a thoroughly new interior with modern conveniences. Powertrains mostly remain the same, with a new eight-speed automatic transmission replacing the old five-speed auto in the 2014 model. But with an all-new Mustang just around the corner and the Camaro not far behind, has Dodge gone far enough in updating the Challenger to keep it relevant and competitive?
There are several flavors of Challenger to choose from, and I drove them all at a recent press launch of the car in and around Portland, Ore., including track time at Portland International Raceway's road course and drag strip. The car comes with one V-6 and three V-8 options for 2015, and any of the selections is highly entertaining. But we know there's one version everyone wants to hear about first.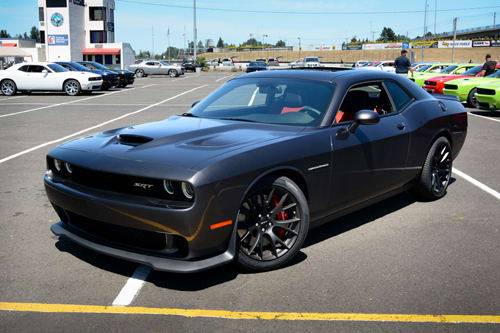 2015 Dodge Challenger SRT Hellcat
Featuring a supercharged 6.2-liter Hemi V-8, it develops a whopping 707 hp and 650 pounds-feet of torque. At full throttle, it makes a roar like God's own temper tantrum. Driving behind one, you'll wince from hundreds of feet away at the bellowing wall of sound coming out of it. There are actual racecars that don't make this much glorious noise. On the street, it's as docile as the V-6 model — an easy daily driver that if driven calmly will get about 20 mpg highway with little fuss or drama, according to Dodge. On the track, it is an absolute monster: Even skilled drivers will likely never approach the limits of its ability, and amateurs will be rightly intimidated.
The speed it can produce is mind-boggling: My one and only Hellcat run at the drag strip scored a zero-to-60-mph time of 4.2 seconds and a 12.1-second quarter-mile at 116 mph. It's faster than this, too, as another journalist achieved an 11.9-second quarter-mile with a better launch. The SRT cars feature standard Launch Control, an adjustable electronic program that allows a driver to brake-torque the transmission for an easily repeatable drag strip launch again and again. The SRT Performance Pages also feature electronic timers to record your performance, even allowing you to save and upload the stats to a computer.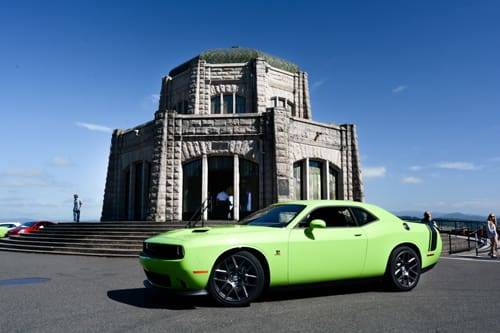 More V-8s
The V-8 options, of course, don't begin and end with the Hellcat. They actually start with the R/T. It gets a 372-hp, 5.7-liter Hemi V-8 and some additional styling and trim improvements over the V-6 models, but opt for the Scat Pack and you'll get last year's SRT engine — a 485-hp, 6.4-liter Hemi V-8, as well as a load of suspension and chassis improvements that basically provide equipment from 2014's SRT Core model for nearly $2,800 less, according to Dodge.
As decent as the acceleration is in the V-6 model, it's nothing compared to the thrust of the V-8 models. The standard six-speed manual transmission is notchy and smooth, with a clutch that's neither too heavy nor too light and allows for easy operation in traffic or for beginners unfamiliar with shifting. The eight-speed automatic almost seems better suited to these cars, however; engaging the Sport mode will retune the transmission control computer (along with the engine management and electronic steering control) for a more aggressive experience. On the track or around town, the automatic never hunted for the right gear. It always seemed to know exactly what the conditions were and was ready to help the engine provide the necessary power when called upon. It is well-matched to the V-8's power.
The real magic starts with the SRT models. Moving up from the R/T Scat Pack, which starts at $39,490 well equipped, is another screaming performance deal, the SRT 392. To set it apart from the lesser V-8 models, it features the 6.4-liter engine and a number of unique interior and chassis features such as a flat-bottom steering wheel, the largest brakes — 15.4 inches — ever fitted to a Chrysler vehicle, active suspension, an 18-speaker Harmon Kardon audio system, Nappa leather interior and more. The improvements to the suspension and brake system make it a lot of fun around a track, despite steering that's still a little overboosted.
It's a fast car — my instrumented drag-strip runs clocked the SRT 392 with a zero-to-60-mph time of 4.7 seconds, with a quarter-mile time of 12.9 seconds at 107 mph. This was at the end of a long day of road-course use as well, with the car thoroughly heat soaked; it's almost certainly faster than this.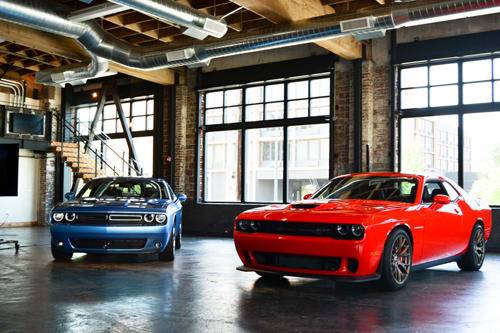 'Settle' for a V-6
The new entry level is the Challenger SXT (the SE trim is gone), packing the 305-hp, 3.6-liter V-6 engine and standard eight-speed automatic transmission. The V-6 model is the lightest of the bunch and feels like it.
Acceleration is brisk, with Chrysler stating that the car can do zero to 60 mph in 6.0 seconds flat, yet also achieve 30 mpg on the highway. Ride and handling are impressively solid, with none of the rattling or floatiness that one would expect from such a large coupe. Brakes are strong across the range, even in the V-6 model, and an optional Super Track Pack adds all the high-performance suspension and brake bits from the R/T trim to the V-6 to make it an entertaining sports coupe.
Out on the raceway's road course, the V-6 SXT with the Super Track Pack was flat and maneuverable, easily able to keep its momentum between bends and impressively fast down the long straightaways. Steering feel is still a bit vague, with not as much feedback through the wheel and less effort required than the Challenger's more agile competitors. Perhaps most impressively, one can option up a V-6 model to extremely well-equipped levels (including navigation, leather interior, automatic cruise control, 20-inch wheels and more) for just around $34,000, making it an interesting alternative to a Honda Accord EX-L V-6 coupe and a relative performance bargain.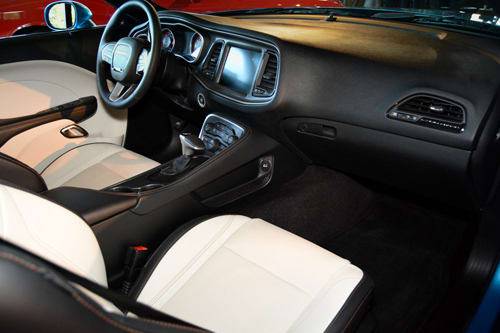 New Interior
All this performance potential is wrapped around a brand-new cockpit; the updated interior banishes the cheap, awful plastic of the 2014 model with the latest Chrysler shapes and electronics. It mostly works well — some testers were less than pleased with the new seats that felt unsupportive and the hard-plastic-molded bottleholders in the doors that rubbed against the passengers' shins — and there's genuine space for four people in there, five in a pinch.
The faux metal hexagonal trim looks a little sketchy, but the retro-style gauges make up for it, as does the excellent Chrysler Uconnect system available on all models. The variety of interior trim colors is also welcome. After years of somber grays for the Challenger, now you can get white, red, black or brown interiors depending on trim level. Outward visibility is better than in the Camaro and is comparable to the Mustang, which is to say not bad, but you'll never forget you're driving a big car, not with that long flat hood stretching out in front of you.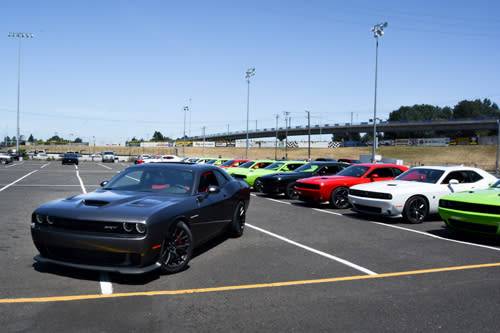 Summary
Some pundits say the Challenger's heft and size are a detriment, that it's not the light, tossable rear-wheel-drive car that a Hyundai Genesis Coupe or Mazda MX-5 Miata is. And they're right; the Challenger is more of a boulevard cruiser than a track star. But with the latest updates to the big coupe, it no longer embarrasses itself when called on to negotiate twisty roads or keep up with traffic on a track day, and combined with its vastly upgraded interior and screaming bargain pricing, it looks as if Dodge has produced a worthy and differentiated alternative to the Mustang and Camaro.
Cars.com photos by Aaron Bragman