2015 Ford Expedition: Car Seat Check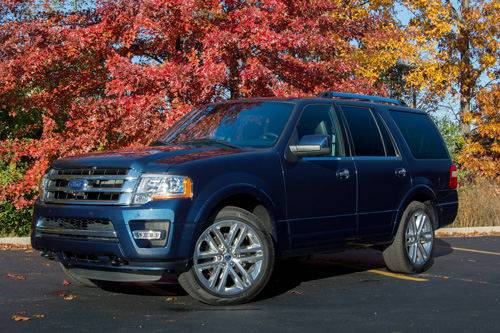 Why mess with a good thing? Ford has updated a few things in its 2015 Expedition — an updated look for its front end and a new turbocharged 3.5-liter EcoBoost V-6 engine — but for the most part, this three-row SUV remains unchanged. When it comes to families and child-safety seats, that's a plus.
The Expedition joins our growing list of cars that can fit three car seats across its second row. It nearly fit three across the third row too; while we could fit three car seats back there, the space was too narrow — 50.2 inches of hip room compared to the second row's 59.9 inches — to allow a child's hand to reach between the car seats to buckle the booster's seat belt.
How many car seats fit in the second row? Three
How many car seats fit in the third row? Two, but nearly three
What We Like
There are three sets of Latch anchors in the second row. All three sets of lower Latch anchors sit just inside the seat cushions and are easy to use. In some seating positions, parents will have to navigate around seat belt buckles or other seat hardware, but it's not problematic.
Both the rear-facing infant and convertible seats installed easily in the second row. With 39.1 inches of legroom, there was no need to move the front passenger seat forward to accommodate either car seat behind it.
The forward-facing convertible installed easily in both the second and third rows. The third row's lone tether strap is positioned for the middle seat, where we installed our forward convertible, but this location and our wide car seat made it tough to fit three across the third row. Narrower car seats could fit three across, however.
In the second row, the booster seat fit well on the Expedition's flat bench, and seat belt buckles are on stable bases, making buckling up easy for younger kids. In the third row, the booster also fit well, but putting a forward-facing convertible next to it could be too tight of a squeeze for many car seats.
The third row has 37.7 inches of legroom, which makes this a usable space. We recently drove the Expedition from Cars.com's Chicago offices to Detroit with an adult sitting in the third row. She was comfortable for the five-hour drive.
The Expedition is a hulking SUV, and we expected it to have heavy second-row seats. Happily, we were wrong. The second-row seats fold forward and can then be easily flipped forward, creating great third-row access. Of course, if there's a car seat installed in one of the outboard seats, things quickly become complicated. Power running boards in our test SUV made climbing into the SUV a breeze.
What We Don't
The second row's three tether anchors are at the base of the seatbacks, where it's easy for parents to forget about them. When the third row is folded, it could be difficult for some parents to use them.
The third row has just one tether anchor for the middle seat position and no lower Latch anchors. This is a serious family hauler; it would be great to see more Latch sets in the third row.
The middle seats in the third and second rows don't have a head restraint. Children sitting there should be in either a car seat or a high-back booster seat that provides crucial head and neck support.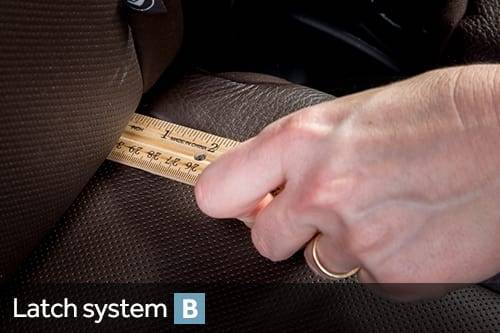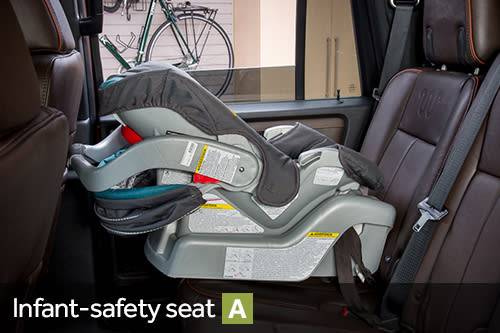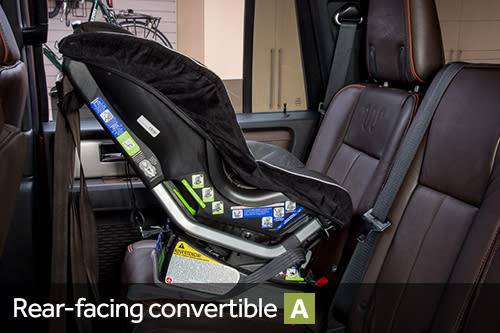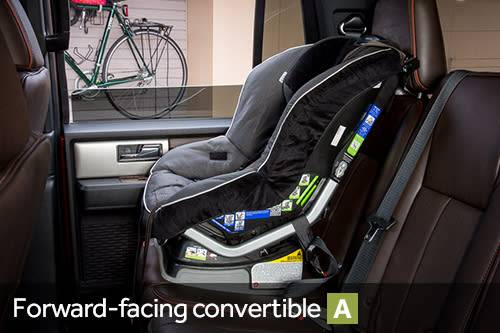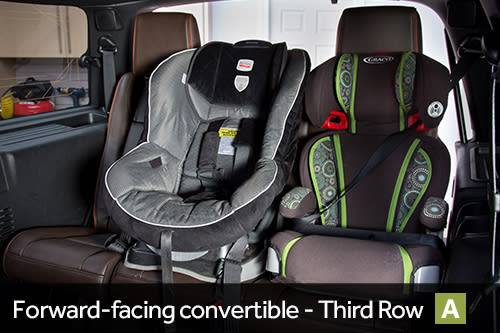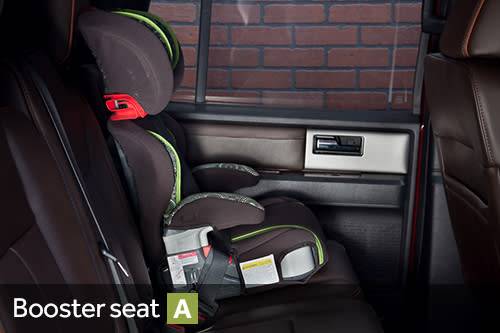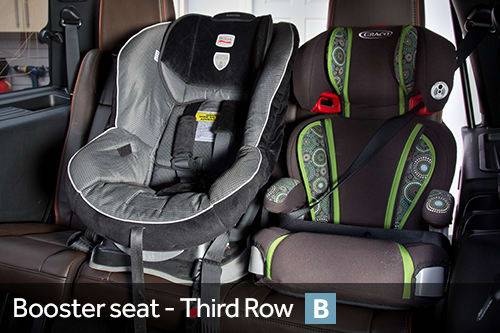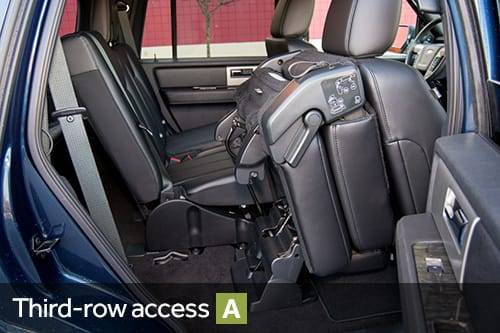 Grading Scale
A: Plenty of room for the car seat and the child; doesn't impact driver or front-passenger legroom. Easy to find and connect to Latch and tether anchors. No fit issues involving head restraint or seat contouring. Easy access to the third row.
B: Plenty of room. One fit or connection issue. Some problems accessing third row when available.
C: Marginal room. Two fit or connection issues. Difficult to access third row when available.
D: Insufficient room. Two or more fit or connection issues.
F: Does not fit or is unsafe.
About Cars.com's Car Seat Checks
Editor Jennifer Newman is a certified child safety seat installation technician. Editor Jennifer Geiger is working on renewing her certification.
For the Car Seat Check, we use a Graco SnugRide Classic Connect 30 infant-safety seat, a Britax Marathon convertible seat and Graco TurboBooster seat. The front seats are adjusted for a 6-foot driver and a 5-foot-8 passenger. The three child seats are installed in the second row. The booster seat sits behind the driver's seat, and the infant and convertible seats are installed behind the front passenger seat.
We also install the forward-facing convertible in the second row's middle seat with the booster and infant seat in the outboard seats to see if three car seats will fit; a child sitting in the booster seat must be able to reach the seat belt buckle. If there's a third row, we install the booster seat and a forward-facing convertible. To learn more about how we conduct our Car Seat Checks, go here.
Parents should also remember that they can use the Latch system or a seat belt to install a car seat, and that Latch anchors have a weight limit of 65 pounds, including the weight of the child and the weight of the seat itself.
Cars.com photos by Evan Sears and Aaron Bragman