2015 Ford F-150 SuperCab: Car Seat Check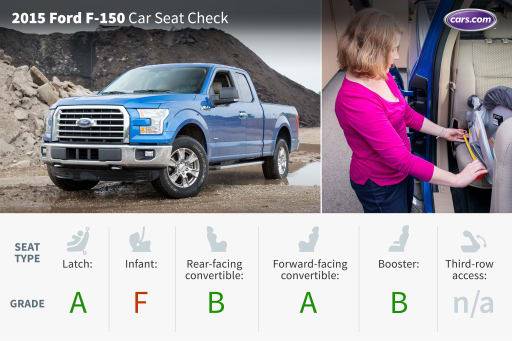 CARS.COM — In crew-cab form, the 2015 Ford F-150 SuperCrew easily passed our Car Seat Check. Its roomy backseat not only fit three car seats, but the pickup truck's 43.9 inches of rear legroom easily handled space-eating rear-facing car seats too. This time, we tested the F-150 SuperCab, an extended cab with 33.5 inches of rear legroom. This truck didn't fare as well, however. Its short seat cushion caused us to give it an F for the infant-safety seat install.
How many car seats fit in the second row? The F-150 SuperCab is just as wide as the F-150 SuperCrew and can fit three child-safety seats across its backseat as long as none are rear-facing infant seats. However, it fails our criteria for fitting three car seats across the backseat because the infant seat fails our tests.
What We Like
The F-150 SuperCab has two sets of exposed lower Latch anchors in the outboard seats. They're easy to find and use. It also has three tether loops that sit behind the head restraints. While it can be a little tricky to correctly connect to tether anchors in a pickup truck, the F-150's are easy to find and use.
The forward-facing convertible installed easily in the F-150. Parents should look at the owner's manual to double-check that they're using the tether loop system correctly with this car seat.
The truck's flat seat cushions made it easy to install our high-back booster seat.
What We Don't
The rear seat cushion is short lengthwise and didn't provide a big enough surface for our rear-facing infant seat's base. For a safe car-seat installation, 80 percent of a car seat's base must be on the seat cushion. We took some rough measurements of our car seat's base and the seat cushion and determined that less than 80 percent of it was on the seat. Because of this, we gave the infant seat a failing grade.
We had to move the front passenger seat forward to fit the rear-facing convertible behind it. There was just enough legroom for an adult to sit comfortably in the front seat. Taller passengers will likely be squeezed.
The backseat's seat belt buckles are floppy, making them difficult for kids to use.
Grading Scale
A: Plenty of room for the car seat and the child; doesn't impact driver or front-passenger legroom. Easy to find and connect to Latch and tether anchors. No fit issues involving head restraint or seat contouring. Easy access to the third row. 
B: Plenty of room. One fit or connection issue. Some problems accessing third row when available.
C: Marginal room. Two fit or connection issues. Difficult to access third row when available.
D: Insufficient room. Two or more fit or connection issues.
F: Does not fit or is unsafe.
About Cars.com's Car Seat Checks
Editors Jennifer Geiger and Jennifer Newman are certified child safety seat installation technicians.
For the Car Seat Check, we use a Graco SnugRide Classic Connect 30 infant-safety seat, a Britax Marathon convertible seat and Graco TurboBooster seat. The front seats are adjusted for a 6-foot driver and a 5-foot-8 passenger. The three child seats are installed in the second row. The booster seat sits behind the driver's seat, and the infant and convertible seats are installed behind the front passenger seat.
We also install the forward-facing convertible in the second row's middle seat with the booster and infant seat in the outboard seats to see if three car seats will fit; a child sitting in the booster seat must be able to reach the seat belt buckle. If there's a third row, we install the booster seat and a forward-facing convertible. To learn more about how we conduct our Car Seat Checks, go here[JN5].
Parents should also remember that they can use the Latch system or a seat belt to install a car seat, and that Latch anchors have a weight limit of 65 pounds, including the weight of the child and the weight of the seat itself.