2016 Lotus Evora 400 Is Fastest Lotus Yet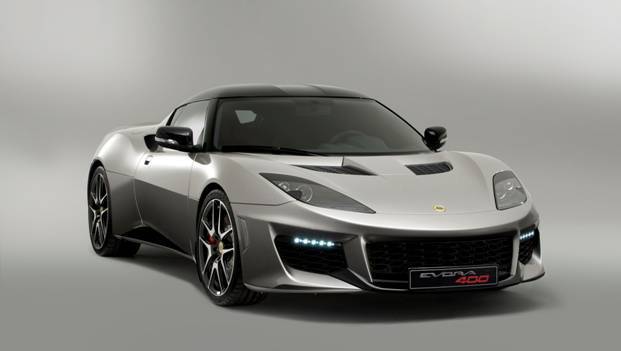 The 2016 Lotus Evora 400 is the fastest street car Lotus has ever produced thanks to new weight-reducing measures, newly added horsepower and aerodynamic downforce and other performance-enhancing tweaks. The Evora 400 is two-thirds all-new with chassis improvements reducing its weight by nearly 50 pounds, while horsepower is up 55 hp to 400 hp.
Related: More Lotus Evora News
Lotus says the Evora 400 laps its test track a blistering six seconds faster than the previous Evora S; it hits 60 mph in 4.1 seconds. Not all the changes are go-fast enhancements; Lotus also tweaked the chassis to improve comfort and updated the interior.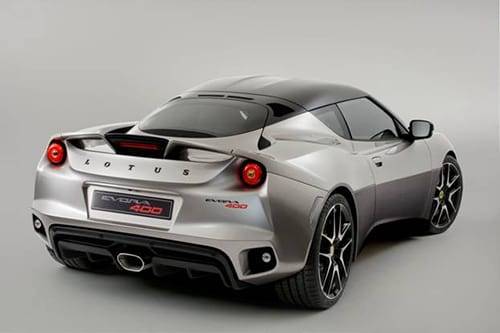 The Evora 400's midmounted 3.5-liter V-6 uses a larger displacement supercharger to huff those 55 extra ponies into the engine, and air exhales out of the engine through a new multimode, switch-activated exhaust system with mild-to-wild settings. The engine's manual and automatic transmissions are both revised, and Lotus claims to have improved shift quality on the manual transmission, while the automatic transmissions have new shift programming. Manual-transmission cars come with a limited-slip differential.
Lightening key chassis areas has reduced weight and improved both entry and exit of the cockpit through modifying the door sills, which are 1.7 inches narrower and 2.2 inches lower than before. The Evora shed a total of 48 pounds; in 400 trim the car now weighs 3,119 pounds. Lotus says cockpit ingress and egress are improved, while the optional backseat is wider than the previous Evora. The backseat will have to be significantly improved to fit an average-size adult back there given how tiny the current car's seat is.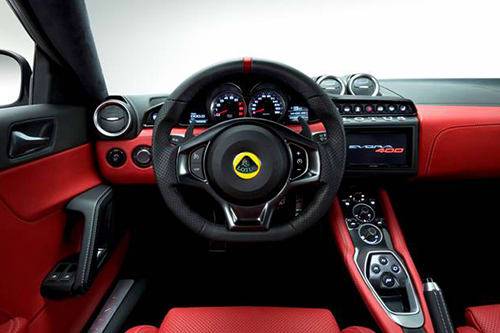 The 400's lighter, roomier chassis features revised suspension tuning as well as larger brakes and lighter-weight wheels. Outside, the Evora 400's new front and rear styling feature new cooling openings and lightweight composite materials plus a rear diffuser and wing contributing to the increased downforce. The Evora 400's reworked interior includes a new climate system for improved airflow, controlled by new switchgear on a redesigned dashboard.
Lotus says the 2016 Lotus Evora 400 will go on sale in fall 2015; pricing will be available closer to the car's on-sale date.
Manufacturer images