2016 Volkswagen Passat: Car Seat Check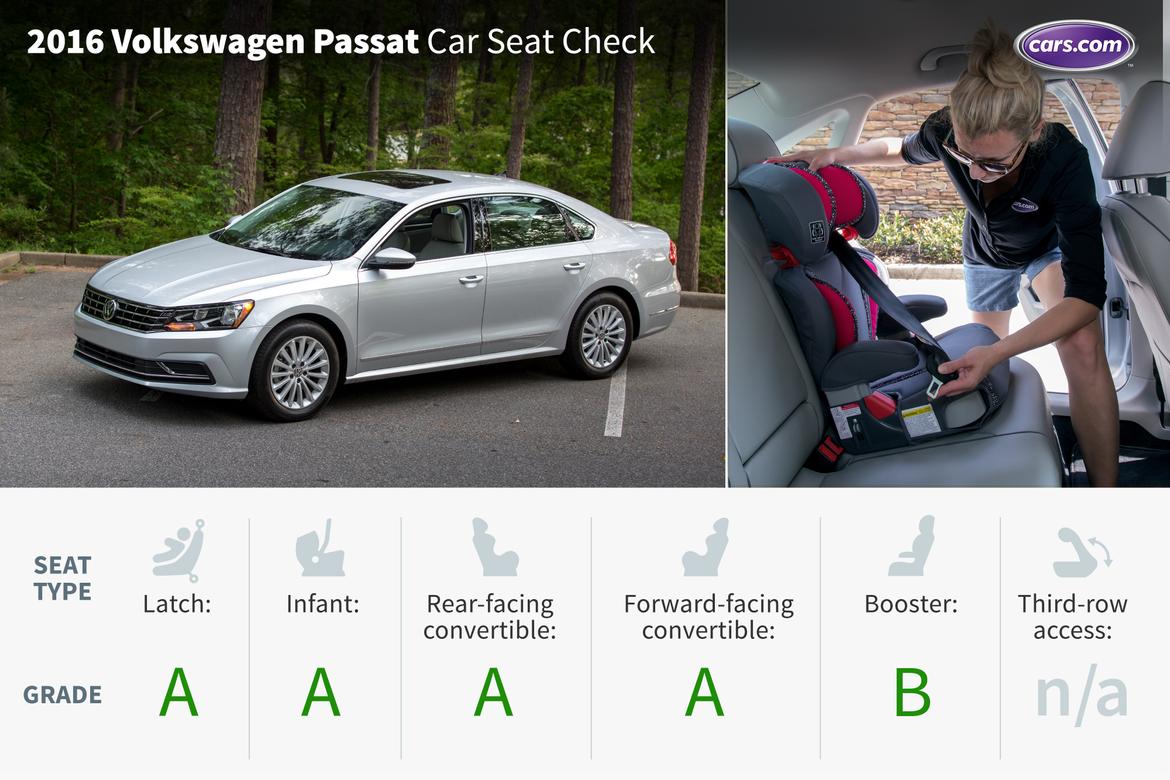 CARS.COM — For 2016, Volkswagen refreshed its Passat midsize sedan, adding some life to the exterior with sharper creases to its front and rear ends. While families will likely approve of the new look, they'll also be happy to find that the Passat's enormous backseat is unchanged. It maintains its roomy 39.1 inches of legroom for 2016, which helped it perform well in our Car Seat Check.
How many car seats fit in the second row? Two
What We Like
The Passat has two sets of lower Latch anchors in the outboard rear seats, and they're a snap to find and use. The three top tether anchors sit on the rear shelf behind the backseat's head restraints. They're well marked and easy to use.
To fit the rear-facing infant seat, we had to move the front passenger seat forward less than an inch. Our 5-foot-6-inch tester still had plenty of legroom.
Both the rear- and forward-facing convertibles installed easily and fit well in the backseat.
After lifting the head restraint, the high-back booster seat fit well.
What We Don't
The seat belt buckles sit low in the bottom seat cushions, making it difficult for kids in booster seats to use independently.
2016 Volkswagen Passat; Cars.com photo by Angela Conners
Grading Scale
A: Plenty of room for the car seat and the child; doesn't impact driver or front-passenger legroom. Easy to find and connect to Latch and tether anchors. No fit issues involving head restraint or seat contouring. Easy access to the third row.
B: Plenty of room. One fit or connection issue. Some problems accessing third row when available.
C: Marginal room. Two fit or connection issues. Difficult to access third row when available.
D: Insufficient room. Two or more fit or connection issues.
F: Does not fit or is unsafe.
About Cars.com's Car Seat Checks
Editors Jennifer Geiger, Jennifer Newman and Matt Schmitz are certified child safety seat installation technicians.
For the Car Seat Check, we use a Graco SnugRide Classic Connect 30 infant-safety seat, a Britax Marathon convertible seat and Graco TurboBooster seat. The front seats are adjusted for a 6-foot driver and a shorter passenger. The three child seats are installed in the second row. The booster seat sits behind the driver's seat, and the infant and convertible seats are installed behind the front passenger seat.
We also install the forward-facing convertible in the second row's middle seat with the booster and infant seat in the outboard seats to see if three car seats will fit; a child sitting in the booster seat must be able to reach the seat belt buckle. If there's a third row, we install the booster seat and a forward-facing convertible. To learn more about how we conduct our Car Seat Checks, go here.
Parents should also remember that they can use the Latch system or a seat belt to install a car seat, and that Latch anchors have a weight limit of 65 pounds, including the weight of the child and the weight of the seat itself.