2017 American-Made Index: The People Behind the Jeep Plant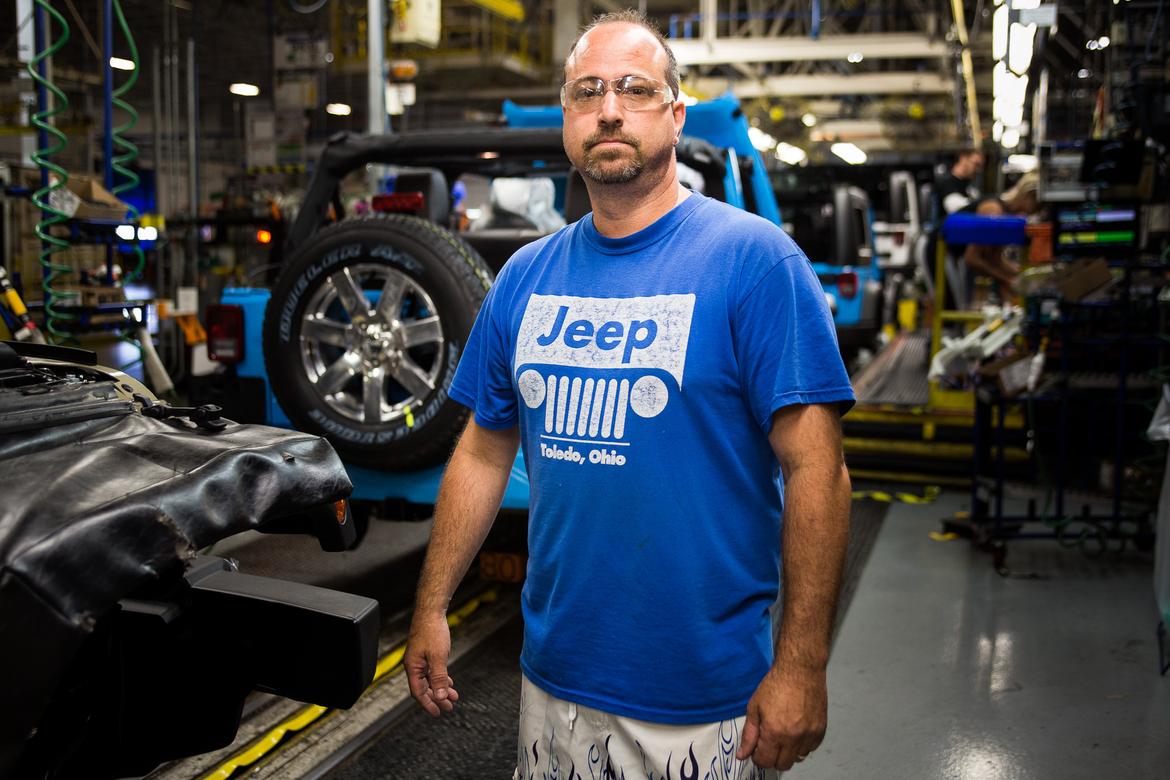 CARS.COM — Toledo, Ohio, is the home of Fiat Chrysler Automobiles' massive Toledo Assembly Complex. It's one of the biggest auto assembly plants in the U.S., and it builds the vehicle that tops the 2017 American-Made Index, the 2017 Jeep Wrangler. We went to Toledo to get a closer look at how the Wrangler is made, who makes it and the impact it has on the community there.
Related: The 2017 American-Made Index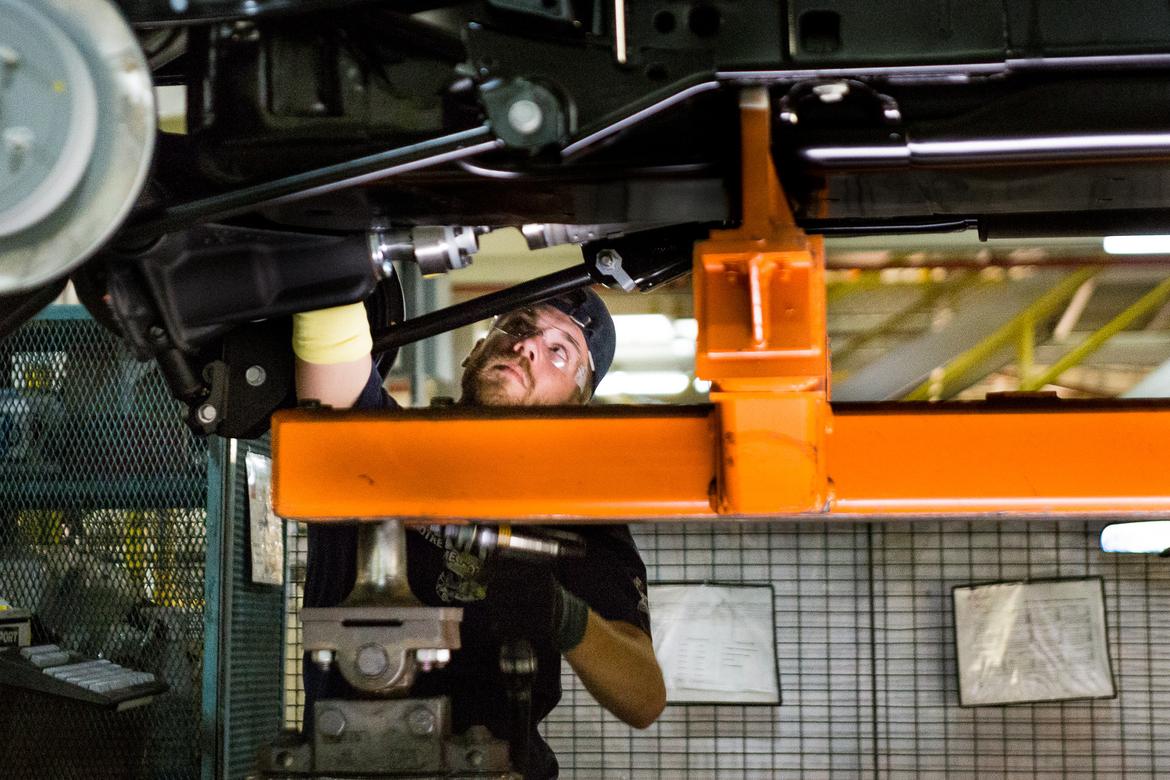 A worker assembles a part as Jeeps roll down the assembly line. At its peak, the Toledo Assembly Complex has cranked out up to 50,000 vehicles per month.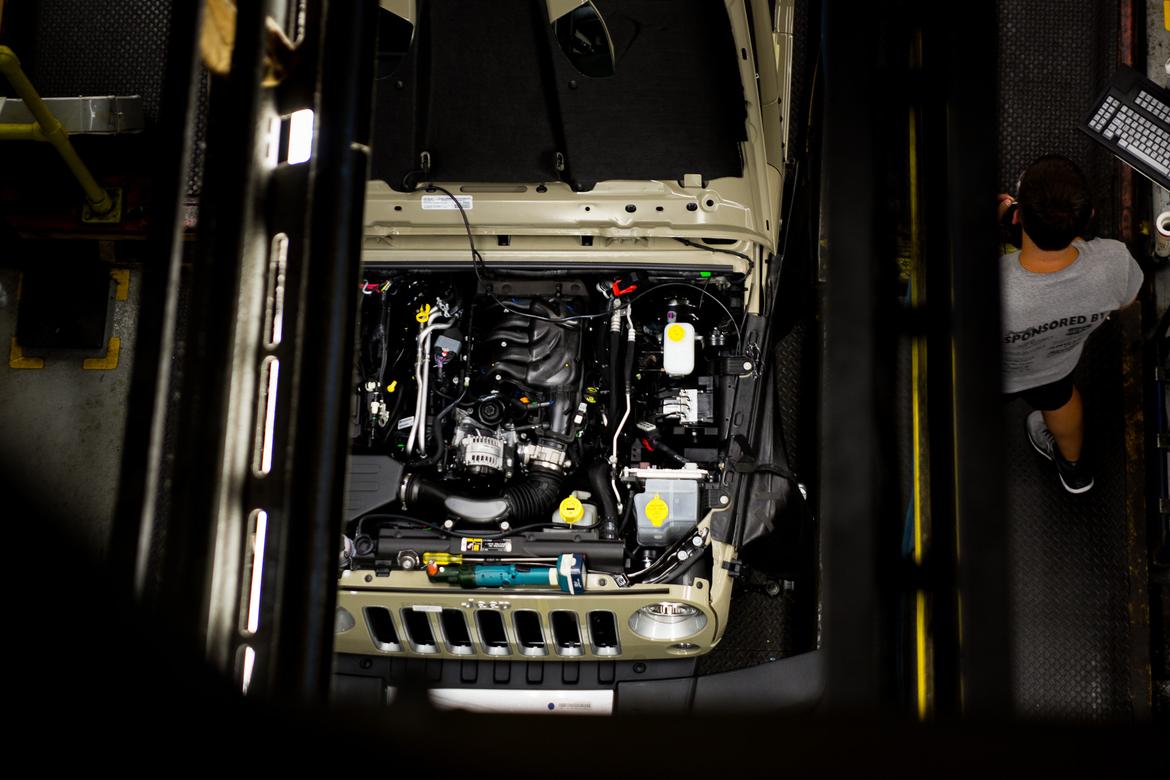 Final trim gets assembled to a new Jeep Wrangler. They've been building iconic Jeeps on-site since 1941, but the original assembly plant has since been replaced by a thoroughly modern facility.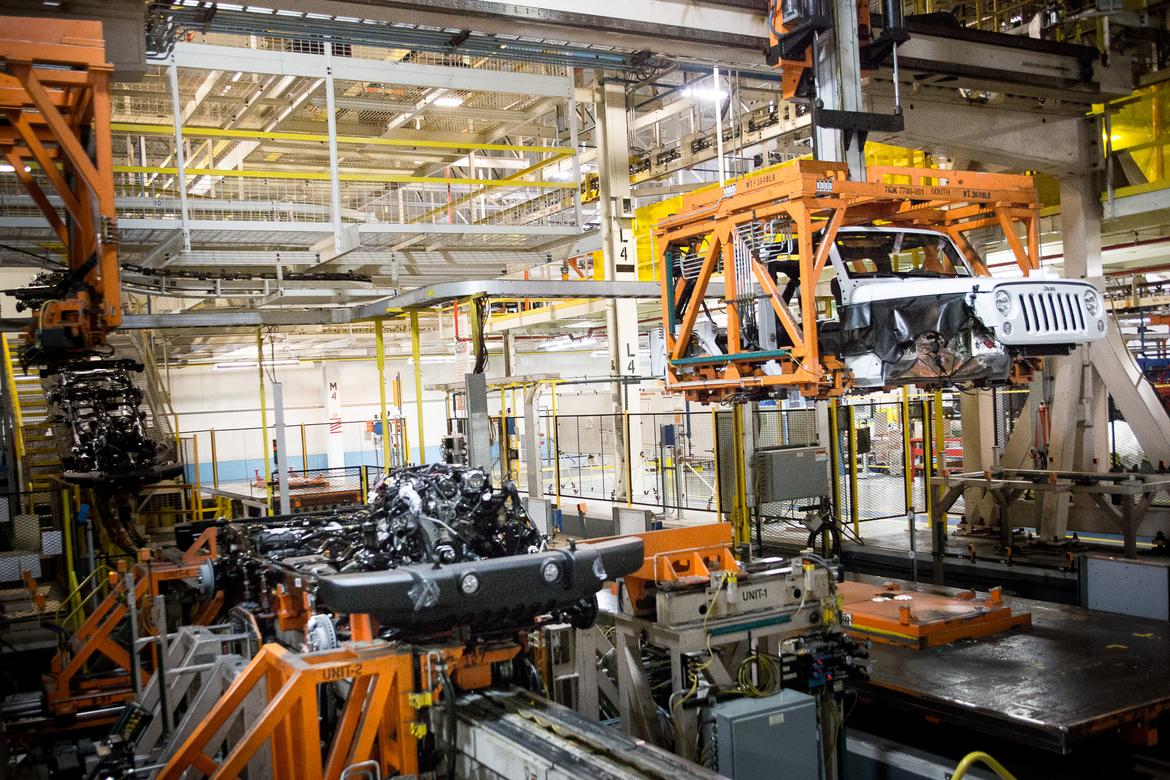 A new Wrangler body is about to be joined to the chassis. Wranglers use a body-on-frame construction, which may not be the most sophisticated way to make an SUV but has proven to be rugged, durable and easily modified.
This is a Wrangler Rubicon model, identified by the red tow hooks and unique bumper. In 2018, an all-new Wrangler is set to be built in Toledo in another part of the complex. This line will be turned into one that builds a new Wrangler-based mid-size pickup truck.
The assembly process is a remarkably lean assembly operation, employing a lot of "just-in-time" delivery methods. Here, hardtops arrive in sequence from a supplier and are then delivered to the line in order of assembly.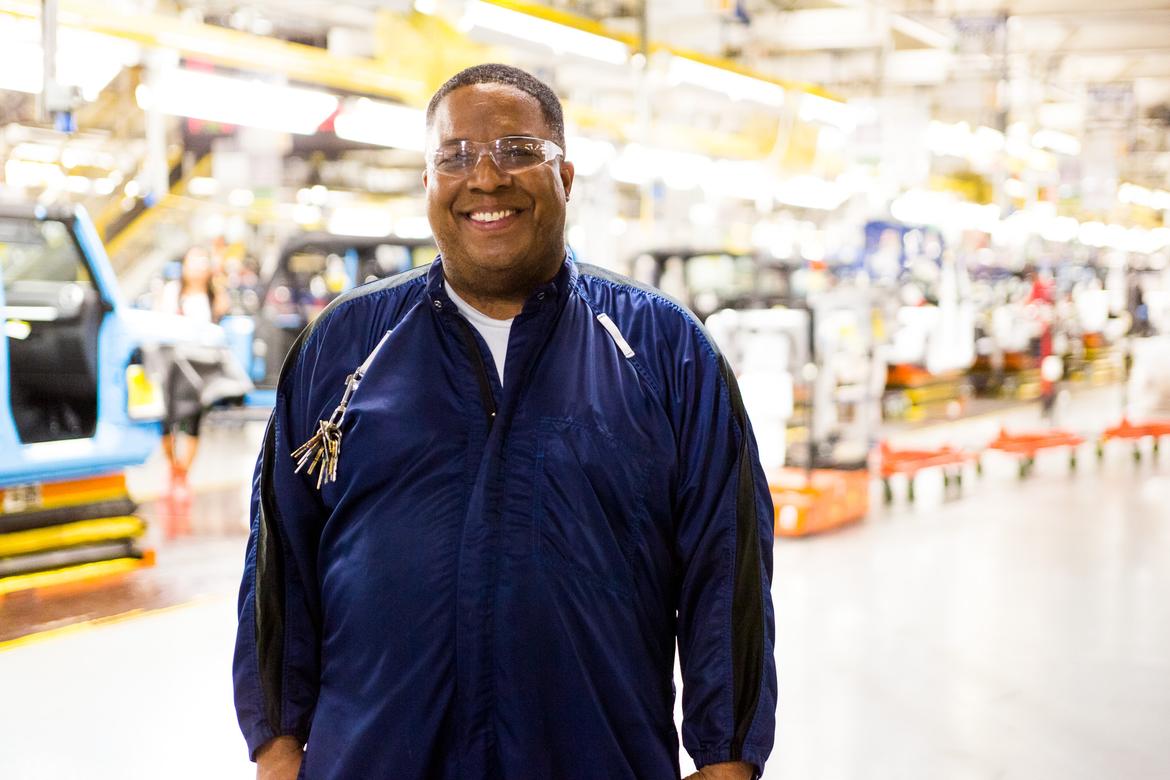 James Jefferson, millwright, Toledo Assembly Complex. "We buy what we build. This is our passion. I couldn't be prouder. We work some long hours, but my attitude is: I don't have to come to work, I get to come to work, and I enjoy that."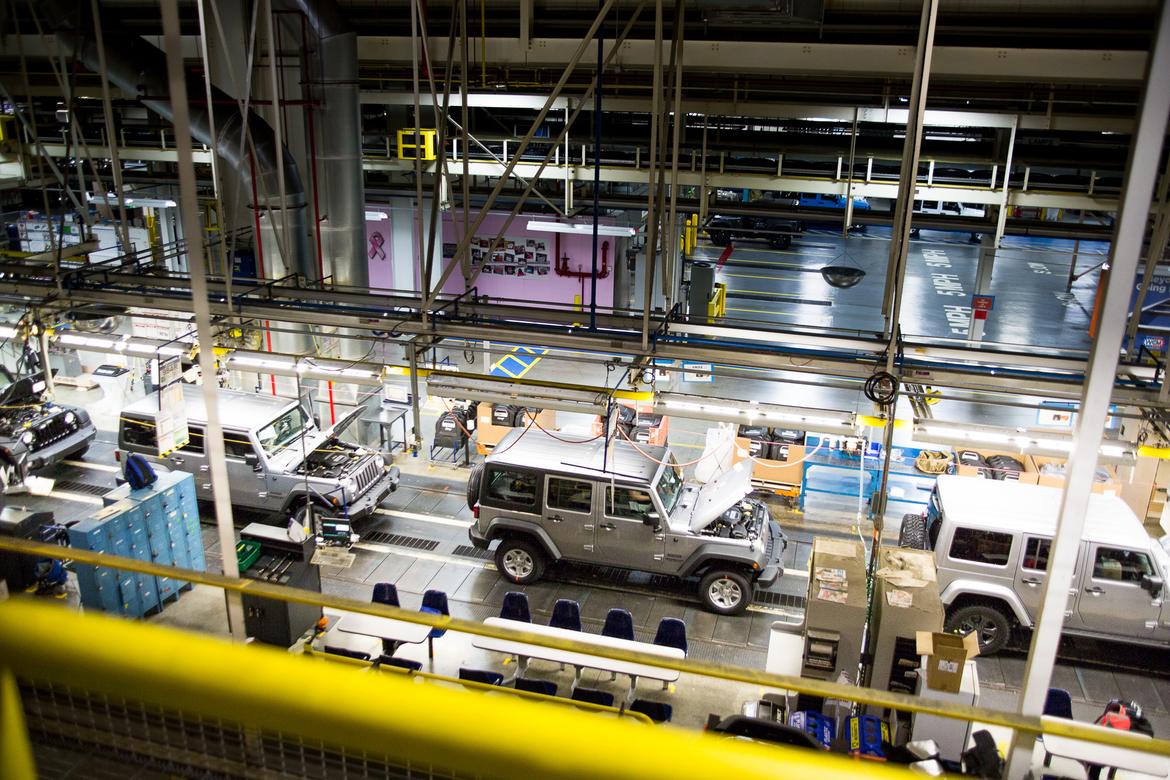 Cars and trends come and go, but Wranglers have always been popular. That's why Toledoans fight so hard to keep production in their town; they know that even in tough times, Wranglers still sell. When the four-door Wrangler Unlimited was introduced in 2007, sales went through the roof — and stayed there.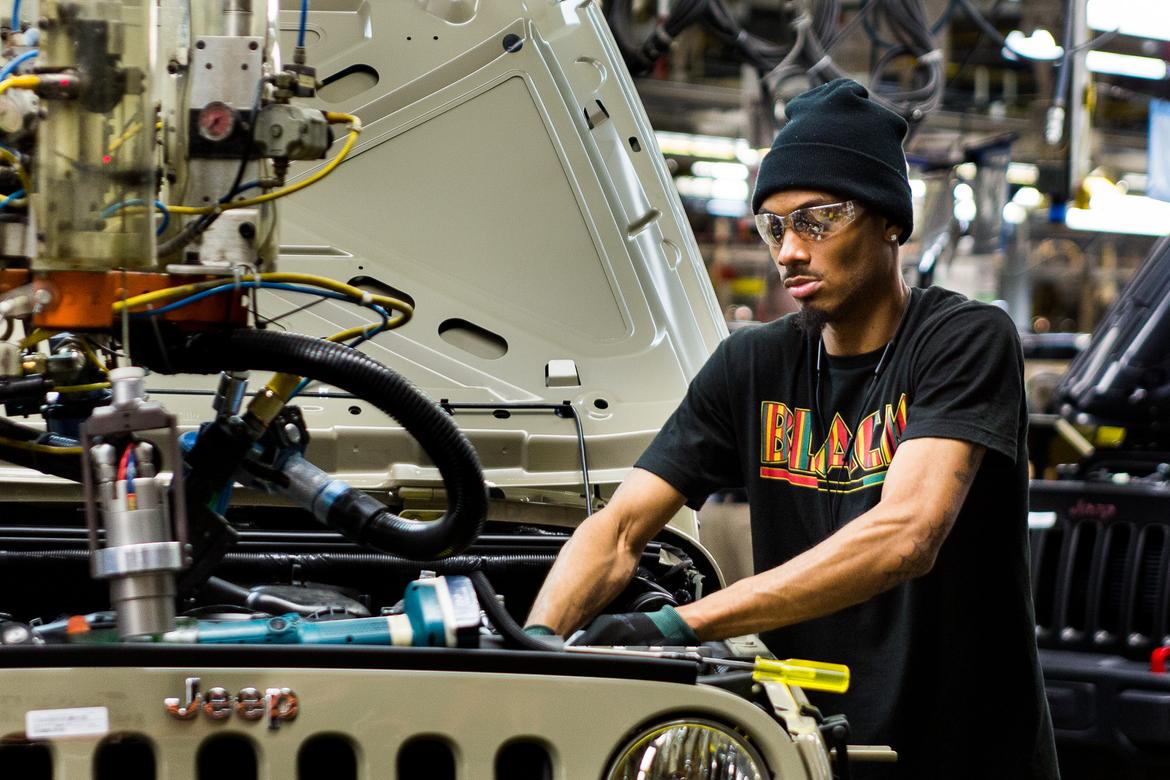 A worker installs parts in the engine bay of a new Wrangler.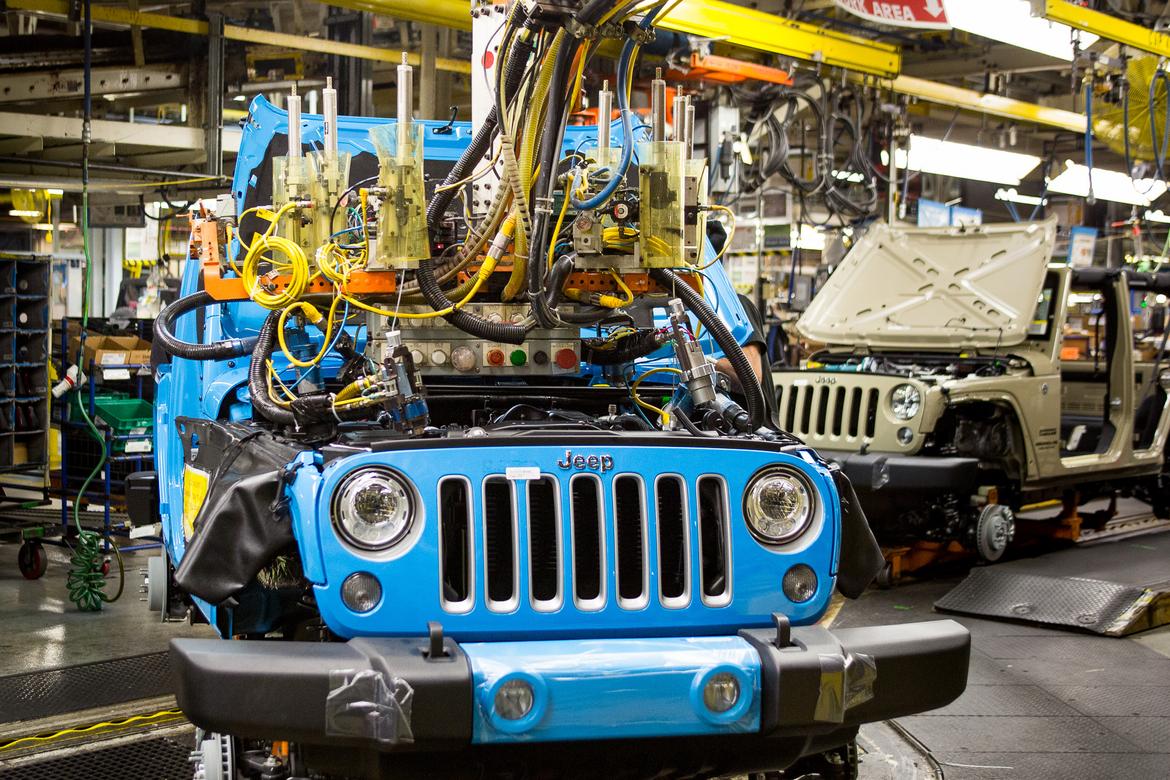 Tubes and hoses are connected, and all the systems are filled and tested.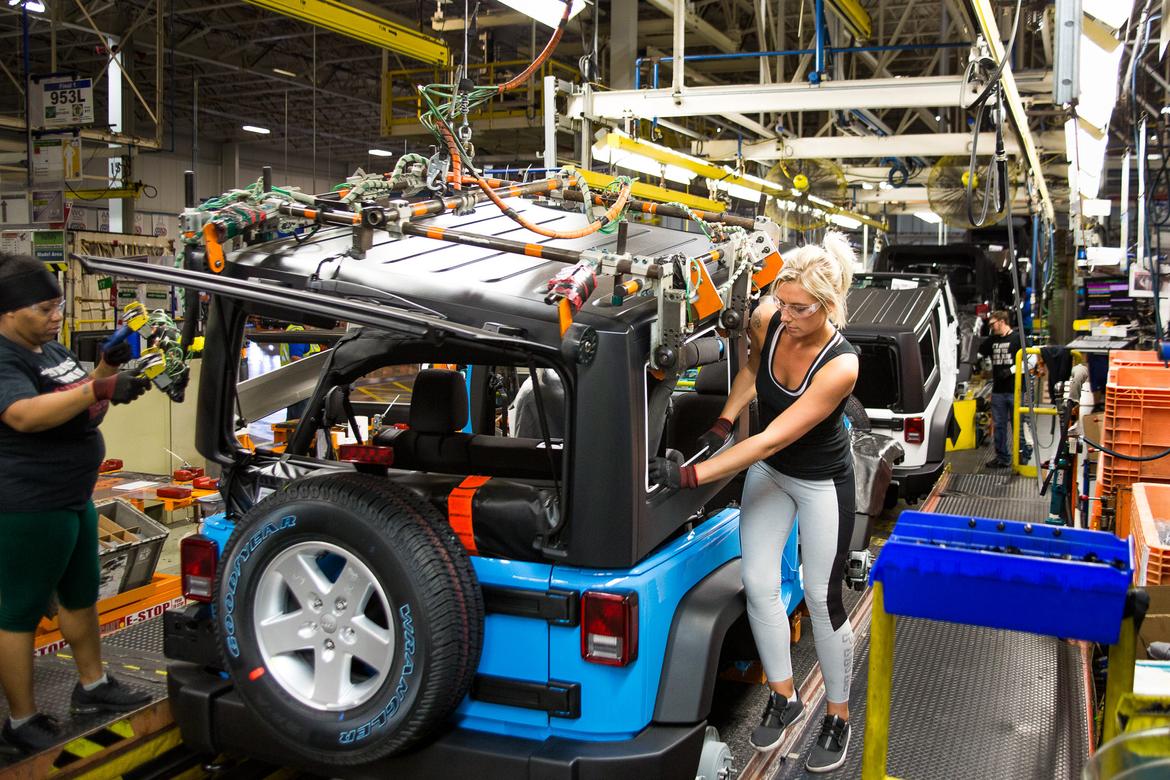 Electrically assisted rigs make installing the bulky hardtop look easy.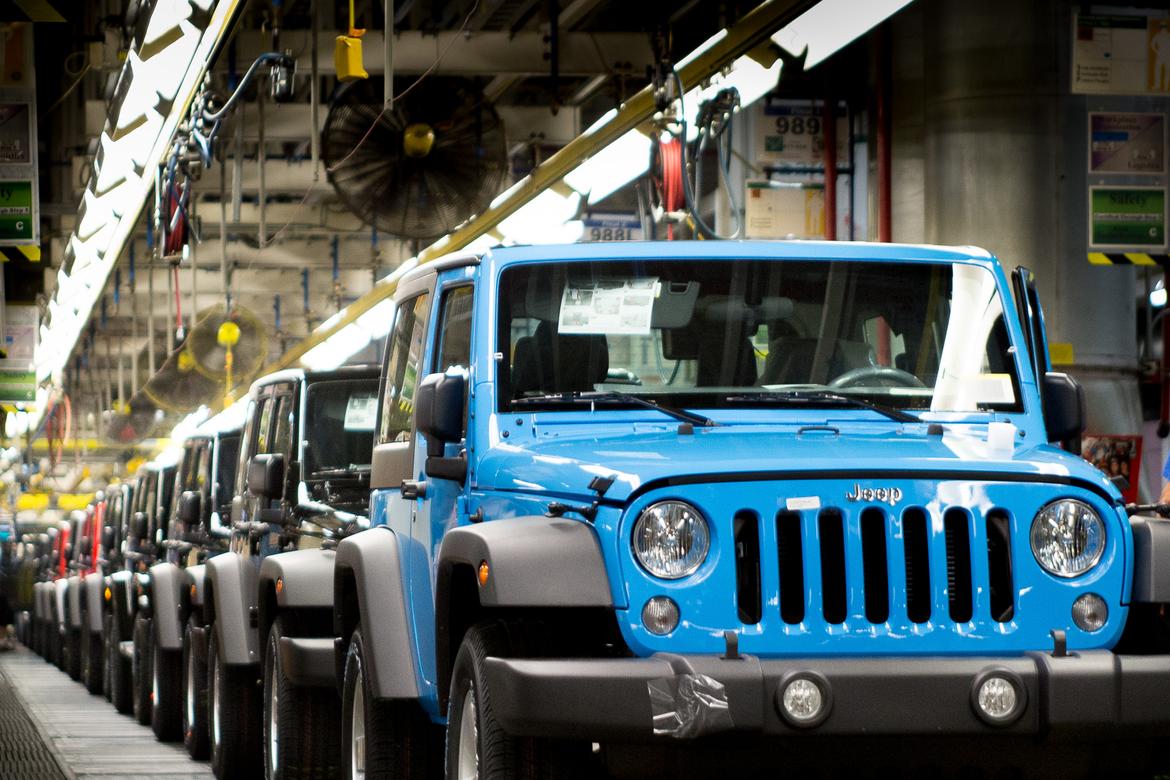 Wranglers have never shied away from bold colors, and this year's models are no stranger to playful pigments.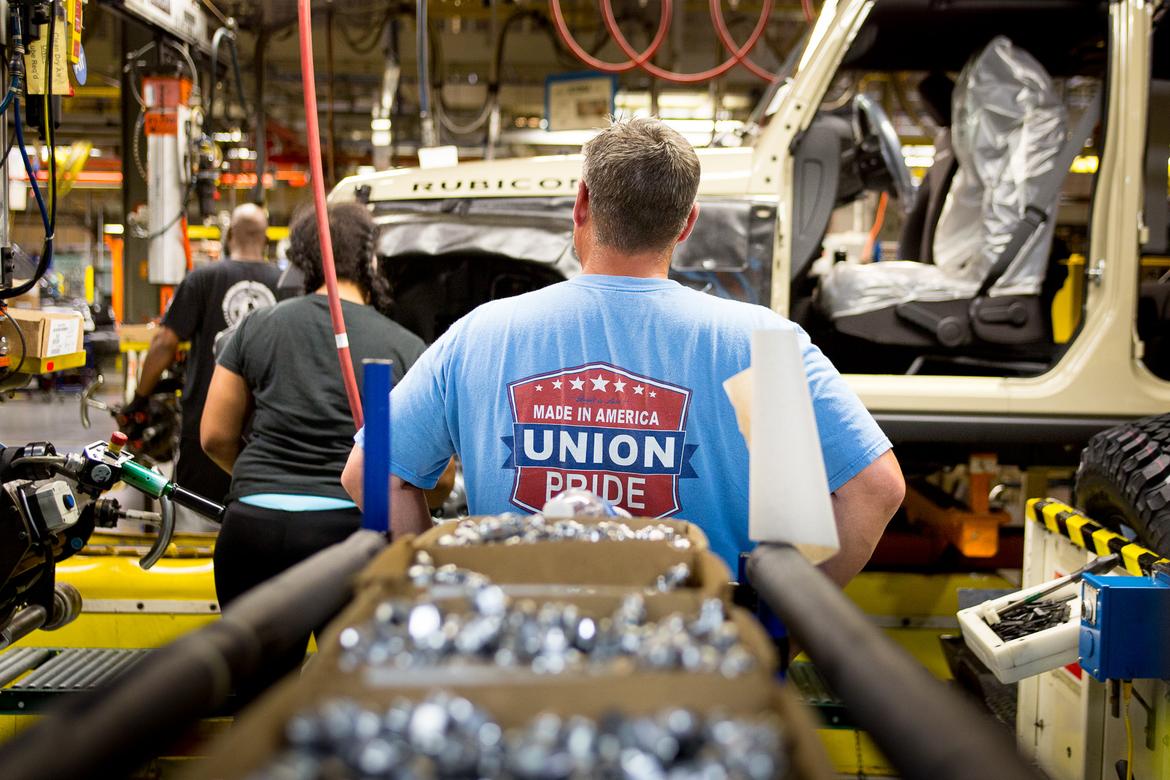 The United Auto Workers union has been a strong force in keeping Wrangler production in Toledo. They're a fiercely proud bunch and have fought repeatedly whenever FCA has threatened to move assembly to another plant.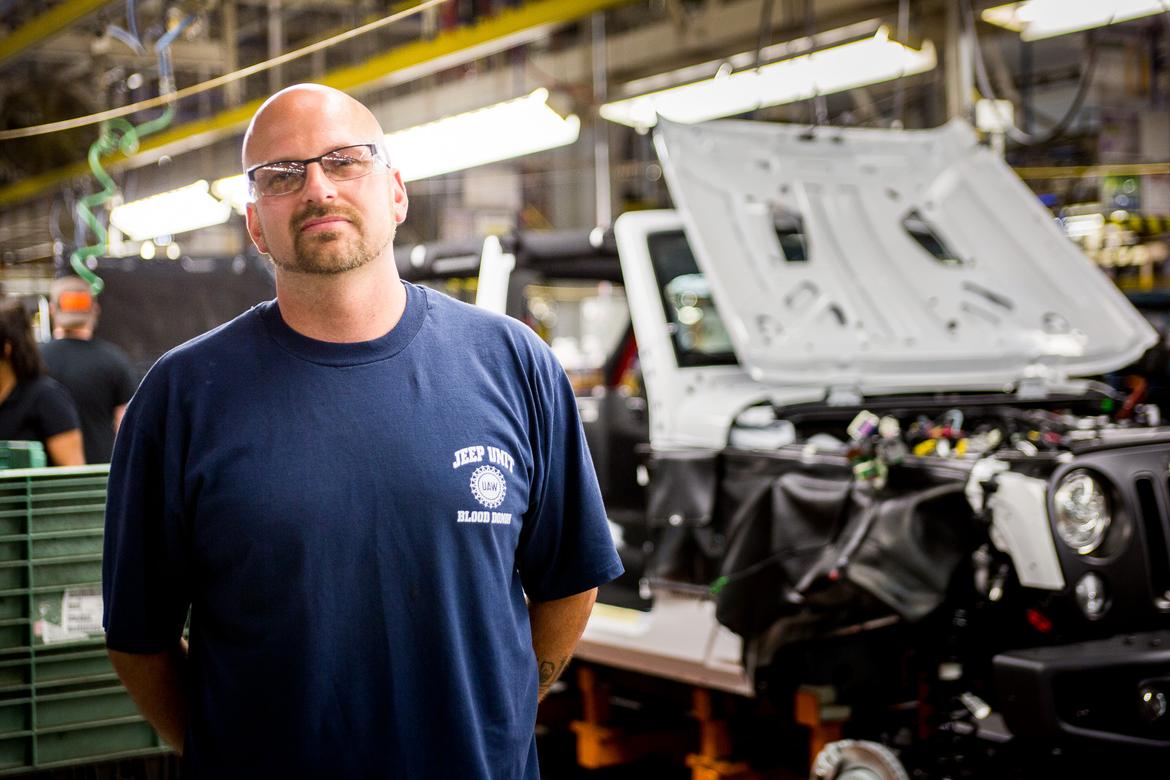 Joe Nudi, team leader, Toledo Assembly Complex. "Anywhere you go around here, [the plant is referred to as] Toledo Jeep. It's never just Jeep, it's Toledo Jeep. Everybody knows somebody throughout the community, either directly here on the line or at another supplier plant ... Somebody you know builds a Jeep — somehow, some way."
This is the fastest you'll ever see a tire go on a vehicle.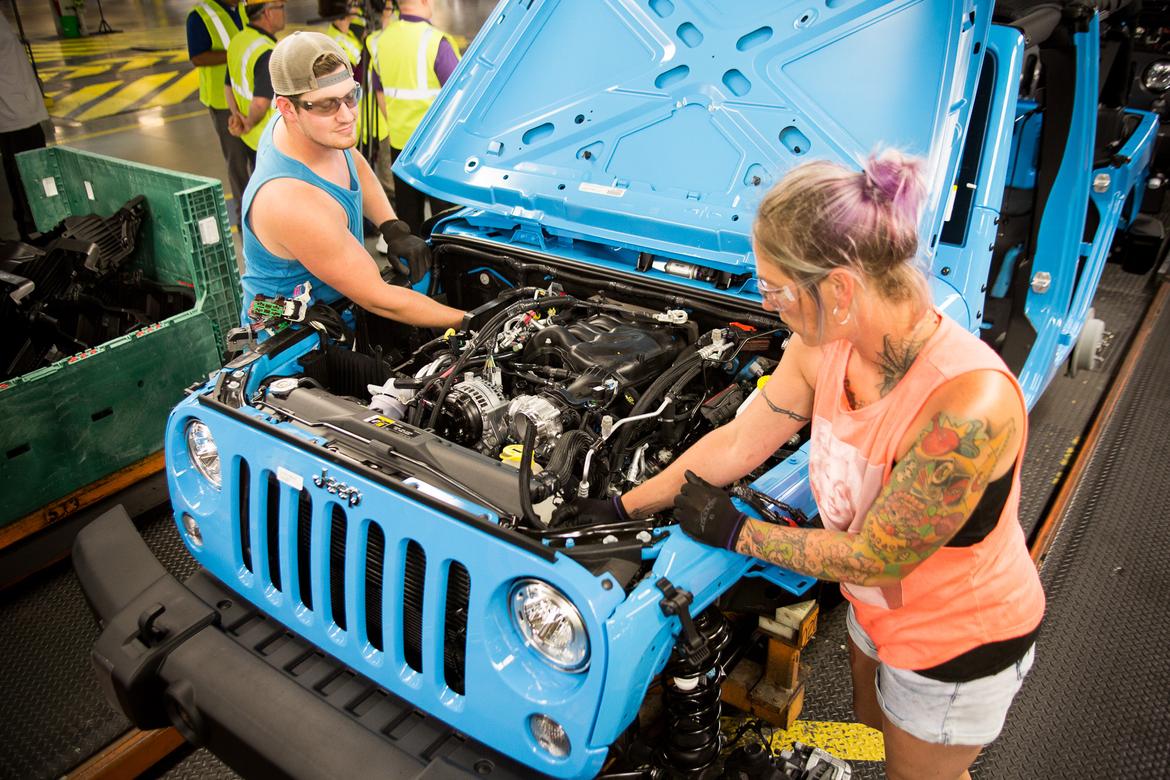 Most stations along the Jeep assembly line have two workers installing parts. Watching them go through the repetitive motions hundreds of times a day is mesmerizing.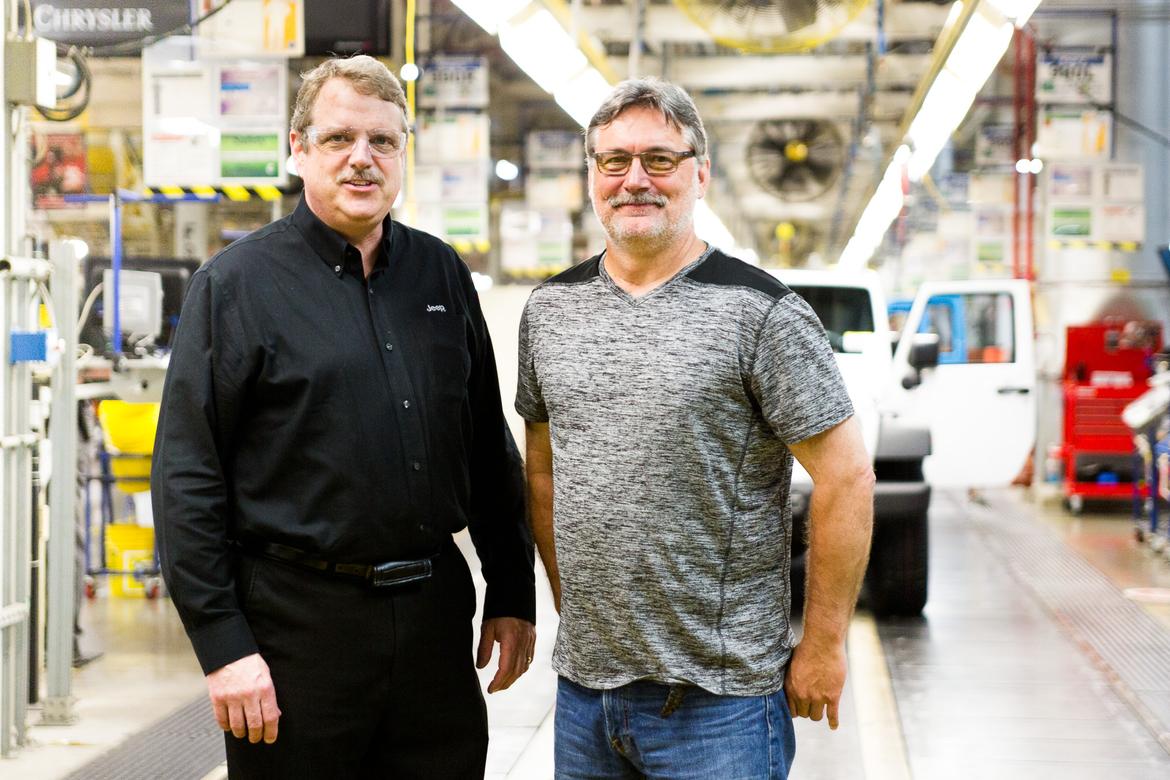 Chuck Padden, left, plant manager, and Mark Epley, UAW Local 12 Jeep chairman. "Buying American products is the biggest thing for me. I buy Red Wing shoes, and I have to look at my tennis shoes when I buy them because only certain shoes are made in America. You really have to study that. It's very important to buy American-made products." — Mark Epley
The American icon at the end of the assembly line, ready to roll off into water-leak testing and a final inspection. How seriously do Toledoans take the mystique of the Jeep Wrangler? The sign on the outside of the plant doesn't say, "People Building Cars," it says "People Crafting Legends."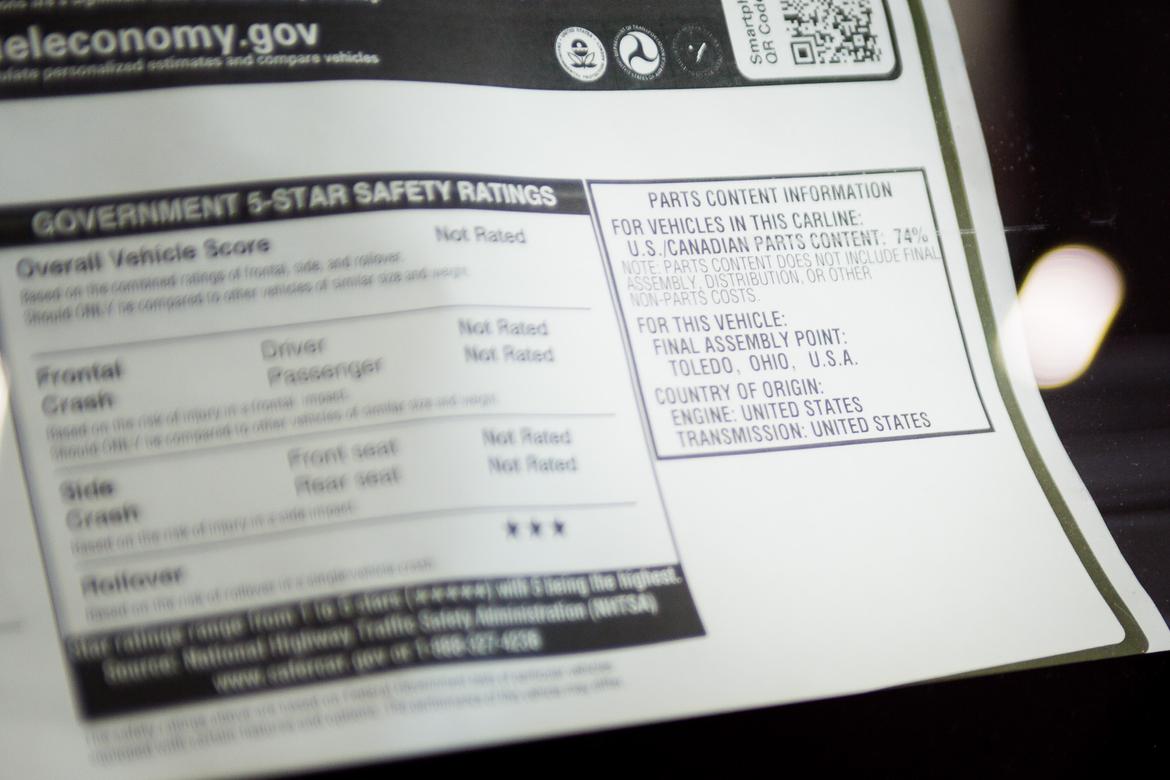 Made in America: More than 90 percent of the components that make up the Wrangler are sourced from within 1,500 miles of the plant itself, according to Jeep.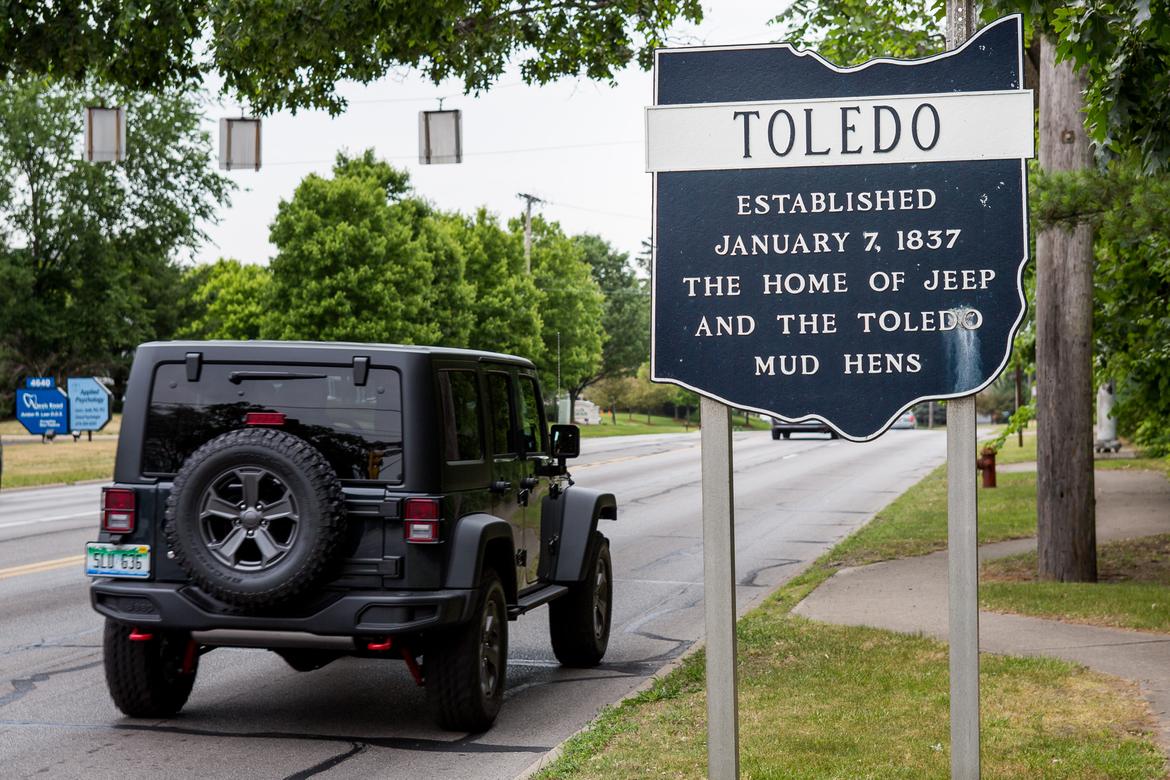 Jeep is Toledo, and Toledo is Jeep — they've been built here since 1941, and the locals are fiercely proud of that fact. The plant is the biggest employer in Lucas County, Ohio, and is critical to the health and stability of the entire region. Two distinct campaigns have been waged by locals to "Keep Jeep" in Toledo in just the last 25 years.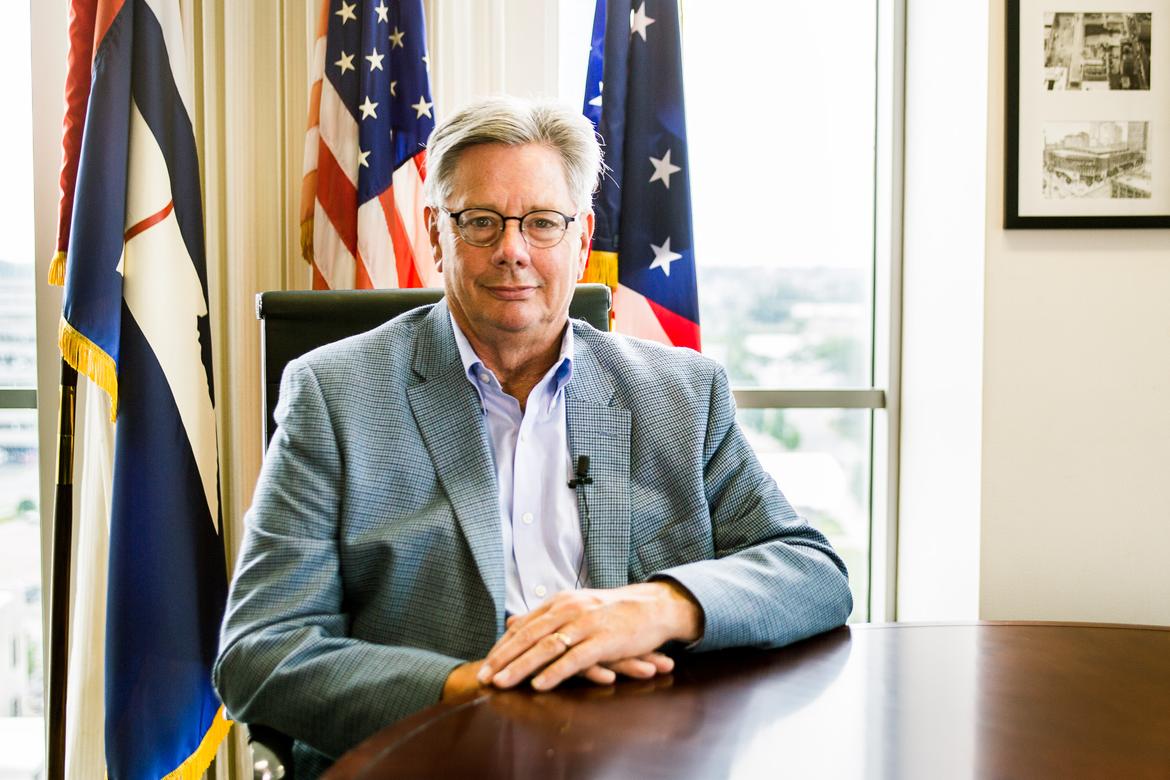 Pete Gerken, president of the Board of Lucas County Commissioners. "You can go anywhere in the world, and you can say the word 'Coke' and you can say the word 'Jeep,' and everybody knows what you're talking about. That's a legacy we own, and we're going to keep."