2017 GMC Acadia: First Drive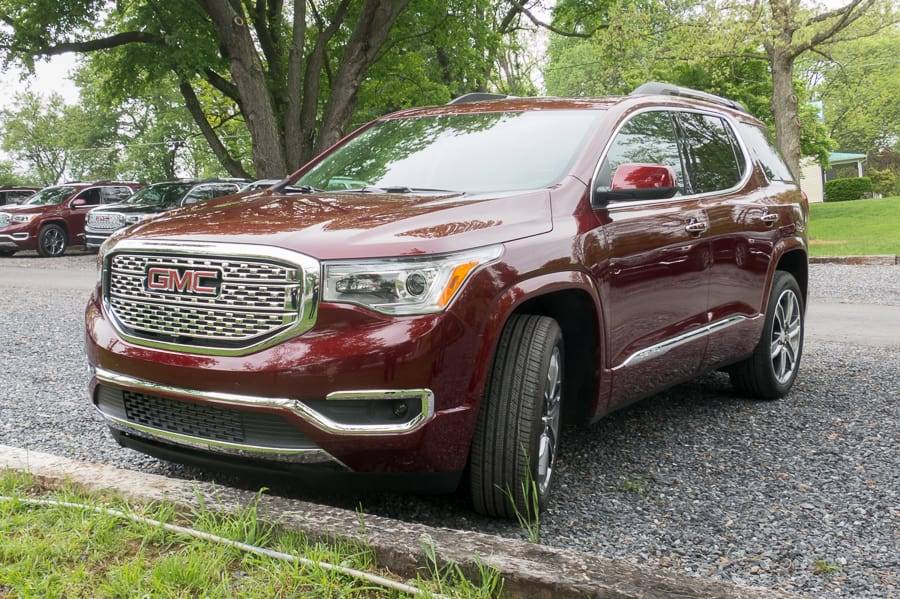 CARS.COM — GMC has downsized its Acadia SUV for 2017, bringing it from a full-size minivan alternative to a midsize offering. What it hasn't lost is its third row of seats, but the maximum is now seven seats total versus eight in the larger 2016.
The 2017 no longer will fill in for a family minivan, but as I learned at a national introduction in the rolling hills of Virginia, the new Acadia offers in exchange adequate capacity with a superior driving experience and an upgraded array of available safety and multimedia technology.
Related: 2017 GMC Acadia: First Impressions
Formerly a mechanical sibling of the Buick Enclave and the Chevrolet Traverse, the smaller Acadia aims to rival more directly in size and price the booming three-row crossover segment's leaders including the Toyota Highlander, Honda Pilot and Ford Explorer. GMC also has created a five-seat All Terrain version of the Acadia that aims to peel off sales from Jeep's successful Grand Cherokee, for which no GM brand has a direct rival.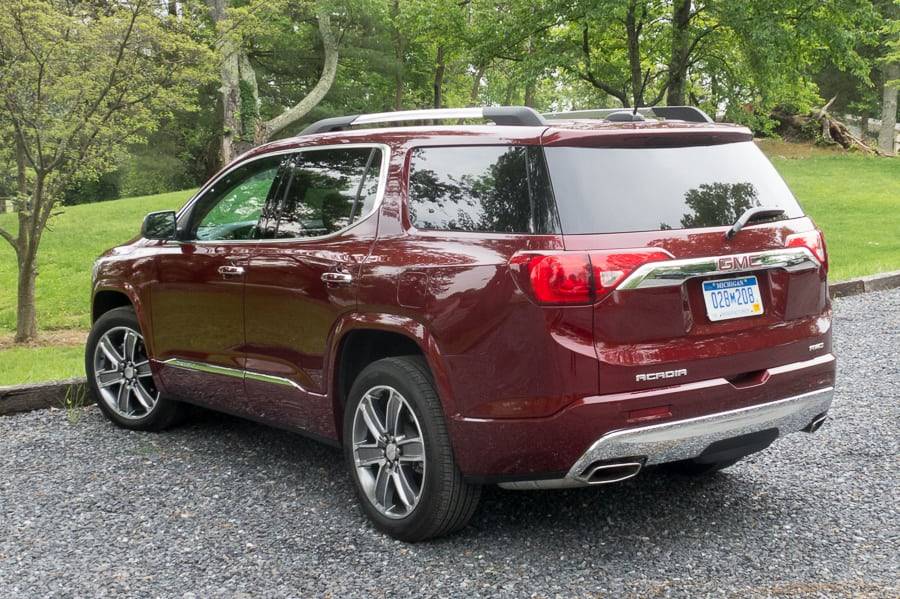 The 2017 Acadia will be on sale later this spring in six trim levels, offering four- and six-cylinder engines, a six-speed automatic transmission and front- or all-wheel drive in all but the base SL trim, which is front-drive only.
How It Drives

This is still a tall SUV; you won't mistake it for a sport sedan. But neither will you mistake it for the old Acadia, which had nearly minivan manners. Weight is down about 700 pounds for the lightest model, about 200 pounds of which came from the trimmer size, and the rest from lighter materials and new assembly techniques, according to GMC.
The 2017 is more carlike and surprisingly agile. The standout is a Denali model with GM's fine adaptive suspension, a $1,200 option. Sport mode firms up the suspension nicely for a planted feel and little lean in cornering, all without making the ride harsh. The setting also gives the all-wheel drive a rear bias and alters steering, throttle and transmission settings in satisfying and not intrusive ways; you could make this your go-to setting if you are willing to pay a bit more for gas. Family bonus: This also could be your choice if you have kids prone to carsickness – there was noticeably less body motion on twisties.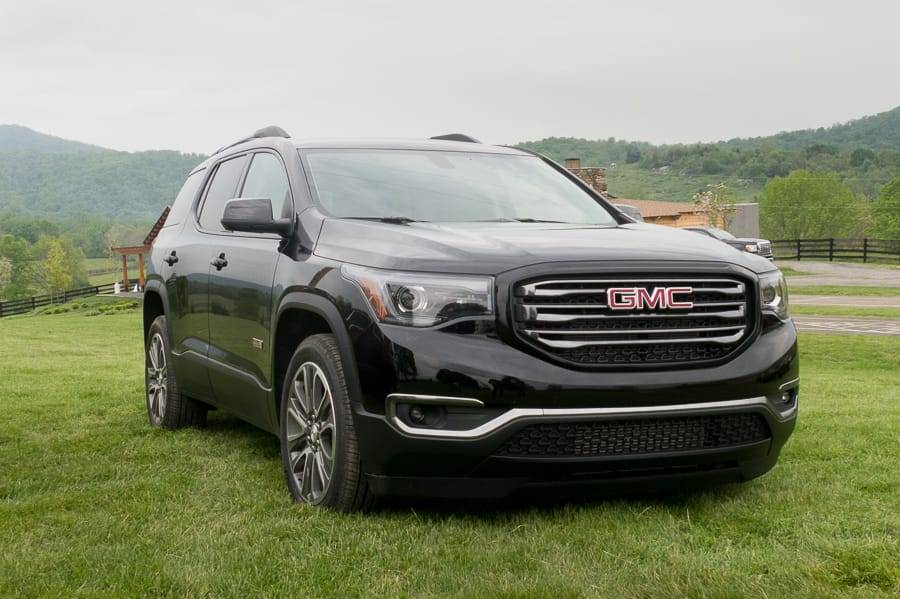 Time in models without the option, however, revealed the standard suspension is up to most tasks. Handling is confident, and the ride is nearly as comfortable. Well-tuned variable-assist steering goes from parking-lot easy to responsive at speed. A turning circle that's a more manageable 38.7 feet, down from north of 40 feet, also aids the parking-lot experience. The braking feels linear, with expected bite in relation to pedal effort.
A surprise for me was the new 193-horsepower, naturally aspirated 2.5-liter four-cylinder, the base engine through the SLT trims. It's no neck-snapper — more than 9 seconds to 60 mph, says GMC — but its adequate midrange power did not induce white knuckles when passing or in freeway merges. And it actually felt peppy in city driving. For cost-conscious buyers with mostly city and suburban driving needs, this could be a sensible choice.
If you aren't feeling that sensible, the new-design 3.6-liter V-6 puts out a satisfying 310 hp and 271 pounds-feet of torque, and GMC expects it to appeal to most buyers. Power delivery was strong and it will tow up to 4,000 pounds, down from a 5,200 maximum for the 2016.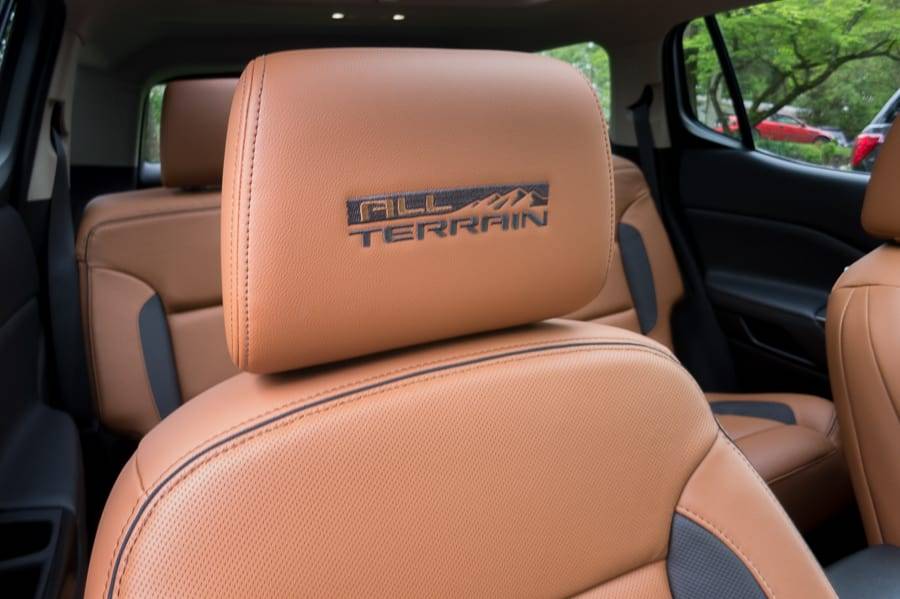 Both engines improve gas mileage over the 2016. The four-cylinder includes a stop-start function, and the V-6 employs cylinder deactivation that makes it a V-4 under light loads. Following what we were told is now GM policy for four-cylinder engines, stop-start cannot be turned off, but you probably won't mind because it's nearly seamless.
The result for front-wheel-drive models is an EPA-rated 21/26/23 mpg city/highway/combined for the four and 18/25/21 for the new V-6, compared with the old model's 15/22/18. The new V-6 gives up 1 mpg in combined mileage for all-wheel drive. In a real-world drive on freeway and rural two-lane roads (averaging 36 mph), the four with front-drive logged better than its highway rating with 26.4 mpg on the trip computer.
Interior Looks, Feels Better

For spaciousness, the Acadia and its rivals seem closely matched, at least by the numbers. In feel and outward visibility, the Acadia seems as spacious and airy as the Toyota Highlander, but slightly less so than the taller, wider Pilot. And all three best the snug, closed-in feel and visibility of the Explorer.
The new Acadia's interior is simple, more modest than luxurious, even in the top Denali trim. Materials quality is mostly good where you touch; there still is a lot of hard plastic below elbow level. And it's impressively conversation-quiet inside.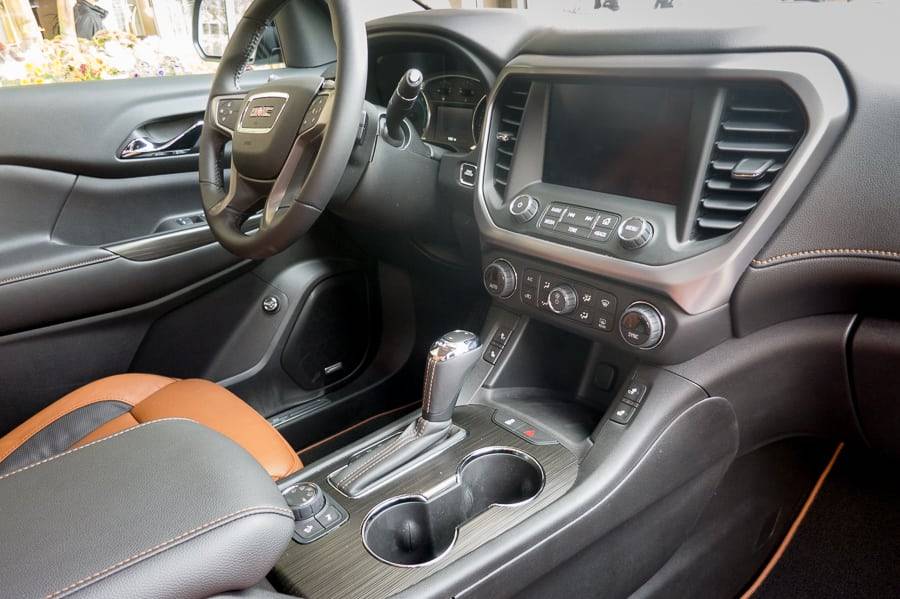 The design is pleasant, the colors almost subdued, except for the more dramatic black and saddle leather interior in the optional All Terrain Package offered for SLT trims. Seating is for seven with a comfortable second-row bench, for six with second-row captain's chairs and for five in the All Terrain. The All Terrain offers only a bench backseat and no third row, using the space for underfloor storage instead.
The two-seat bench in the way back has sufficient padding and ample headroom, but sits low. It can accommodate a 6-footer, however, sitting with knees high behind another tall adult in the sliding and reclining second row. Outboard pairs of Latch child-safety seat anchors are provided only for the second row.
The interior retains some of the 2016's vanlike conveniences, such as ample storage, including a bread-box-size storage drawer in the console for the rear seat, and abundant cup and bottleholders. On the other hand, cargo room behind the third row is cut nearly in half to a compact-car-like 12.8 cubic feet versus the 2016 Acadia. Lacking a third row, the All Terrain provides large storage bins under the floor and rails for a cargo management system.
Updated Electronics

A 7-inch touch-screen with GMC's IntelliLink system is standard on SL and SLE trims, and an 8-inch unit is optional on the SLE and standard on SLT and Denali models. The screen has big, clear buttons and menus and was responsive. Ease of use is complemented by mechanical knobs for volume and tuning, and physical buttons for Home and Back as well as basic audio functions.
Apple CarPlay and Android Auto smartphone integration is standard. The system also offers a subscription 4G LTE connection via OnStar. A Bose eight-speaker audio system is available.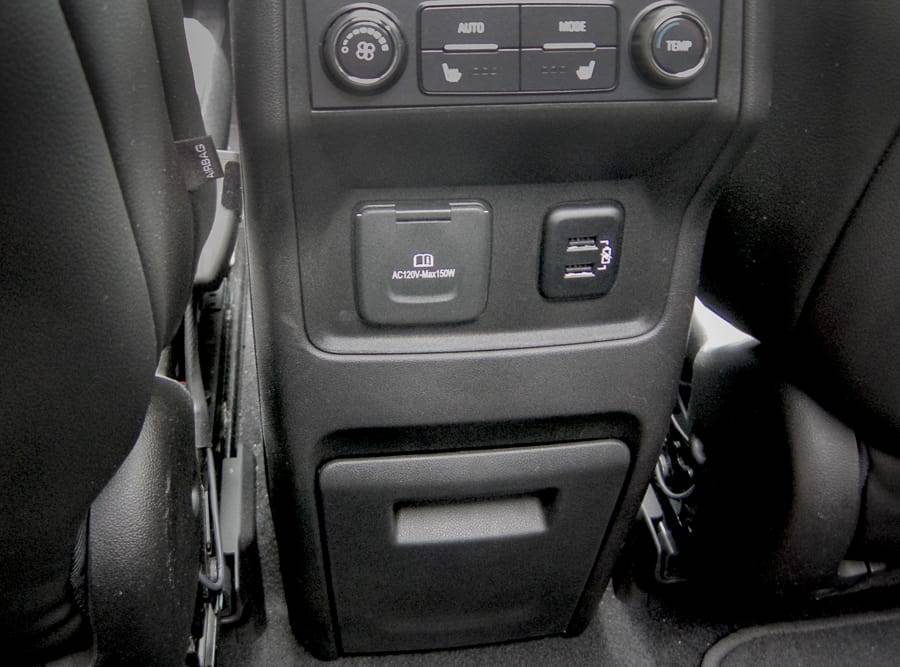 USB connections abound, with two up front, two for the second row and another for the way back.
Smaller Size, Smaller Price

Prices are down for the smaller Acadia (see the details here), in a range from $1,905 less for the cheapest 2017 to $2,970 less to start for the all-wheel-drive 2017 Denali. What you get for less money is a different, but I think better and more efficient, vehicle that still meets the needs of most families. If you really need a minivan, buy one. Nothing beats it. If not, this is an Acadia you can enjoy driving.