2017 Hyundai Santa Fe Sport: Car Seat Check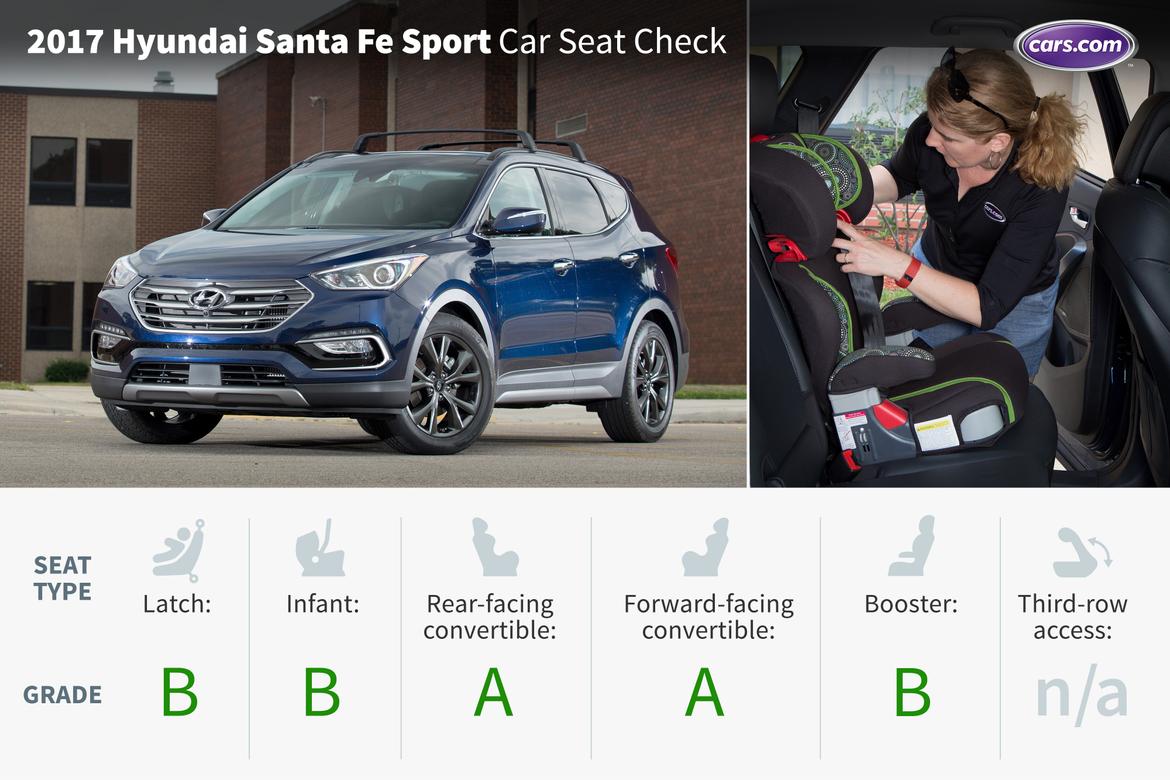 CARS.COM — For 2017, the Hyundai Santa Fe Sport gets a mild update that focuses on advanced safety features and new multimedia features. Families will appreciate that this midsize SUV has rear sunshades to keep the sun out of kids' eyes and a backseat that slides forward and back. We tested the 2017 Santa Fe Sport 2.0T with all-wheel drive and leather seats.
How many car seats fit in the second row? Two
What We Like
The Santa Fe Sport's three top tether anchors, which sit under flip-up plastic covers, are midway down the seatback; they're easy to find and use.
The rear- and forward-facing convertibles fit well.
Our high-back booster seat fit well in this SUV.
What We Don't Like
There are two sets of lower Latch anchors in this five-passenger SUV. They sit about an inch into the seat cushions, and we had to muscle our car seats' Latch connectors past the stiff, leather seat cushions.
We had to move the front passenger seat forward to accommodate our rear-facing infant seat. The infant seat, however, installed easily, thanks to its thin, hooklike Latch connectors.
The seat belt buckles are on floppy bases, making them difficult for kids to use independently.
[Asset Included (Id:1420690233373;Type:AdvCols)]
Grading Scale
A: Plenty of room for the car seat and the child; doesn't impact driver or front-passenger legroom. Easy to find and connect to Latch and tether anchors. No fit issues involving head restraint or seat contouring. Easy access to the third row.
B: Plenty of room. One fit or connection issue. Some problems accessing third row when available.
C: Marginal room. Two fit or connection issues. Difficult to access third row when available.
D: Insufficient room. Two or more fit or connection issues.
F: Does not fit or is unsafe.
About Cars.com's Car Seat Checks
Editors Jennifer Geiger and Jennifer Newman are certified child safety seat installation technicians; editor Matt Schmitz is working toward recertification.
For the Car Seat Check, we use a Graco SnugRide Classic Connect 30 infant-safety seat, a Britax Marathon convertible seat and Graco TurboBooster seat. The front seats are adjusted for a 6-foot driver and a shorter passenger. The three child seats are installed in the second row. The booster seat sits behind the driver's seat, and the infant and convertible seats are installed behind the front passenger seat.
We also install the forward-facing convertible in the second row's middle seat with the booster and infant seat in the outboard seats to see if three car seats will fit; a child sitting in the booster seat must be able to reach the seat belt buckle. If there's a third row, we install the booster seat and a forward-facing convertible. To learn more about how we conduct our Car Seat Checks, go here.
Parents should also remember that they can use the Latch system or a seat belt to install a car seat, and that Latch anchors have a weight limit of 65 pounds, including the weight of the child and the weight of the seat itself.