2017 Kia Forte: What You Get for $23,000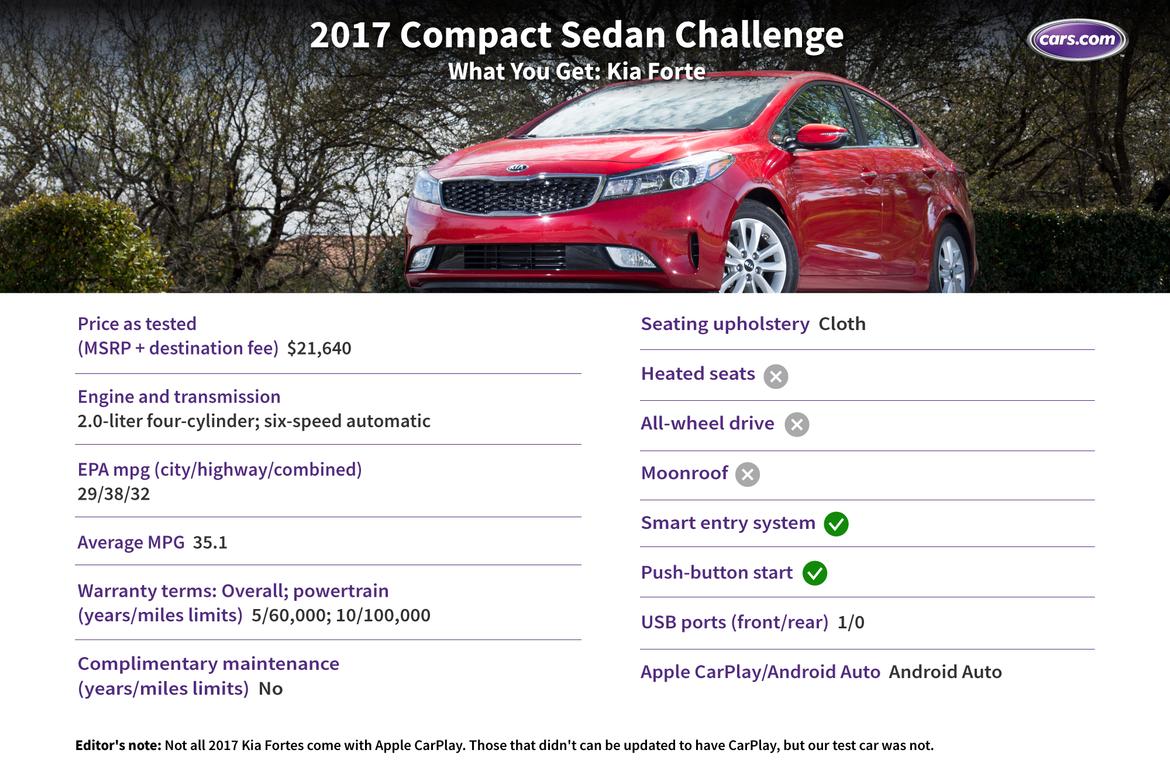 CARS.COM — The 2017 Kia Forte S had an interesting mix of features for its as-tested $21,640 with destination charge. The Forte S was the second least expensive in Cars.com's 2017 Compact Sedan Challenge, but with the S Technology Package ($1,490) included on our test car, it was far from the most sparsely equipped.
The 2017 Compact Sedan Challenge
Results | Safety Features
Standout Features
As the defending champ of this class, the Forte sedan remains a good buy. Kia's huge warranty stands out anytime you stack it up with the competition because a five-year/60,000-mile basic warranty and 10-year/100,000-mile powertrain warranty is hard to beat. The Kia also had a smart entry system that only requires the key fob to be near the car (in a pocket or purse) for the door to automatically unlock when you pull the handle. Our Forte had the smartphone-friendly Android Auto for mirroring navigation and other smartphone functions to the main media screen.
Our test car also included a forward collision warning system with automatic emergency braking, blind spot monitoring and more.
What's Missing
The low price did leave a few holes; the Forte didn't come with heated seats or a moonroof. It also lacked Apple CarPlay, but not because it's not offered — Kia didn't provide a car with the update that adds Apple CarPlay. Newer Forte S and EX trims should come with CarPlay standard, and it's downloadable for 2017 models if not originally equipped.
Editor's note: Cars.com's What You Get series is a component of our multicar comparisons where we spend a week testing a class of vehicles to find the best one. Each car meets a price limit, which is set by Cars.com, for the comparison. The 2017 Compact Sedan Challenge tested the 2017 Chevrolet Cruze, 2017 Honda Civic, 2017 Hyundai Elantra, 2017 Kia Forte, 2017 Mazda3, 2017 Subaru Impreza, 2017 Toyota Corolla and 2017 Volkswagen Jetta.