2018 BMW 2 Series Preview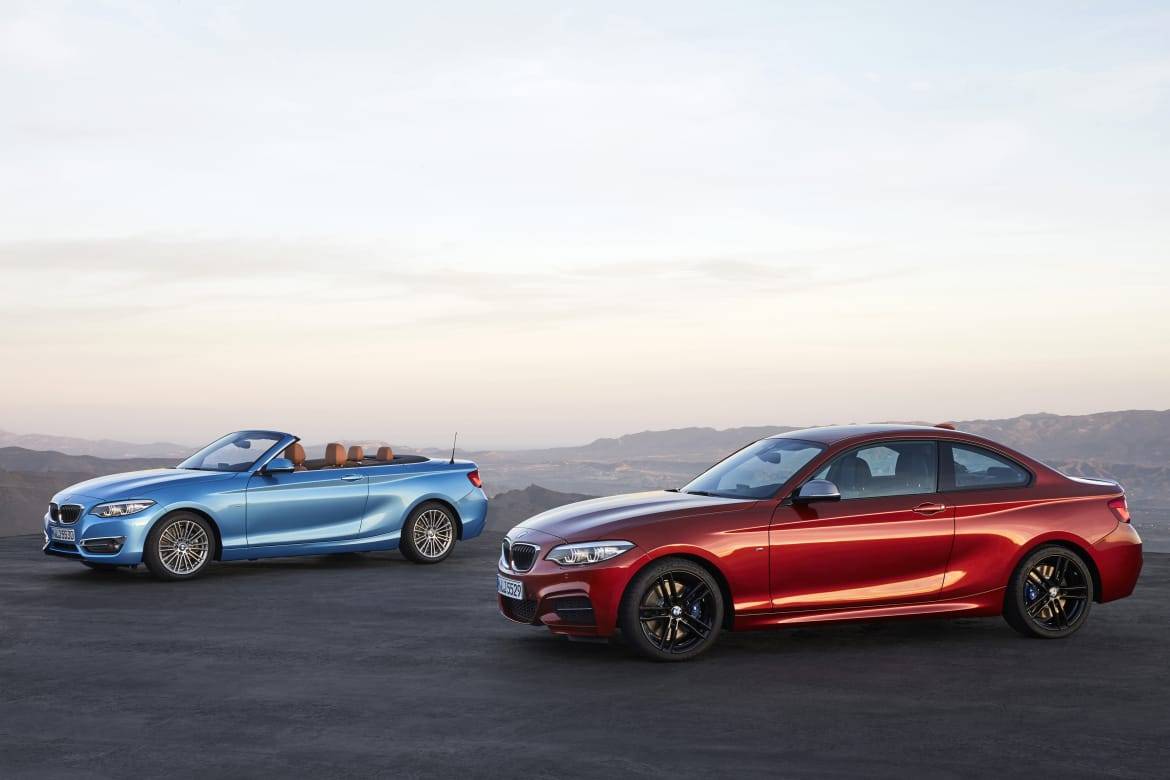 CARS.COM
Competes with: Audi A3, Mercedes-Benz CLA-Class, Infiniti Q30
Looks like: The rest of the lineup, just smaller
Drivetrain: 248-horsepower, turbocharged 2.0-liter four-cylinder (230i); 335-hp, turbocharged 3.0-liter inline six-cylinder (M240i); 365-hp, turbocharged 3.0-liter inline six-cylinder (M2); eight-speed automatic, six-speed manual or seven-speed automatic (M2) transmission; rear-wheel drive, all-wheel drive optional (230i and M240i)
Hits dealerships: July
BMW's smallest series of vehicles gets a small set of updates for the 2018 model year. Each member of the 2 Series is receiving slightly tweaked exterior styling and updated interiors with new technology and materials.
Related: BMW Confirms Return of 8 Series Coupe
The 2 Series will continue to be sold in both coupe and convertible body styles in two models: 230i, M240i. The performance-oriented M2 is coupe-only.
Exterior
Exterior changes in this update are few, but BMW says each of the 2 Series models adds LED headlights and three new paint colors, along with updated wheel designs. The general aesthetic remains intact, with a long hood and short deck lid, which makes the passenger area appear to be pushed toward the rear of the vehicle.
Interior
Most of the updates to the 2018 2 Series are found inside, where BMW has redesigned the instrument panel and installed the latest version of its multimedia system, iDrive 6.0. A 6.6-inch display is standard, with a larger 8.8-inch touchscreen as an option.
Also on the technology side, the 2 Series offers a few handy features, including the On-Street Parking Information service to guess where open parking spaces will be along your route. Wireless charging is optional and the 2 Series will also offer wireless integration of Apple CarPlay.
The BMW Connected app will be more helpful on the navigation front, sending addresses to the vehicle and even syncing with your calendar to let the driver know ideal departure times for appointments based on real-time traffic data.
Under the Hood
Each of the three 2 Series models features a different engine, starting with 230i models and their 248-horsepower, turbocharged 2.0-liter four-cylinder, which is mated to a six-speed manual or eight-speed automatic transmission. The M240i has the same transmission options and a larger 335-hp, turbocharged 3.0-liter inline six-cylinder. Both models come with standard rear-wheel drive and all-wheel drive as an option.
The M2 ups the performance quotient with a 365-hp, turbocharged 3.0-liter inline six-cylinder and a seven-speed dual-clutch automatic transmission. It comes in RWD configuration only and boasts other assorted performance upgrades.
Safety
Available safety technology includes adaptive cruise control with stop-and-go capability, lane departure warning, automatic emergency braking at speeds of up to 37 mph with pedestrian detection, and an automatic parking system.
Pricing information is not yet available for the updated 2 Series; we'll have to wait until closer to launch in July.