2018 Honda Accord Vs. 2018 Toyota Camry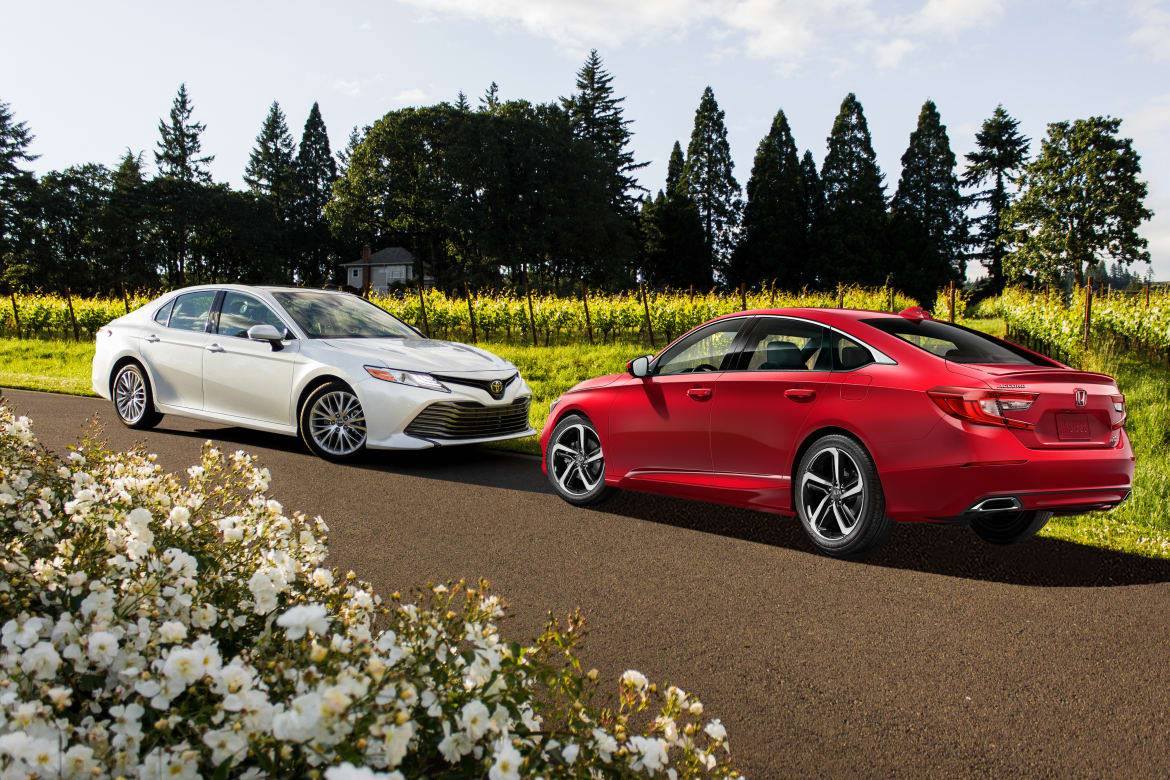 CARS.COM — There's big news in the world of mid-size sedans for the 2018 model year, with completely redesigned versions of heavy hitters Honda Accord and Toyota Camry coming by fall. Both Honda and Toyota are betting that even with small and mid-size SUVs climbing the sales charts quickly, there are still plenty of drivers looking for one of their best-selling sedans.
Not surprisingly, both the Honda Accord and Toyota Camry are expected to come with price increases. But the good news includes promises of increased power and fuel economy, along with new safety and convenience features not previously offered with either.
Here's a look at how the all-new Accord and Camry compare based on specifications and features from pre-release media materials. While the data is not carved in stone at this point, we're told not much is likely to change. We'll wait on passing further judgment until we have a chance to sample production vehicles.
Powertrains
Honda has retired its normally aspirated four- and six-cylinder engines in favor of two smaller turbocharged fours promising increased power and fuel economy. The base engine is a 1.5-liter four-cylinder with 192 horsepower that's paired with either a continuously variable automatic transmission or a six-speed manual. The upmarket 2.0-liter four-cylinder produces 252 horsepower and takes the place of the old V-6 with what Honda claims will be even more grunt; it's matched with either a new 10-speed automatic or a six-speed manual. A 2.0-liter gasoline-electric hybrid powertrain is also available, teamed with a CVT.
Toyota is claiming big increases in fuel efficiency with two new Camry powertrains, which include a new 2.5-liter, 206-hp four-cylinder with variable valve timing and other wizardry that make it good for an EPA-estimated 34 mpg combined. The optional 3.5-liter V-6 uses new direct-injected and variable valve timing to deliver increased efficiency and 301 hp. Both engines are matched with a new eight-speed automatic. A gasoline-electric hybrid powertrain returns, pairing a 176-hp version of the 2.5-liter four-cylinder with an electric motor and CVT. 
Safety Features
Both the Accord and Camry come with a wide assortment of standard electronic safety equipment, including adaptive cruise control, forward collision warning with automatic emergency braking and lane departure warning with lane keep assist. To that, Honda adds its Road Departure Warning and Mitigation system. Higher Accord and Camry trims add standard blind spot warning and cross-traffic alert along with traffic sign recognition in the Honda. All Accords and Camrys include a standard backup camera, as will be required on all new vehicles starting in May 2018. All Camry trims include 10 airbags and a one-year subscription to Toyota Safety Connect, with emergency crash notification, roadside assistance, remote locking and unlocking, and a stolen vehicle locator. HondaLink provides similar capability for the Accord.
Electronics
The Accord and Camry both offer new head-up displays for 2018 along with wireless phone charging and Wi-Fi on the go. Both have updated information displays ahead of the driver and redesigned 8-inch center screens claimed to be simpler and less distracting to use — and Honda has finally gone back to using conventional knobs for volume and radio tuning. All Camrys also get standard Entune 3.0, with streaming audio apps, Bluetooth, voice controls and a three-year subscription to the Scout GPS Link navigation app; Honda's Display Audio includes similar functionality. All the electronic features are wrapped in interiors that both manufacturers say have gone considerably upscale, with soft-touch surfaces and higher-grade materials.
Dimensions
The redesigned Toyota and Honda sedans are very close in size to the models they replace, with the Camry being a whisker longer and the Accord a fraction of an inch shorter than their outgoing counterparts. That said, they both check in at 192.1 inches overall. Notably, the Accord gets a 2-inch bump in wheelbase to 111.4 inches, with rear seat passengers getting most of the benefit. Still, that makes it only slightly longer than the Camry's 111.2-inch wheelbase.
The Accord is slightly wider at 73.2 inches compared with the Camry's 72.4, while both sedans are slightly lower at about 57 inches each for claimed increases in aerodynamic efficiency. Inside, the Camry offers 38.3 and 38.0 inches of headroom front and rear, respectively, compared with the Accord's 39.5 inches (for 1.5-liter models; it's 37.5 inches in 2.0-liter trims) and 37.3 inches (37.2 inches in 2.0-liters). Camry legroom is 42.1/38.0 inches front and rear compared with the Accord's 42.3/40.4 inches. The Accord packs slightly larger interior volume overall at 105.6 cubic feet (102.7 cubic feet in 2.0-liters) to the Camry's 100.4, and it also gets the nod in cargo room with 16.7 cubic feet to the Camry's 15.1.