2018 Infiniti QX80 Vs. 2018 Nissan Armada: Is the Luxury Badge Worth It?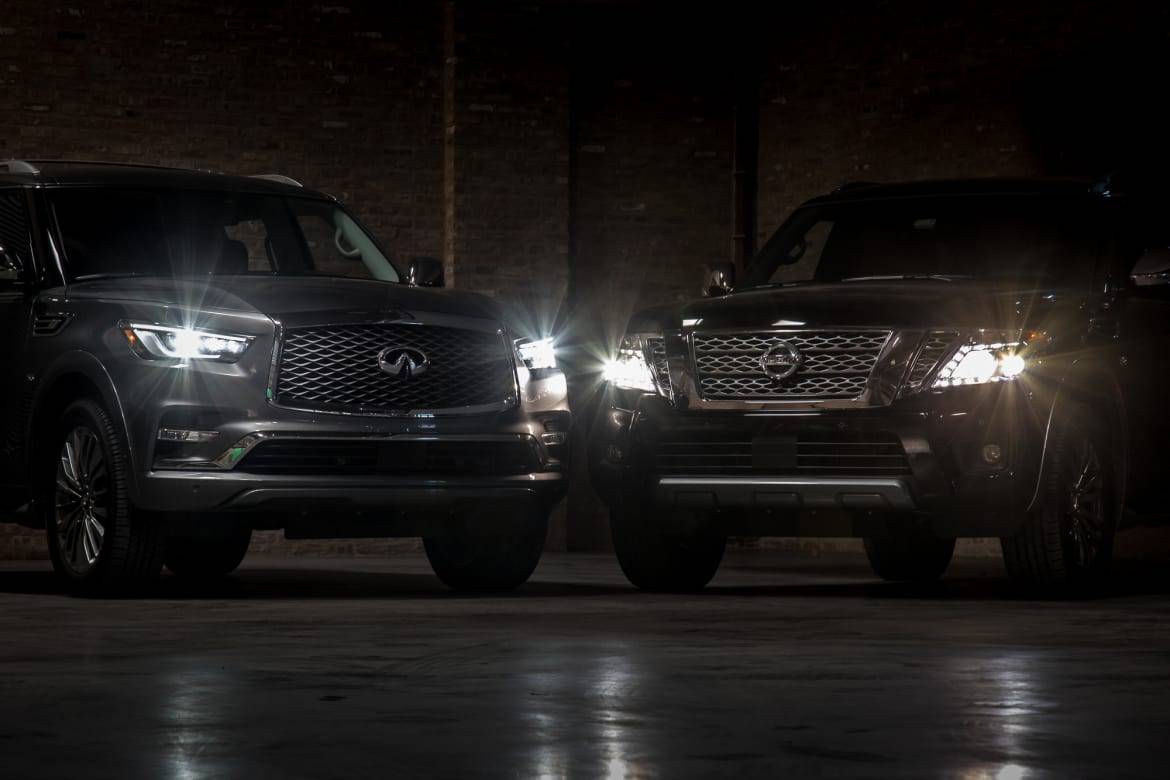 When the redesigned Nissan Armada hit dealerships in mid-2016, we found it a capable full-size SUV with plenty of similarities to its older platform sibling, the Infiniti QX80 (née QX56). That shouldn't surprise you: Infiniti is Nissan's luxury brand, after all. But just how different are the two? We tested well-equipped examples of both SUVs, driving them back-to-back to see if the QX80 was worth the extra dough.
Related: 2018 Infiniti QX80 First Drive: Big, Brash, Better Looking
It's a lot of dough, mind you. The Armada's price starts at $47,385, a cool $18,360 less than the QX80. Our well-equipped examples — a Nissan Armada Platinum Reserve and a well-optioned Infiniti QX80, both with all-wheel drive — had a similar cost chasm. As tested, the Armada's price totaled $66,695; the QX80's price weighed in at $84,910 (all prices include destination).
Did the Infiniti bring enough to the table to justify paying an extra 27 percent? See our scores below to find out.
Interior Quality (20 Points)
Winner: QX80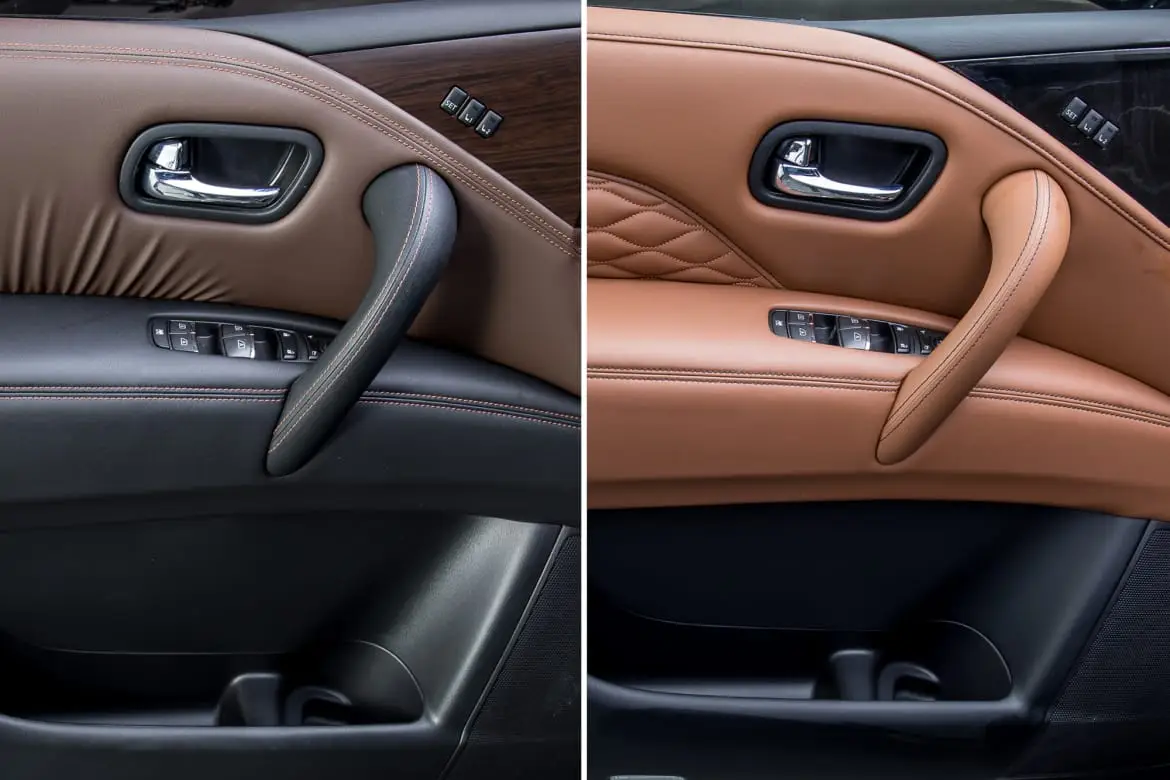 Interior styling is identical save a few minor differences in the QX80: an analog clock, stitched wrapping on the steering-wheel hub and quilted stitching on the upper doors. Below armrest level, the QX80 has padded surfaces instead of the Armada's harder plastics, but the latter materials don't look cheaper.
The QX80 model's cabin edged ahead with its supple, quilted semi-aniline leather accented by low-gloss marbled wood trim — a handsome combination. The Nissan, however, was not too far behind. Its premium leather (an upgrade with the Platinum Reserve, versus cloth or regular cowhide in lower trims) felt just as top-notch, and it also had an upscale pleated and perforated look with contrast stitching. It did lose style points for two issues: The cabin's "Platinum Reserve" badge obnoxiously was everywhere, on all the seats and the center console box. We get it, this is the fancy Armada. Our other grievance is with the fake wood paneling, which has the same laminated look as '70s office furniture.
Infiniti gets the win, but only slightly.
Comfort (20 Points)
Winner: QX80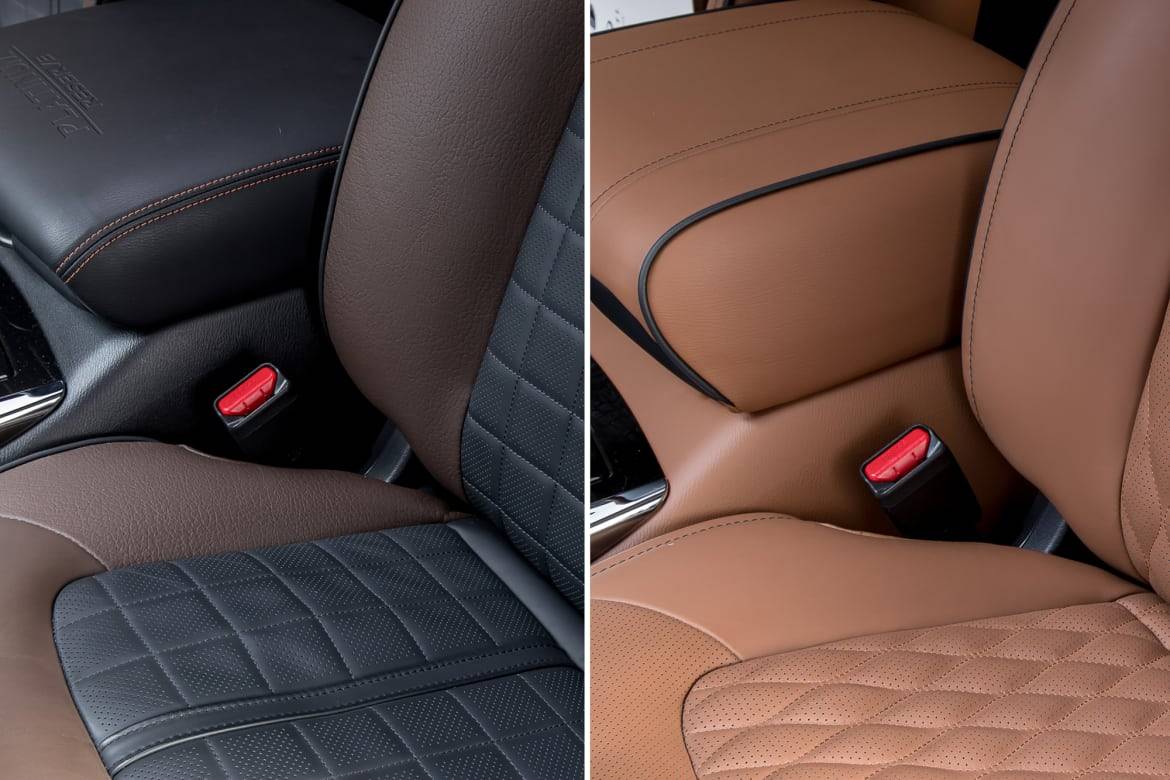 For all their exterior girth, both SUV models underwhelm in terms of comfort. The low-to-the-floor second row will leave some adults' knees uncomfortably elevated. The third row is even worse in this regard, with tight legroom and headroom; occupants can't negotiate more space from those ahead of them because the second-row seats don't slide. The QX80 got a small edge because our test car's second-row chairs had remote tumbling from dashboard buttons, but both SUVs scored low.
Cargo and In-Cabin Storage (20 Points)
Winner: Tie
Cargo space and cabin storage are virtually identical. The Nissan Armada got an extra point thanks to a dual-hinged center armrest, which lets second-row passengers grab from the console. In terms of overall cargo friendliness, however, the QX80 got an extra point. Both vehicles have power-folding third rows, but the QX80's power-folding second row makes it easier to turn it fully into a cargo hauler.
Technology and Entertainment (20 Points)
Winner: QX80
Again, underwhelming. Both test cars had 8-inch navigation systems and dual 8-inch infotainment screens in back, plus five USB ports and an HDMI input. But the dashboard unit's graphics and response times smacked of a bygone era, and Apple CarPlay and Android Auto are both missing. Our QX80 eked out a win here because it had optional in-car Wi-Fi (also an option in the Armada, but ours didn't have it). Neither SUV shined in this category, however.
Handling and Braking (20 Points)
Winner: Tie
Again, nothing special, here. Both SUVs require too much steering effort at low speeds and too little effort at faster speeds, resulting in buoyant highway steering that requires constant course corrections. Numb steering feedback and plentiful body roll — even with the QX80's optional Hydraulic Body Motion Control system, essentially roll-counteracting shock absorbers — worsen things.
Acceleration (20 Points)
Winner: Tie
Acceleration shines in both SUVs. Nissan's 5.6-liter V-8 makes 390 horsepower and 394 pounds-feet of torque in the Armada versus 400 hp and 413 pounds-feet in the QX80 — albeit with premium fuel recommended — but the difference isn't noticeable. Both SUVs have instant accelerator response, smooth revving and a responsive transmission.
Ride Quality and Noise (20 Points)
Winner: QX80
The QX80's trick shock absorbers pay more dividends with ride quality, where the SUV recovers immediately if you drive over a speed hump or drop a wheel on uneven pavement. Such disruptions can leave a full second of bounciness in the Armada; the QX80 has no such reverb. The QX80 was also slightly quieter, with better insulation from road and wind noise.
Visibility (20 Points)
Winner: Tie
No difference here. Both vehicles have large C-pillars and oddly shaped side windows that limit visibility. The large second-row head restraints also compromise the view astern, and our test cars' camera-based rearview mirrors garnered mixed impressions. It's a tie.
Value for the Money (40 Points)
Winner: Armada
This comparison emphasizes value, so we eliminated the safety category (crash-avoidance systems are roughly the same, at any rate) and doubled the value score. But even after we accounted for the QX80's slight edge up to this point, plus an extra year of warranty coverage and slightly better EPA-estimated MPG fuel economy, the Armada holds a sizable value lead.
One aspect we didn't score was the intangible value of dealerships, which some luxury shoppers may deem a significant factor. In two 1,000-point surveys by J.D. Power and Associates — one to measure sales satisfaction among shoppers, the other to measure service satisfaction among owners — Infiniti dealerships beat their Nissan counterparts by 56 and 52 points, respectively.
Overall Score
Winner: Armada
It was close, but the QX80 lost by 2 points — 127 points to 129 points — largely due to the Armada's considerable value edge. The QX80 has luxury locked down from its hushed ride to its extra-quilted seats, but surprisingly, the Armada wasn't too far behind. Its cabin still impresses in terms of quality and design, and it nearly matches the Infiniti's level of comfort and convenience features. More polished exterior styling, an edge in road-manner refinement and a slightly more elegant cabin just doesn't add up to an extra 18 large.
Cars.com's Editorial department is your source for automotive news and reviews. In line with Cars.com's long-standing ethics policy, editors and reviewers don't accept gifts or free trips from automakers. The Editorial department is independent of Cars.com's advertising, sales and sponsored content departments.