2018 Lexus LS: 'The Comfort You Want in a Large Luxury Sedan'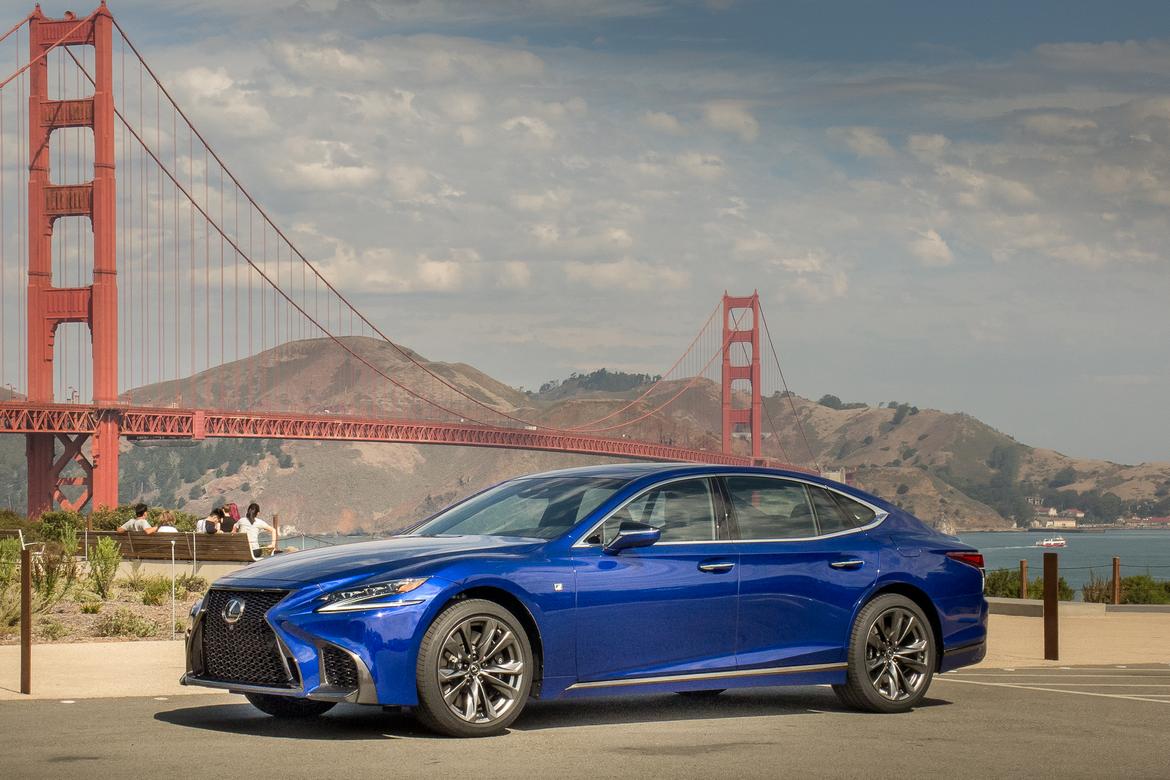 CARS.COM — Lexus gives its flagship luxury sedan, the LS, a long-overdue redesign for 2018. The LS is reworked from the ground up and now includes a hybrid LS 500h with rear- or all-wheel drive in addition to the mainstream, non-hybrid LS 500, which is also available in both drive configurations. Cars.com's Joe Wiesenfelder drove three versions of the new model, including an LS 500 with optional AWD, an F Sport version with standard RWD, and an LS 500h hybrid with RWD at a Lexus event in and around San Francisco. (Per our ethics policy, Cars.com pays for its airfare and lodging for such events.)
Below is a snippet from Wiesenfelder's review on how the LS 500 drives. Read the full review for more info on the LS' new technology and safety offerings.
Related: 2018 Lexus LS 500 and 500h: Our View
How It Drives
Driving the LS shows how thoroughly reengineered it is in all its versions. The 2018 replaces the LS 460's 4.6-liter V-8 engine with a twin-turbocharged 3.5-liter V-6. The switch boosts rather than hurts performance; the new LS 500 packs 416 horsepower versus the old V-8's 386 hp. Torque is 442 pounds-feet at 1,600-4,800 rpm, versus 367 pounds-feet at 4,100 rpm with the V-8. The 2018 also has two additional gears — a 10-speed automatic transmission - to get the most out of the engine. Lexus estimates a zero-to-60-mph time of 4.6 seconds with RWD. That's a full second quicker than the 2017 LS 460.
Despite the specifications and the additional gears, the LS 500 doesn't have quite the off-the-line immediacy one might expect. Still, it's plenty quick once it gets going, and the drivetrain behaves very nicely. As automatic transmissions have added gears they've too often been stricken with indecision and hesitation, but the Lexus 10-speed is admirably responsive whether you jab the accelerator pedal or operate the steering wheel's shift paddles.
Driving modes — selectable via a dashboard knob positioned at roughly 2 o'clock behind the steering wheel — include Eco, Normal, Comfort, Custom, Sport S and Sport S Plus. Accelerator pedal and downshifting sensitivity increase progressively with almost every step (Normal and Custom are the same in terms of acceleration, but the modes change other vehicle characteristics, as well). Engine sound also increases in the two sport modes, augmented through the audio system — another near-universal technique in the age of turbocharged engines. (BMW was the first.)
It's unclear at this early stage which suspension features will be standard and which will be optional on the various trim levels, but all the cars I drove included Lexus' air suspension (in lieu of coil springs) and variable-firmness shock absorbers, called Adaptive Variable Suspension. With these features, the LS is both comfortable and capable — a mix that isn't ensured merely because the technology is present. To the contrary, Lexus is one of many non-European brands that spent years pursuing so-called European handling and ended up with cars that were neither as lavishly comfortable as the original LS nor as sporty as their benchmarks.
With these suspensions, the 2018 finally has it dialed in nicely, leaning toward the comfort you want in a large luxury sedan but with the option of enhanced sportiness for street driving. The front-to-rear weight distribution seems more balanced, and the steering has a very good feel on-center, recalling the LC 500. Body motions are well-controlled even without the optional active stabilizer bars, with which my F Sport was equipped. (The F Sport cornered remarkably flat, but I would have preferred if a tad more body roll were programmed in to make it feel more real and less like I was driving in a video game.)