2018 Mitsubishi Mirage GT: What Does It Cost to Fill Up?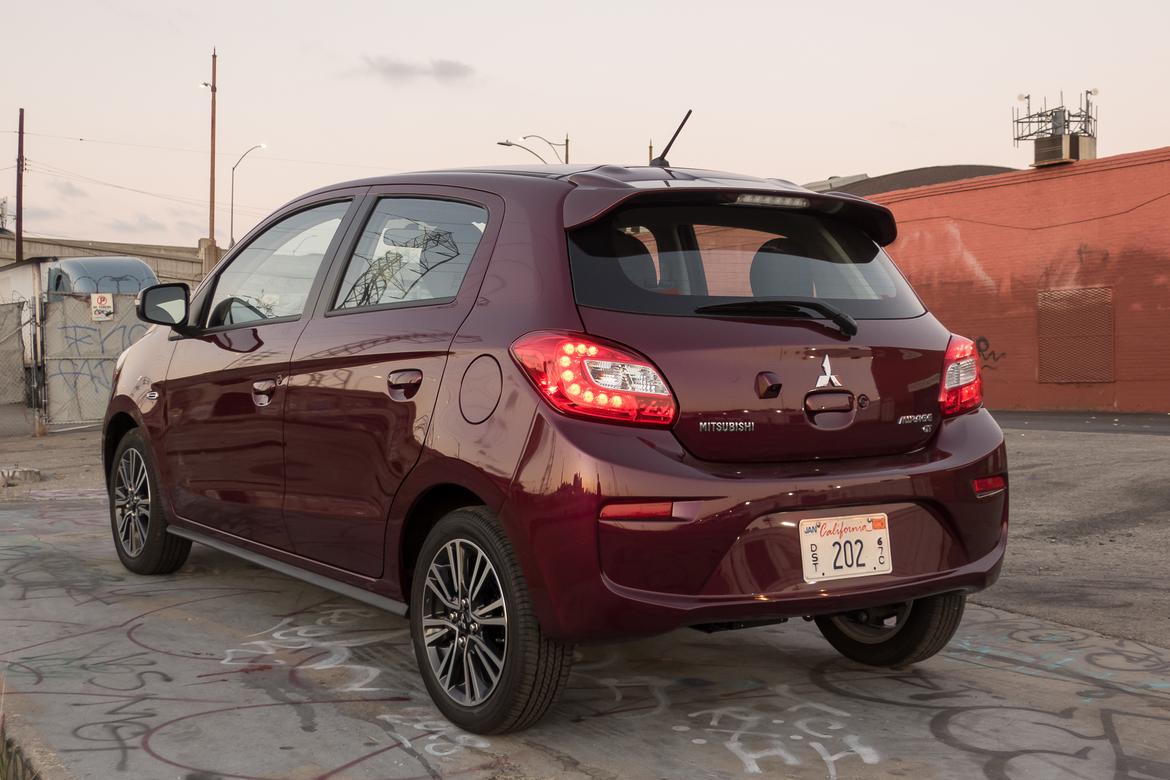 With gas prices climbing across the country, penny-pinching shoppers might want to consider a low-priced, economical small car like the 2018 Mitsubishi Mirage GT. The Mirage GT hatchback, brethren of the Mirage G4 sedan, carries with it some surprising features for its price — and has the gas mileage to back it up.
Related: 2018 Mitsubishi Mirage GT Review: Unsurprisingly a Little Cheap, Surprisingly a Little Fun
The Mirage offers a choice of a five-speed manual transmission or a continuously variable automatic transmission. With the manual, the EPA combined city/highway estimate is 36 mpg; with the CVT, it's 39 mpg. The CVT gives the Mirage a driving range of 359 miles, 28 more than the manual. That helps make it the most fuel-efficient non-hybrid or electric vehicle in America for 2018.
Fuel economy will be a boon for the Mirage GT in the face of rising fuel costs. The national average for regular gas jumped 6 cents this past week to $2.74, according to the AAA Daily Fuel Gauge Report, the highest it's been in nearly three years. This is what motorists can expect in fuel costs from a 2018 Mirage GT hatchback, which comes with a 1.2-liter three-cylinder engine:
Filling the 9.2-gallon tank from empty would cost a little more than $25 based on the $2.74 average price for regular.
In Missouri, which had the lowest statewide average for regular at $2.45 on Thursday, it would cost $22.54.
In California, where regular averaged $3.56, the cost would be $32.75. Hawaii, ever the highest average nationwide, would cost you $32.84 given its average of $3.57 a gallon.
Gas prices rose in all sections of the country the past week, with a handful of states seeing double-digit increases. Regular spiked by 10 cents in Kentucky and Utah, 13 cents in Florida, and 15 cents in Indiana.
AAA said the average price of regular was less than $2.50 in five states: Arkansas, Kansas, Mississippi, Missouri and Oklahoma. It also said regular averaged more than $3 in eight states Thursday: Alaska, California, Hawaii, Idaho, Nevada, Oregon, Utah and Washington.
Premium gas rose 6 cents to a national average of $3.26, and diesel fuel gained 4 cents to $3.02. The price of diesel usually falls this time of year but has continued to climb, and it's now 48 cents higher than a year ago. Regular gas is 32 cents higher and premium is 34 cents higher.
Cars.com's Editorial department is your source for automotive news and reviews. In line with Cars.com's long-standing ethics policy, editors and reviewers don't accept gifts or free trips from automakers. The Editorial department is independent of Cars.com's advertising, sales and sponsored content departments.