2018 Toyota C-HR Review: First Drive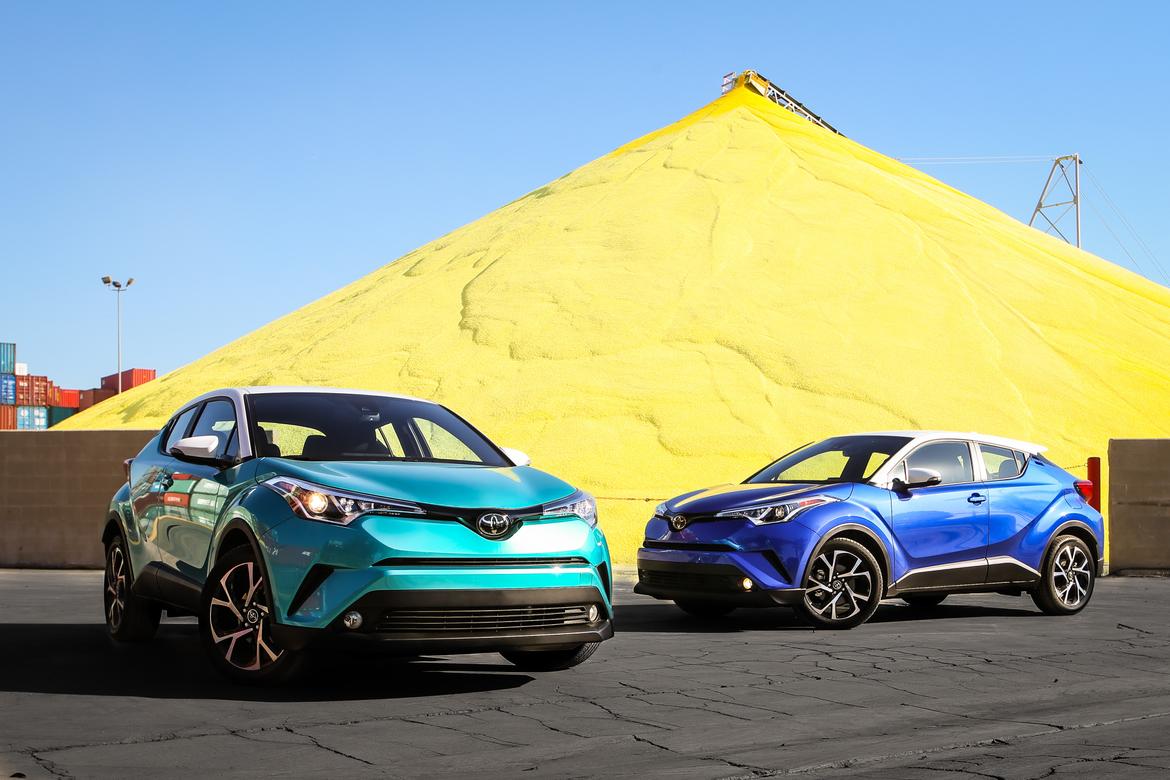 CARS.COM — Austin, Texas is odd, which makes it a fitting place for my introduction to Toyota's newest model, the C-HR. But where the Texas city is quirky and charming, the C-HR is odd in more of an awkward, socks-with-sandals kind of way.
The subcompact SUV originally debuted as a Scion concept from Toyota's now-defunct youth-oriented brand. After some retooling, it resurfaced at the 2016 L.A. Auto Show under the Toyota badge, but the automaker said its target audience hasn't changed: young millennial-generation buyers. Its scattered heritage is evident in its odd packaging, however. Although it injects a dose of eye-popping style into Toyota's otherwise sleepy lineup and offers an impressive list of standard safety features, major driving and multimedia shortcomings stand out.
How It Looks
Stimulating styling is not a Toyota hallmark, but the C-HR bucks that trend — for better or worse. From some viewpoints, it looks like an awkward pile of elbows and knees and recently earned a spot on our ugly cars list. From others, it looks modern and edgy. It retained much of the concept car's radical styling, including its raked roofline, sharp angles and slicing bodyside character lines. Toyota further amped up the rear with protruding, boomerang taillights and an aggressive wing.
C-HR stands for Coupe-High Rider, and designers said it's meant to combine elements of a coupe and an SUV. The fastback roofline and hidden rear door handles nail the coupe angle, but the SUV ingredients are less genuine. It sits higher off the ground than a traditional car and wears large, standard 18-inch wheels as well as rugged looking fenders and body cladding, but it's all for show: All-wheel drive is unavailable, making it more hatchback than SUV.
2018 Toyota C-HR; Manufacturer images
How It Drives
Despite all its styling flash, it fizzles on the road. The C-HR's sole powertrain is a 144-horsepower, 2.0-liter four-cylinder engine that drives the front wheels through a continuously variable automatic transmission. Takeoffs are adequate but definitely not lively, and the CVT is stingy in spooling out more power for passing and merging. Sport mode makes the C-HR feel more responsive and keeps engine rpm higher for better acceleration. It also firms up the steering for a weightier feel, but the effect is still too docile for something with such sporty intentions. In Japan, the C-HR is available with a turbocharged engine and all-wheel drive — a combination that makes more sense for this vehicle.
I could live with the mediocre muscle it if it weren't for the powertrain's monotonous groaning and droning. It's quite loud in other areas as well, especially on the highway. There's a lot of wind noise, partly due to its un-aerodynamic body; road noise is also loud. Overall road manners on the highway are pleasant, however, with a comfortable ride and handling balance. Bumps are effectively damped and the C-HR maintains composure in corners — but again, I wouldn't call it sporty.
In terms of fuel economy, the CH-R is mid-pack against other subcompact SUVs. Its rated at 27/31/29 mpg city/highway/combined. Automatic-equipped, front-wheel-drive versions of the Honda HR-V get 28/34/31 mpg, the Jeep Renegade 22/30/25 mpg and Chevrolet Trax 25/33/28 mpg.
Cabin Comfort, Controls
Open the door for a peek inside a Scion time capsule: The control layout, cabin design and interior materials are throwbacks to the vehicle's intended brand. The standard 7-inch touchscreen sits in the middle of the dash and has a tablet-style appearance, but it's more low-tech than it looks. The multimedia system includes a USB port, auxiliary jack and Bluetooth connectivity. What it lacks are a lot of basic features: Apple CarPlay and Android Auto smartphone mirroring are unavailable, as are satellite radio and navigation.
The cabin is where Toyota nails the sporty vibe. It mixes higher-grade surfaces (nicely padded plastic on the dash) with some more thrifty areas (chintzy center console cover), but a few components combine to make it pop: A subtle diamond pattern sweeps through the cabin, from the sharp, blingy plastic molding in the door panel to the diamond-patterned headliner. Many controls on the panel and steering wheel are also in a diamond shape.
Front-seat space is good, with a lot of headroom and legroom, but the sloping roofline comes at the cost of visibility over the driver's right shoulder. In back, however, it doesn't eat into headroom, matching the HR-V at 38.3 inches; the Renegade and Trax offer only a smidge more. In legroom, however, it trails rivals by several inches. At 5-feet 6-inches, I had enough room, but the backseat still felt closed in; outward visibility through the tiny side windows is terrible.
Behind the rear seats, there's just 19.0 cubic feet of space, a bit more than the Renegade and Trax but much less than the HR-V. The seats fold easily in a 60/40 split for 36.4 cubic feet, much less than all three competitors.
In the Market
The C-HR goes on sale on April, and where it earns some major points is features for the money. The base XLE model is $23,460, including destination. Yes, prices are higher than base 2WD versions of the HR-V ($20,405), Trax ($21,895) and Renegade ($19,090), but the C-HR is well-equipped with loads of standard safety features — many of which aren't even available in this class: forward collision warning with pedestrian detection, automatic emergency braking, lane departure warning with steering assist, automatic high-beam headlights and adaptive cruise control.
The XLE Premium is $25,310 and adds heated front seats, a power lumbar adjustment for the driver's seat, puddle lamps, foglights, push-button start and a blind spot warning system with rear cross-traffic alert. One more oddity in the features department: A backup camera is standard, but the tiny image is displayed in the rearview mirror instead of the multimedia screen — an antiquated and unhelpful setup.
Based on Austin's booming real estate market and pervasive hipster vibe, millennials are fans of the odd, but in the case of the C-HR, they'll likely want something with character that isn't just skin-deep.