2019 Acura RDX First Drive: Finally, Not a Warmed-Over Honda
The first Acura RDX I ever drove was a 2007 model car, and it was awful. That RDX was quick thanks to a turbocharged engine, but it was loud, wasn't appreciably nicer inside than the Honda on which it was based, and the worst part was that the suspension rode like someone forgot to install springs.
Related: Video: 2019 Acura RDX First Look
It's only taken Acura a little over a decade, but the car and SUV brand has finally come up with a new RDX for 2019 that actually looks good, feels good and at last can be counted among the top-tier vehicle offerings for the ultra-competitive luxury compact SUV class. It's a luxury SUV that legitimately feels like a luxury vehicle, not a warmed-over Honda. And it's about time.
The First Attractive Acura SUV in Years
Acura styling as of late has been a mixed bag, some of it good, some of it not. With the new RDX, it's finally nailed a combination that looks fantastic — a mix of edgy and curvy with continuity of line and excellent proportions. There isn't a bad angle on this SUV, and even the enormous shield grille looks well-integrated and not outrageously garish for once. Kudos to the styling team for creating something legitimately good-looking.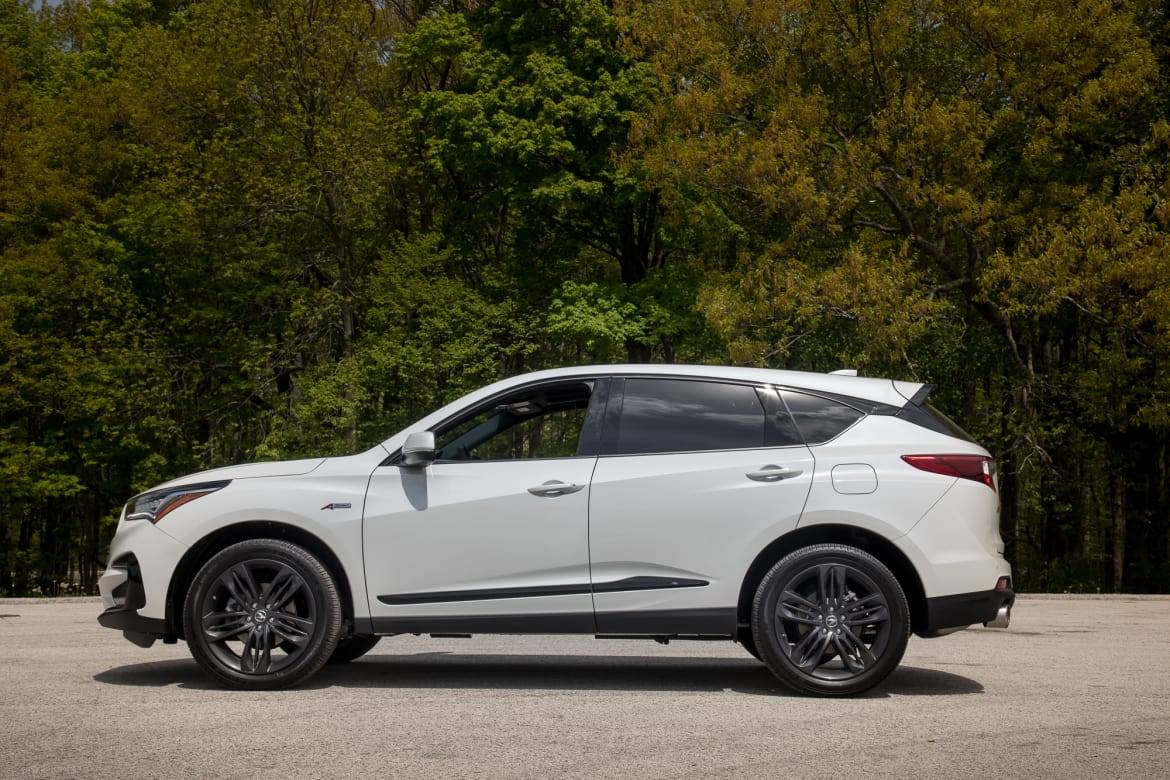 Looks and Muscle
Fire up the Acura RDX's 272-horsepower, turbocharged 2.0-liter four-cylinder engine and you'll be met with a surprising growl. The engine noise is enhanced and piped into the cabin, but the engine note sounds more like a boxer engine or possibly a five-cylinder, not a muted turbo four. Acura's Integrated Dynamics System offers up four distinct modes: Comfort, Sport, Sport Plus and Snow, selected by a big rotary knob in the middle of the dashboard (where normal designers put things like audio or climate control knobs) just like the Acura NSX hybrid supercar. Changing the mode also changes the exhaust note, making the growl even more noticeable. It doesn't sound fake, it definitely sounds like an engine — just perhaps not the one that's in this vehicle.
Power is routed through a new 10-speed automatic transmission and then either to the front wheels or to all four via Acura's Super Handling All-Wheel Drive (SH-AWD) system with mechanical torque-vectoring. The model I got a very brief drive in was a new A-Spec trim with all-wheel drive, 20-inch wheels, and a wild red-and-black interior color scheme. Acceleration from the turbocharged engine is strong, with very little lag and excellent responses from the automatic transmission. It shifts smoothly and eagerly, but never feels as if it's hunting for the right gear — a troublesome trait of a lot of transmissions when the gear count climbs above eight. Braking performance is also strong, with a firm pedal feel and confident grip to shed speed rapidly.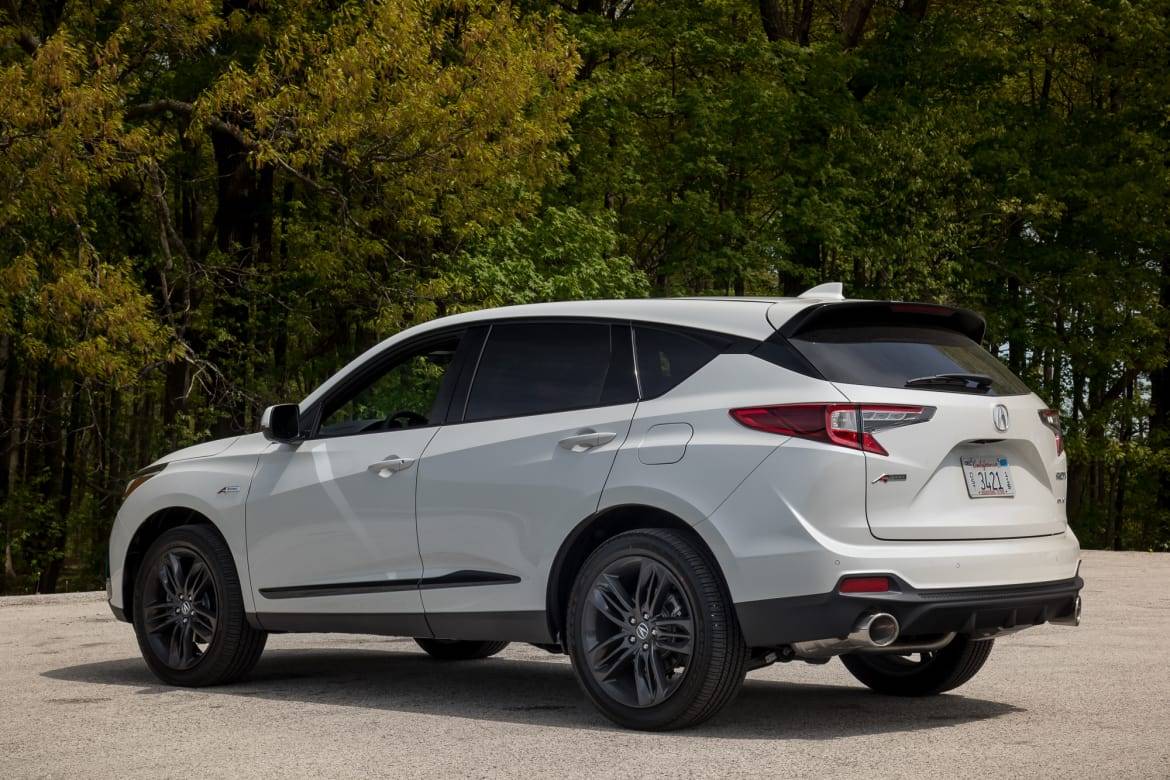 The new Acura RDX exhibits a very well-done balance between ride and handling. Steering feel is solid, with just the right combination of boost and feedback. The SUV stays level and doesn't dip in tight corners, showing some excellent body control. The ride is on the firm side, but I attribute that to the trim level on the sportier A-Spec model's 20-inch wheels and tires — 19-inch wheels are standard and present on all other models. Still, even with the thinner sidewalls, the RDX doesn't let any harsh impacts get into the cabin, and high-speed dips don't upset the chassis at all. The RDX delivers an overall feeling of control and sophistication, with a heft to it that finally helps provide more of a luxury feel than previous models.
Passing Premium, Entering Genuine Luxury
That additional sense of the RDX being a luxury product truly starts to be conveyed when sitting in its all-new interior. Finally, Acura has crafted a cabin worthy of a luxury nameplate and not one that's simply a slightly nicer version of a mass-market Honda. The A-Spec's brushed aluminum trim feels genuine, and the suede-like fabrics and plastics all feel luxurious and upscale. There's also plenty of space in the new RDX thanks to a longer wheelbase that provides more legroom for all passengers. Visibility is still top notch, a typical Honda/Acura trait, and the cargo area is plenty spacious.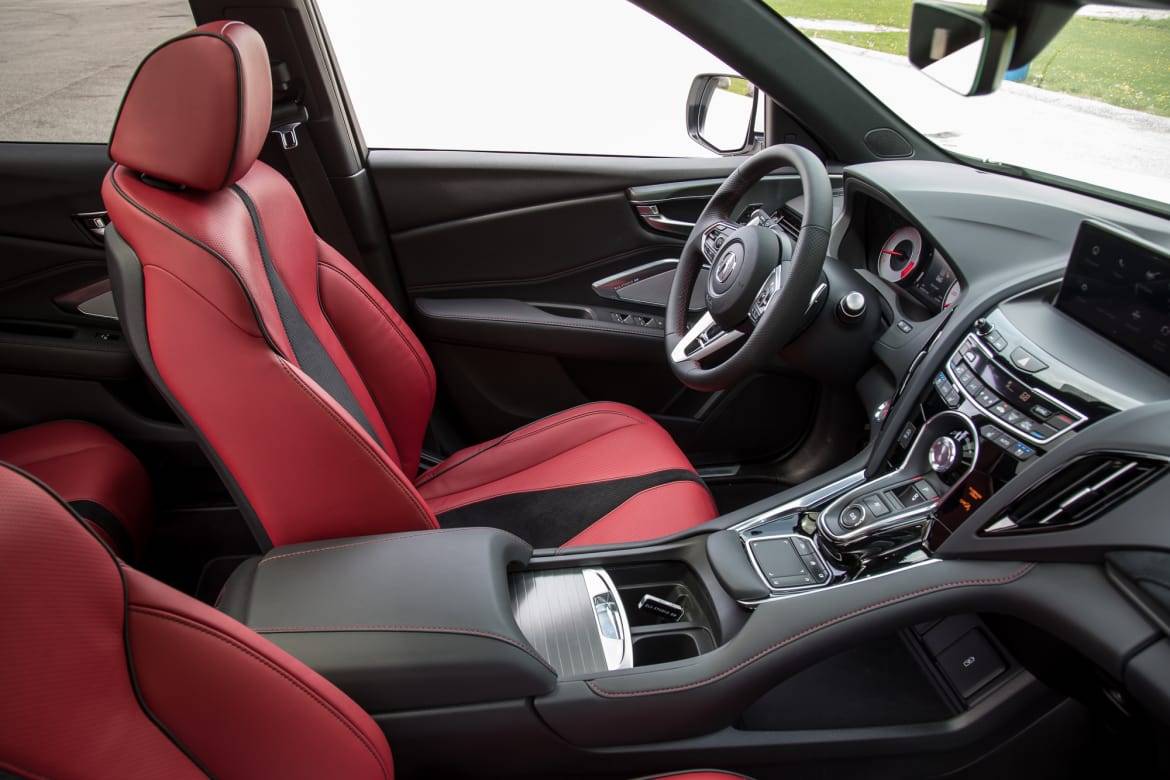 I have only two issues with the interior. First is the gauge cluster on the RDX A-Spec, which is an orange font on a silver background and is nearly illegible when wearing sunglasses. Even with the glasses off, this color combo presented in the script Acura uses is truly awful. Only the A-Spec trim level has this color combination, so if you choose a different trim, you presumably get a more traditional gauge cluster color.
The Big Mistake
My other issue is with this year's new multimedia system. While I have to give them kudos for eliminating the confusing two-screen setup that plagues many Honda and Acura models, it's been replaced by Acura's True Touchpad Interface, a system that mimics the worst system on the market — Lexus. Like the Lexus system, it features a trackpad-style controller low on the center console and a screen high up, not far off the driver's field of view for minimal removal of one's eyes from the road. Like the Lexus system, you're guiding the cursor and selection around the screen by moving your finger around on the trackpad. Acura says its system is better as it's a 1-to-1 kind of thing: Touch where you want to touch on the pad, and it correlates much better on screen.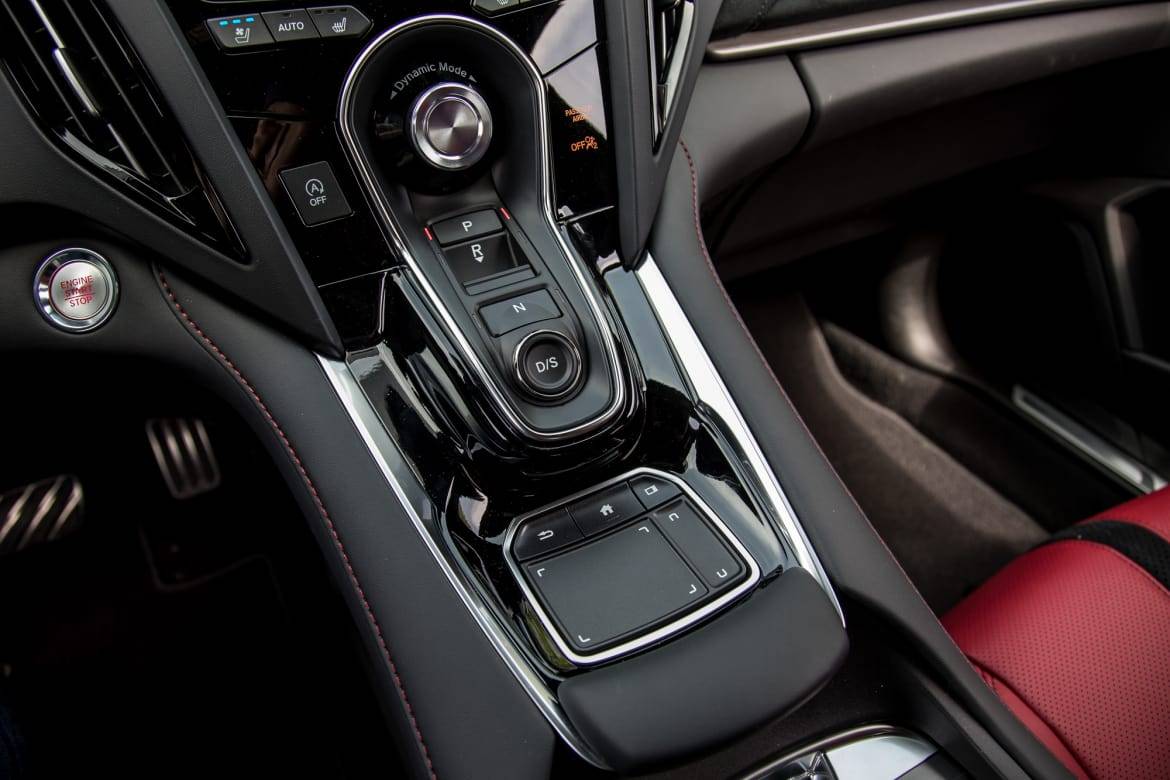 … Except that it's still akin to trying to use a laptop computer while driving down the highway. Functions are arranged in menus that are not intuitive, and the controller itself doesn't work as one expects. The added second minipad next to the larger pad correlates to the right side of the screen and brings up some more limited quick-use functions, but it doesn't make the tasks any easier or less distracting. The best system is one that minimizes the number of steps between what I want to do and having it done; the Acura system ruins a smartly engineered and beautifully crafted SUV by introducing a system that distracts the driver by causing them to focus too much on figuring out if they're touching what they need to touch in order to do what they want to do. It's not quite as complicated or frustrating as the Lexus multimedia system, but it's far more difficult to use than say, the latest Sync system from Lincoln, or even the latest iDrive from BMW. For a contrasting take on the 2019 Acura RDX's controversial touchpad, read fellow Cars.com reviewer Brian Wong's impression here. 
Competitive, and Priced Well
The 2019 Acura RDX's multimedia system detracts from what has blossomed into a truly luxurious premium crossover that I would have no problem throwing against offerings from European automakers in a head-to-head fight. The improvements to the interior appointments, the athletic driving dynamics, the quietness and excellent cabin comfort all show that Acura's done its homework — and even the styling department finally got it right. The only people who need to stay after school on this one are in the electronics department, those who need to figure out how to get a touchscreen into the next redo and stop the spread of this multimedia system from reaching other Acura offerings.
With a starting price of $38,295 including destination fee, it undercuts a number of other category competitors. Loaded up, it comes in just a little more than $48,000, which also seems reasonable, especially compared with less powerful, less spacious competitors.
Cars.com's Editorial department is your source for automotive news and reviews. In line with Cars.com's long-standing ethics policy, editors and reviewers don't accept gifts or free trips from automakers. The Editorial department is independent of Cars.com's advertising, sales and sponsored content departments.