2019 Jaguar I-Pace First Drive: Pace Car for Fun in an Electric SUV
2019 Jaguar I-Pace; Cars.com photos by Fred Meier and manufacturer images
A new era has begun for electric vehicles, one that will test their broader appeal — at least among luxury buyers for whom it has so far been go Tesla or go home. Car shows in recent years have been full of battery-powered concepts from traditional luxury brands, yet the first to hit the road with a production luxury SUV is not one of the German giants, but spunky Jaguar with the 2019 I-Pace.
Related: Literally Can't Even With Car Trouble? These Brands Are Best in First 90 Days
It sets a high bar for the wave that soon will follow, combining the attributes of an EV with the characteristics you'd expect from any other Jaguar SUV. That includes a stylish design and comfortable interior that in no way apologizes for being an EV or dilutes the brand. And most of all, it's fun to drive, combining the attributes of an EV with the road manners you'd expect from the brand. Jaguar likes to quote founder Sir William Lyons on the touchpoints that make a Jaguar: grace, space and pace. The new I-Pace scores on all three.
Pricing starts at $70,495 for a base I-Pace including destination charge and before federal or state EV incentives. At a U.S. press event in New York City and on winding roads in the scenic Hudson Valley, I spent a day in an up-level HSE version of the I-Pace that starts at $81,495 with destination. (Per company policy, Cars.com pays for its airfare and lodging at such automaker-hosted events.) This price compares to the starting price for the bigger five-seat Tesla Model X 75D SUV some will see as a natural rival, though the I-Pace is more the size of a Porsche Macan. The test vehicle, with such extras as adaptive suspension, upgraded audio and a cold-weather package, clocked in at $83,850 with destination before any incentives. Jaguar officials said they expect the I-Pace to be on sale in the U.S. in September; dealers are accepting orders now.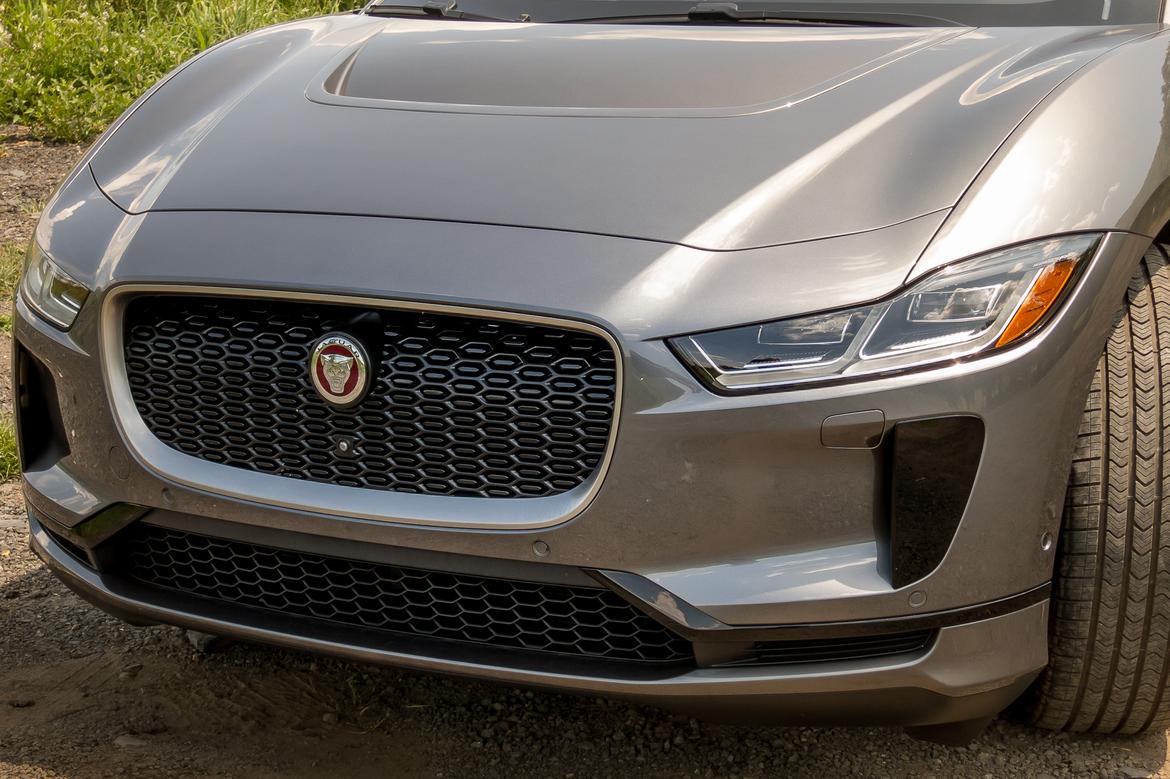 Let's get the immediate EV questions answered first: All I-Pace models have a 90-kilowatt-hour battery pack that offers an estimated (but not yet EPA-verified) range of up to 240 miles (a Model X 75D is rated at 238 miles, the more expensive 100D at 295). The I-Pace can be charged from empty in 12.9 hours on a 230-volt AC public or home charger capable of 7 kilowatts. It can be quick-charged to 80 percent of capacity in 40 minutes on a 100-kW public DC fast charger or 85 minutes on the more common 50-kW DC chargers.
How It Drives
As with all electric cars, you push off with instant torque. And it's a hoot with the I-Pace's standard pair of bread-loaf-sized front and rear electric motors. They put down a combined 394 horsepower and 512 pounds-feet of torque through all four wheels with the standard all-wheel drive. Zero-to-60 mph is estimated at 4.5 seconds, and the instant pushback in your seat feels quicker than that. This beats the Tesla-estimated 4.7 seconds in a Model X 75D but is not nearly as ludicrous as the Model X P100D's face-flattening 2.9 seconds. Still, it was more than enough and not just off the line; the acceleration comes on strong enough to make you smile at highway speeds, as well.
Plenty of electrons will do that, but more surprising is how agile and confident the I-Pace feels when the road gets twisty, particularly in the Dynamic driving mode that firms up power and suspension response nicely compared with the Comfort or Eco modes — the latter of which is calibrated to stretch range — though neither of those were sloppy. It was surprising in part because this is no featherweight at more than 4,700 pounds. The steering is firmly weighted and reassuring, and it reacted quickly without being twitchy; I liked it overall, but it might feel too heavy for some drivers on city streets.
The regenerative brakes are well-tuned for impressively natural response for their type. They also haul the heft down in a hurry. It did take some adjustment to get a feel for the deceleration as soon as you come off the accelerator pedal, even with the car set in the low regeneration mode that is suitable when pushing the I-Pace. In the regeneration's high setting, which better helps maintain some charge, the I-Pace test car offered near one-pedal operation but did not quite come to a stop. The test cars were prototype vehicles, and Jaguar says that software updates for the production model will offer that capability. Switching back and forth between high and low is, sadly, not a one-button operation, but requires going deeply into the touchscreen menus. The production updates also will aim to make that mode switching more easily accessible, Jaguar says.
The I-Pace chassis felt composed, with little roll in the turns for an SUV thanks partly to the low weight of the battery positioned skateboard-style under your feet. It also has very little understeer thanks to its balanced weight distribution. The standard air suspension, along with the test car's optional configurable adaptive shock absorbers, offered a good balance of firm handling and a comfortable ride, something Jaguar has traditionally been good at. The 20-inch wheels on the test car seemed to hit the right balance between the base 18s, which might be cushier but not as competent, and the available 22-inchers, which might be too rough for city life. The torque-vectoring all-wheel drive operates as rear drive at low speeds to conserve charge and competently juggles the power as needed, including hitting a satisfying balance through corners. The self-leveling suspension automatically lowers the vehicle slightly at speed; it also can vary the height by about 2 inches to achieve, says Jaguar, a maximum water fording depth of about 20 inches, should you have the urge.
The Dynamic driving mode also adds a soundtrack to the fun, albeit an artificial one, that works with the electric motors when you get on the power pedal to give you what seemed like electric whoosh mixed with a hint of Jaguar motor sound (which I would say is also one of the brand's defining characteristics). Fake, yes, but I enjoyed the aural feedback. If you don't, you can adjust the level in the menus or make it go away and enjoy active noise canceling and a near-silent EV — near-silent because the very quiet cabin does let in a little wind noise and the vehicle does emit subtle warning beeps in Reverse.
Good Looks that Work
The I-Pace looks sleek and sporty — if more like a high-riding hatchback car than an SUV — and also looks like a member of the Jaguar family, even if it's not the prettiest one. All the better is that the form — which turned heads at my stops — follows function. The shape registers as low as 0.29 coefficient of drag while carefully managing the flow of air over the body and around the wheels. Beyond the more traditional aerodynamics and inlets, the signature Jaguar grille is functional, aiding component cooling systems, and curving in at the top to direct air through the opening in the hood, over the windshield and panoramic glass roof and through a large rear spoiler — in the process clearing rain and dust from the rear window without the need of a rear wiper, according to Jaguar. The glass in the roof, which does not open, is designed to absorb the sun's rays without uncomfortable heat gain in the cabin or the need for a retractable shade. I was a skeptic, but over a sunny and hot day of driving, it wasn't a problem. And it does make the cabin fell more spacious and airier.
Properly Luxurious
The I-Pace interior has the luxury you should expect for its price, but more room than you would expect for its size. Credit a 117.7-inch wheelbase that's long for a 184.3-inch vehicle and a cab-forward design. There is 6-foot-2 adult legroom even in the backseat. And the shadeless glass roof and a low cushion add headroom in the rear despite the sloping roofline. Materials were high-quality with tasteful matte-aluminum trim and soft surfaces even below arm level, and the quality did not fall off in the rear seat. Available accents include gloss black, machined aluminum and wood veneer; regardless of the choices, the interiors had a rich, authentic feel.
The test car's standard front seats (18-way adjustable and heated and ventilated in the HSE) were supportive and very comfortable for a long day. Other I-Pace models at the drive with a sportier "performance" seat style seemed overly bolstered to me. The base upholstery is leatherette (imitation leather), and two levels of genuine leather also are offered, or standard as you move up the trim levels. If leather offends your sensibilities, there is a greener cloth option from Denmark's Kvadrat that mixes a wool blend with suedelike cloth created from recycled plastic. The test car pampered me with standard soft, top-level Windsor leather but had the suedelike headliner on the ceiling.
Cabin storage is ample, with open space under the center console's gear (or drive mode) selector and other buttons, along with cubbies, a center console bin and trays under the rear seat. Cargo space is 25.3 cubic feet behind the rear seat, 51 cubic feet with the seats folded. There's also a backpack-size front trunk ("frunk") to help keep the rear cargo area uncluttered.
Progressive Tech and Tech in Progress
The I-Pace is a tech wonder, along with some tech that just makes you wonder. Most impressive is the artificial-intelligence-driven system that works with the in-car navigation to give you a real-time range calculation based on your route's traffic and terrain and what it learns from your driving behavior. It will suggest charging options if its range calculation falls short of the intended destination, and it can suggest available parking and charging at the end, too. Using a particular key fob and Bluetooth-enabled smartphone, the car also can learn and anticipate a user's preferred settings for climate, media and seat, factoring in the time and weather.
You can stay connected and powered up with six USB ports, three 12-volt power ports and a 4G Wi-Fi hot spot for up to eight devices. A phone app offers remote information and services, including charging and cabin pre-conditioning. If that seems old-school, an Amazon Alexa skill lets you talk your way through it.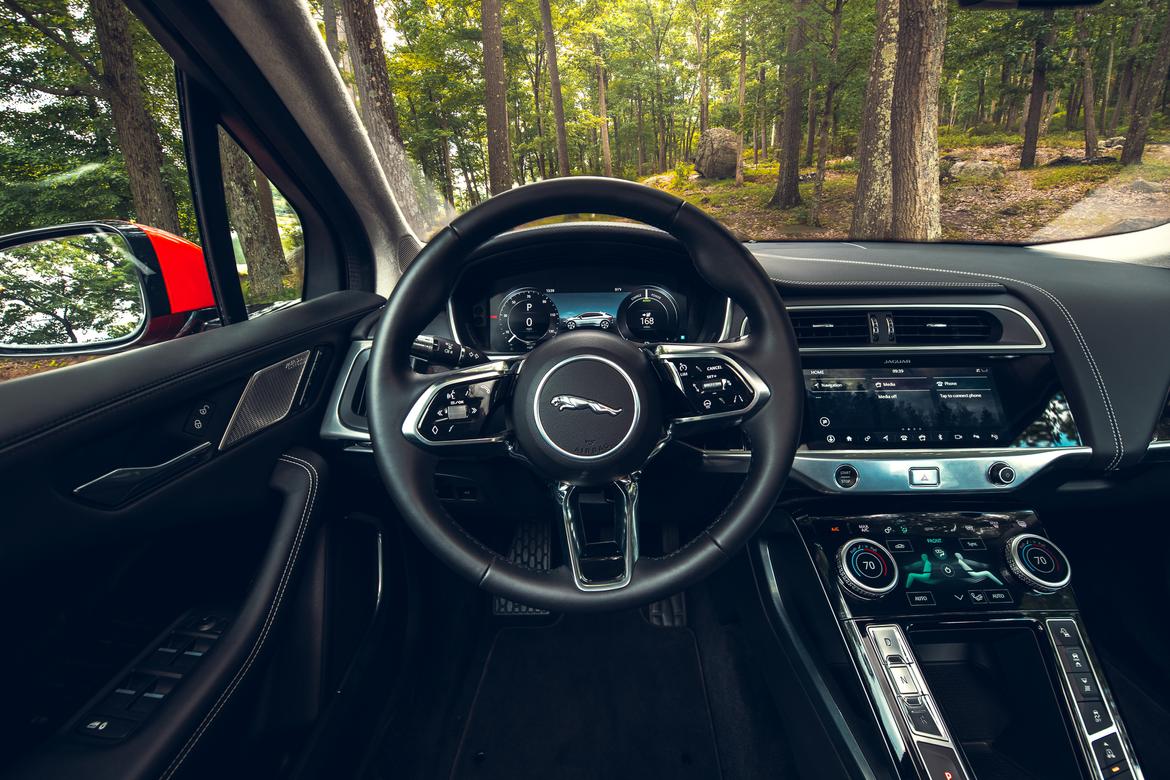 The I-Pace is a display junkie's dream, with a configurable 12.3-inch instrument screen along with an optional head-up display. And the I-Pace has the first appearance in a Jaguar of the InControl Touch Pro Duo infotainment system seen in sibling brand Land Rover's Range Rover Velar. It uses a pair of stacked touchscreens, a limited array of touch-sensitive controls and a pair of large, multifunction knobs. The 10-inch upper screen handles navigation and most multimedia and settings functions; the 5.5-inch lower screen is the main climate interface but also can handle some additional functions. Overall, the system seemed logical and easy to use, even on the move, for needs that did not involve menu-diving, but opinions varied on this among other drivers.
What was less open to dispute is that the system, at least in these prototype versions, was slow to respond. Too many functions took too many steps, such as the regeneration setting that Jaguar says is being improved. Also inexplicable was that the 360-degree camera system switches to a rear view when you shift to Reverse, which negates the value for parallel parking. And then there was the lack of Apple CarPlay and Android Auto in the test car, though Jaguar says it's on the way soon as an update. The good news is that the I-Pace is capable of over-the-air software updates like a Tesla, so Jaguar has the ability to respond to user feedback.
Safety and Peace of Mind
Further reassurance, particularly for the EV newbies who may be a lot of the buyers, is provided by a five-year/60,000-mile warranty with free scheduled maintenance and roadside assistance, five years of remote services and an eight-year/100,000-mile battery warranty that covers both defects and failure, but also guarantees at least 70 percent of the battery's original state.
Standard safety and driver assistance tech includes automatic emergency braking and lane-keeping assist, with additional features optional depending on trim level. The HSE test car included standard high-speed automatic braking, adaptive cruise control with steering assist, blind spot assist and a 360-degree camera system.
Cars.com's Editorial department is your source for automotive news and reviews. In line with Cars.com's long-standing ethics policy, editors and reviewers don't accept gifts or free trips from automakers. The Editorial department is independent of Cars.com's advertising, sales and sponsored content departments.